It's going to be a very Sweat-y summer
It's beach season again, and Sweat is here to help.
On April 15, the indoor-cycling studio opened its doors. Equipped with 30 new Schwinn spin bikes, the classes at Sweat provide a top-notch experience combined with a close-knit atmosphere.
"You ride in a pack, you feel like a group," Jim Ogle, co-owner of Sweat said, making it an excellent alternative for those who enjoy a team-like atmosphere.
"It's a bit of a bonding exercise, as well," Ogle said. People tend to follow a consistent schedule and attend the same classes each week, so there is a sense of community already appearing at Sweat since it opened two months ago.
"
Fifty minutes to fit"
— Jim Ogle, Co-Owner of Sweat in Glen Rock
In addition to it's state-of the art bikes, Sweat of Glen Rock prides itself on it's fun atmosphere. The classes are very interactive and have an upbeat vibe. The 16 "hand-picked instructors" at Sweat work to create a party atmosphere, playing a wide variety of music.
"From ACDC, to Madonna, to moody blues, to Taylor Swift, each instructor is a little different. We try to mix it up," Ogle said.
These eclectic assortments were specifically designed to cater to their entire clientele, who range anywhere up to people in their 70's. The spin classes at sweat are described by Ogle as  "low impact high calorie burn," making them an effective workout that isn't too hard on the body. This is ideal for people of all different athletic abilities.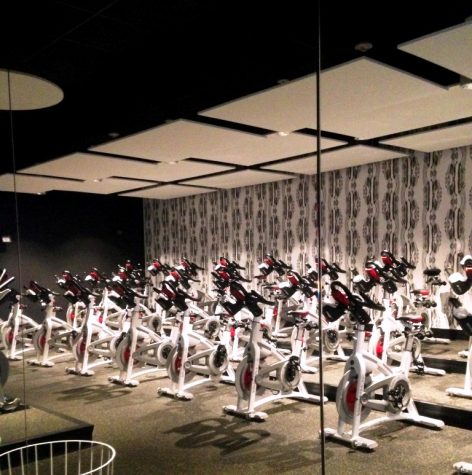 "There is a 72 year old woman who called and said, "I walk 4 times a week, and I'm bored! I wanna do something different!"… She's an annual member now, she comes 4 days a week," Ogle said. "It's part of a healthy lifestyle. You burn anywhere between 500 and 800 calories in a 50 minute class."
Sweat offers an informational beginner class, where people are introduced to the bikes and given a tutorial class to get a feel for spinning. In hopes of even further broadening their client base, Sweat has a teen program currently in the works. Ogle, co-owner and wife Jacqie Ogle, and his staff are surveying members to find a time and price point that they think would work well for teenagers.
"We have been surveying mothers and students about what would be a good time… possibly a Wednesday at noon class, and a Friday at 4:30 class," Ogle said.
What makes Sweat especially appealing to students is the fact that it is so convenient. Nestled between Starbucks and John's Boy, Sweat couldn't be more easily accessible.
"It would be really awesome if the teen program actually came to be. I've always wanted to try SoulCycle, but it's very pricy," said a junior. "It's also not very realistic for me because it is all the way in New York City, so the fact that I could literally walk to Sweat is really nice."
Currently, Sweat holds 22 classes per week. They hope to expand the schedule, including additions of special classes targeted at teens. 
"First class is free, and the beginner classes are free, so if you're uncomfortable or don't know what it's all about, you'll know all about it in thirty minutes," Ogle said.