K-ing cancer
Gliding to his position, he took a breath and mentally prepared himself to have a great game on the ice. Although he was nervous and felt as if there were 10,000 people watching, he stayed poised. The bleachers were barely filled, he told himself, although he could hear the echo of raucous chanting from the rink next door.
The high school student, who measured slightly over 4 feet tall, waited for the game to start.
The puck dropped and off he went. Wearing blue and yellow, covered from head to toe in hockey pads, freshman Luke Schwendemann skated around the ice, grabbing the puck every chance he could.
As he dangled the puck, he believed he had a chance to score. He made his moves, lined up his shot and scored a goal. Somewhere in the distance, a muffled crowd cheered for a different game.
Schwendeman plays hockey for a club team, the New Jersey Avalanche. Their games are played at the Ice House in Hackensack, New Jersey.
Meanwhile, playing on the rink next door, the Glen Rock High School Panthers were winning in their state tournament playoff game.
Schwendeman's family was in the stands watching him and, as the Glen Rock game came to a close, the student body that had been watching the high school game quickly filed into the bleachers to watch Schwendeman.
"I caught the puck off the board and went straight to the net," Schwendeman said, recalling the game.
Schwendeman skated over to where the students were sitting and held up his stick, banging his glove on the glass. The students jumped from their seats, cheering.
As the excitement waned and Schwendeman skated to the bench at the end of his first shift, spectators began to leave the arena.  The playoff hockey game was over; they had seen Schwendeman score: all was said and done.
Schwendeman's intensity, however, did not abate. He stepped onto the ice once again for his second shift scoring two more goals for a hat trick.
"
I love being on the ice. I get a thrill just like anyone gets a thrill playing their respective sport."
— Luke Schwedenman
Not knowing how to contain his excitement that he had just scored the first hat trick of his career, Schwendeman gave the crowd a single fist pump.
"I was happy because it was my first three goals of the season." Schwendeman said with a grin on his face. "I love being on the ice. I get a thrill just like anyone gets a thrill playing their respective sport. It's my passion, and hockey has just been what I love to do ever since I was a little kid."
Schwendeman started his hockey career playing for the New Jersey Daredevils, a team name similar to the professional NHL team the New Jersey Devils, but he has always loved watching the New York Rangers play.
The New Jersey Daredevils were a good team for Luke, but it was getting to be too far of a ride for the Schwendeman family. They started to look for a league that would fit the accommodations for their son that were a little bit closer to home.
It was a tough fit to find a hockey team for a cancer survivor.  The Avalanche League, however, was perfect.
Batter up
Schwendeman also has a passion for watching baseball. While he does not play in high school, he has loved watching the sport and learning the intricacies behind-the-scenes.
Schwendeman first assisted the baseball team in 2012 when he was eleven years old. Schwendeman became an honorary Panther and attended all of the team's home games.
Schwendeman's parents asked the then-pitcher, Aaron Weisberg, to become a mentor to Luke.
"
He loves baseball and tries to learn something new and is always trying to learn something new. He and I started our own thing; we'd have a catch before every game while everyone was warming up."
— Varsity Baseball Head Coach William Crispino
Weisberg invited Schwendeman to hang out with him and his teammates. Weisberg asked Schwendeman to join the bench during the summer Legion season and then again in the spring when the team had a state title to compete for.
"He's there and is our motivator for the guys on the team. He's always focused on the game when the guys can even get distracted at times. Luke never does," Head Varsity Baseball Coach William Crispino said. "He loves baseball and tries to learn something new and is always trying to learn something new. He and I started our own thing; we'd have a catch before every game while everyone was warming up."
In the 2013 season, the team wore black warm-up shirts before games with Luke's name on the back, his age, and favorite number, 11.
The team noticed that every time Schwendeman would attend a game, Glen Rock would win, which was highlighted by a key conference match-up against rival Garfield.
The Panthers needed the win against Garfield to qualify for the county tournament, and they took a scoreless game into the bottom of the eighth inning. Schwendeman was on the bench cheering his friends.
Glen Rock loaded the bases with two outs, and junior Matt Szawaluk came up to the plate.
"Luke kept us in the game, he never let us get down, and he always stayed positive," current senior John Scandale said. "Without him, I'm not sure we're in that game because he was our spark plug that season and kept a smile on all of our faces through good times and even through times of adversity."
With two strikes, Szawaluk delivered a game winning single for the Panthers, sending the Panthers to the County tournament.
Luke's Big Day
The game against Garfield was not the only meaningful game for Schwendeman. There was also the one in which the Panthers took on the Ridgefield Royals, on May 18, 2013. That game marked the third annual Coaches vs. Cancer baseball game between the two teams.
The day did not just include a baseball game between the two sides, but it also featured fundraising events for cancer research throughout the day, including a softball game between the two towns.
The Ridgefield baseball team's players even raised money by shaving their heads for the game.
Schwendeman rode to the game in a fire engine, which blasted its horn down the streets of Ridgefield as it pulled up. He got out and went into his new ride. Schwendeman rode onto the field in a convertible; the 300 people who attended the game were standing and clapping for the then seventh grader.
Schwendeman threw the first pitch with both teams lined up on their respective foul lines. Ridgefield athletes wore their alternate cancer jerseys for the game with royal blue, camouflage, and a pink ribbon patch.
Glen Rock was also wearing pink to raise awareness for all forms of cancer.
Glen Rock battled through the bottom of the seventh with a two run lead and turned to its closer to finish off the eventual Group I state champion Ridgefield Royals team.
Despite the drama on the baseball field, a more personal battle took place for Luke Schwendeman who watched this game, played in his honor, from the sideline.
Years earlier, for infant Luke Schwendeman, the question wasn't how to hit the ball out of the park, but how to slam the cancer out of his body, eradicating the bundle of nerves that had become a neuroblastoma.
The shock that Luke had cancer was not easy for his family.
"I didn't really understand," said senior Victoria Schwendeman, Luke's sister. "I just knew that he was really sick and couldn't come home. I was terrified, but at the same time, everyone at school distracted me. My brother is the strongest person I know, so I figured, no, I knew he would get through it."
When Luke Schwendeman was three months old, he was diagnosed with the rare form of cancer: neuroblastoma. Neuroblastoma is a cancer often found in the small glands on top of the kidneys (adrenal glands). This form cancer is extremely uncommon.
According to the Johns Hopkins Hospital Pediatric Oncology Department, a majority of cases of neuroblastoma affect young children before school age, with some cases beginning before birth.
"
I had to keep looking forward. I couldn't let the cancer slow me down or get me down."
— Luke Schwendeman
The Johns Hopkins Hospital Pediatric Oncology Department defines neuroblastomas in infants under eight months old differently than it would for older children: "Infants usually develop a form of neuroblastoma that is less aggressive and can mature into a benign tumor."
This was good news for three-month old Luke despite the diagnosis of cancer.
Symptoms of neuroblastoma often include pain in the abdomen or bones, extreme fatigue and immense fevers.
According to the American Cancer Society, the five-year survival rate of the group that is considered "high risk" is between 40 and 50%. Although the percentages did not appear to be in Schwendeman's favor, he never stopped fighting.
"I had to keep looking forward. I couldn't let the cancer slow me down or get me down," he said.
After living with neuroblastoma until the age of four, Schwendeman was deemed cancer free.
Schwendeman picked up a bat and ball for the first time when he entered kindergarten and immediately had a passion for the sport. He started following Major League Baseball.
"I started following every team. I root for just about anyone besides the Yankees," Schwendeman said. "I loved hanging out with my teammates."
Yet Luke never became the baseball player he aspired to be, nor could he join his classmates on the diamond.  Cancer was not done with Luke yet.
At the age of seven, Schwendeman's parents thought his cancerneuroblastoma was coming back. It was something else. Schwendeman had another rare form of cancer: leukemia.
According to the Canadian Cancer Society, Leukemia starts in the blood cells. As the stem cells of the blood develop, they become blast cells, which are immature blood cells. With leukemia, there is an overproduction of blast cells. These blast cells develop abnormally and don't develop into mature blood cells. Over time, the blast cells crowd out normal blood cells so that they can't do their jobs.
"During that process, I also had to get a new bone marrow. When I was getting my transplant, my arms were too weak from the chemotherapy. They had to draw blood from my chest," Schwendeman said.
"This was probably the most stressful thing that I have ever gone through. I can't even begin to imagine what he was going through," his sister said.
Schwendeman's parents would alternate sleeping at the hospital every night and made sure that they were there every step of the way. This became difficult for the family, especially with Christmas quickly approaching.
"My favorite memory with Luke thus far would have to be when he came home during Christmas because he hadn't been home for a while and, being able to spend Christmas with my entire family, that's better than any present I could have possibly asked for," Victoria said.
Even better than the news that he would be home for Christmas was finding out that her brother was, once again, cancer free.
"I was in class at Academy of Our Lady and I got called out of class and my mom told me that he made it through the bone marrow transplant and that things were looking really good. Then, a couple days later, we found out he was cancer free," she said.
Victoria said that, when Luke was first born, she initially felt upset to have some of the attention shifted away from her.  As the two grew older together, though, and Victoria saw the struggles her brother persevered to, she came to appreciate how strong her brother was.
"I was extremely blessed that he came into my life," Victoria said. Although she tried to live a normal childhood, with her brother on her mind it was difficult.
"I didn't get to have a normal childhood, like the normal kid things, and have play dates. I was worried about him, although I was young and didn't understand. I had to grow up pretty quickly," Victoria said.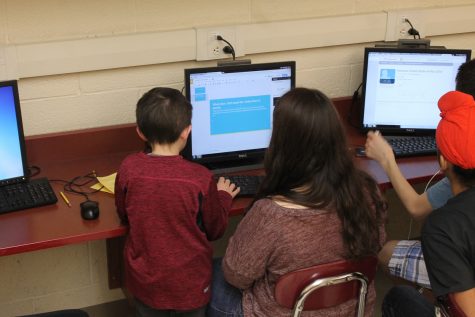 Although she didn't have the childhood she may have wanted, she would not have changed it .
"I don't treat Luke as if he had this disability; I treat him like I would a normal little brother. I'm extremely protective of him. That's the big thing that changed. If anything, this experience made him my best friend. It definitely brought us closer," Victoria said.
Although he is cancer free today, Schwendeman still shows signs of his battles against cancer that separate him from the rest of his freshman class. Schwendeman stands just a little over four feet tall. But what he lacks in stature, he certainly doesn't lack in heart.
Baseball Head Coach William Crispino said that Schwendeman's perseverance has changed the way he views the world.
"It makes you not want to complain about anything. When I find myself complaining about things that don't matter as much as the things that he went through, it makes you think twice about what's important," Crispino said. "He's always so positive and for him to walk around the way he does, so proud like one of the boys, as if nothing ever happened, he's a hero to us, and I think people are inspired by that. He inspires everyone every day."
While Schwendeman may now play contact sports such as ice hockey, doctors advise him to steer clear from anything to put him in harm's way.
This past summer, Schwendeman had to go through a pair of hip surgeries.  Despite this, Schwendeman still laces up his skates and bowling shoes.
Not just a two sport guy today
Aside from playing for the New Jersey Avalanche, Schwendeman also took up a new sport: bowling.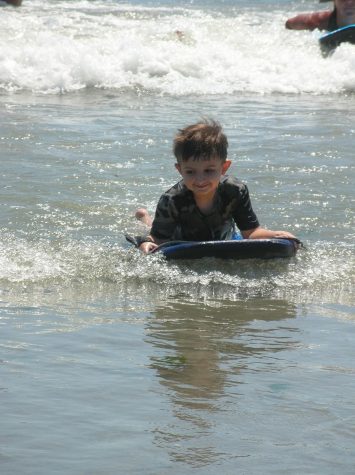 Schwendeman never misses an opportunity to make himself a better bowler. In his free time, he is always asking friends and family if they want to join him at the lanes.
He joined the high school bowling team this year.
"I really enjoyed having Luke around for my final year on the team," Jack Jensen ('16) said. "He brings a smile to my face. Not only because he's always smiling, but because I could see him getting better as the season progressed."
Schwendeman plans on bowling for Glen Rock High School again next season, but before then, he has one final season with the 2016 baseball class.
"I love being around these guys and I know they'll make their final season a special one," Schwendeman said.
Leave a Comment
About the Contributors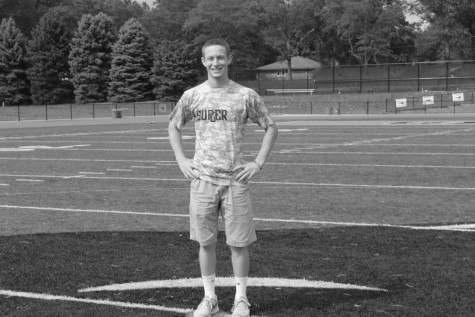 Max Felsenstein, Managing Editor
Max Felsenstein is a senior at Glen Rock High School. For the past two years, Max was the Sports Editor for The Glen Echo. Max enjoys playing baseball...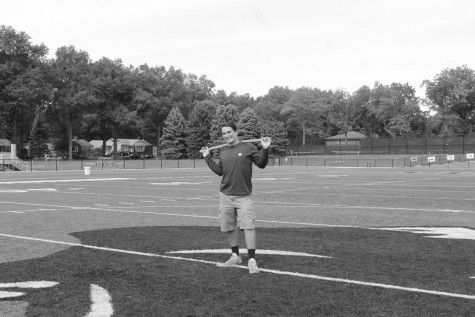 Vincent Neubert, Staff Writer
Vincent Neubert is an excited senior at Glen Rock High. As a new member he is grateful to be a part of the journalism staff.  When he is not being a journalist...