First and four years to go
Round two of the state semi finals
After beating Kittatinny in the first round of the North one Group two quarterfinals, the Glen Rock football team went on to the semi-finals to face Hawthorne.
The score went back-and-forth all game and Glen Rock's hopes for a state final appearance seemed lost late in the game.
Late in the fourth quarter, Glen Rock was down by seven with just 35 seconds left in what could be senior Jeremy Lipsky's last high school game. The Panthers had just given up a demoralizing touchdown. Lipsky jogged to the sideline with Hawthorne's raucous crowd in the background. He set foot on the sideline, winded, and walked up to Head Coach Jim Kurz.
The game wasn't over yet, at least not until the clock showed zeros across the board. Kurz began saying to his offense that they had the game under control — that they could still fight and win.  It was then that Lipsky and the rest of the senior offensive line explained to Kurz that they understood. At a moment when most people would have lost hope, Lipsky was confident that this wasn't the end.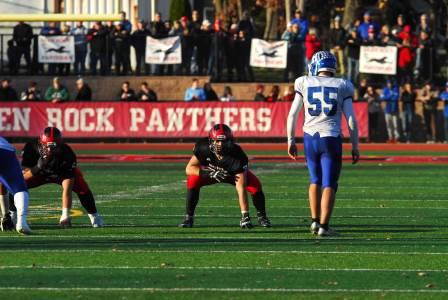 Kurz recalls the way they said this to him and described it as very "respectful" and as a "moment you don't forget."
Following that talk, Lipsky walked out to the 50 yard line, knowing that this could be his last minute of high school football.
Lipsky got down in his stance and prepared for the pass rush. The defensive end then rushed and Lipsky was able to turn him to the outside which gave Matt Schlett a perfect lane to run the ball. Schlett picked up 15 yards on the play and then another 15 yards after a personal foul was called against Hawthorne.
On the following play, Schlett dropped back and rolled to his right until Hawthorne's big defensive end wrapped him up and took him to the ground. Schlett was sacked for a loss and it seemed as though the magic had run out for Glen Rock.
On the very next play, the crowd went silent and everyone in attendance watched as Schlett dropped back and threw up a prayer into the middle of the field. Rob Ray leaped for the ball and came down with it for the big gain. This put Glen Rock inside the five yard line with 12 seconds left to play.
The crowd went crazy, but quickly silenced for the next play. Lipsky jogged to the sideline after Kurz called a timeout.
Silence came over the hundreds of people watching.
Schlett dropped back and stepped up in the pocket and threw a short pass to Tim Ray, which he caught with one hand in the end zone for his fourth touchdown of the game.
It looked as though the student section were a mosh pit after the score. Excitement overcame the crowd. The score was 28-27, Hawthorne ahead, with the extra point kick about to take place. Rob Ray took two steps and kicked the ball through the uprights to tie the game at 28 a piece.
Glen Rock showed little fear. Hawthorne scored quickly and Glen Rock's players and fans felt a pit in their stomach when their running back crossed the goal line. However, Hawthorne's kicker missed the extra point and gave Glen Rock hope for a victory.
Weeks earlier, in Glen Rock's first round game against Kittatinny, star receiver Tommy Pulzello had sprained his ankle and his status for the second round against Hawthorne was in doubt. Schlett and Pulzello had not connected on a pass all afternoon.
Glen Rock's first two offensive plays of overtime were incompletions to Pulzello. Pulzello, as well as the rest of the offense, showed visible frustration.
On the third play of overtime for Glen Rock's offense, Schlett delivered a perfect pass over the middle to a wide open Pulzello to tie the game at 34-34. The weight was now on Rob Ray's shoulders once again.
Rob Ray had come through twice already with a big catch to put Glen Rock inside the five yard line and also kicked the game tying extra point. Rob Ray took two steps and took the kick that could win the game. The ball split the uprights. Glen Rock had won, 35-34.
Lipsky watched as the extra point went through and as the rest of his team ran to the 50-yard line to celebrate. Lipsky stood there in disbelief and thought about how the moment "was very surreal."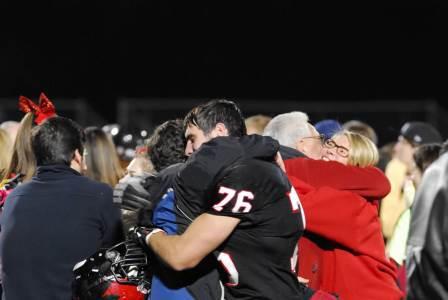 Lipsky was the last one to reach the 50-yard line When he got there, he dropped to his knees, still in disbelief of the moment and how his hard work had brought him and his team to this moment: One win away from a state championship.
Despite the hardships endured during the game, Lipsky knew in the back of his mind that the Glen Rock Panthers would turn it around and win the game.
The Journey
Every year, Coach Kurz goes around to tables of eighth graders in the hectic middle school cafeteria to see who is interested in playing high school football. Lipsky expressed his interest in playing as a young eighth grader and, as Kurz says, "the rest is history."
Lipsky was very involved in fishing and explained to Kurz that he would miss some of the summer workouts for fishing trips with his family. However, things took a turn and Lipsky fell in love with the sport of football and came to the conclusion that it was essential for him to attend every practice.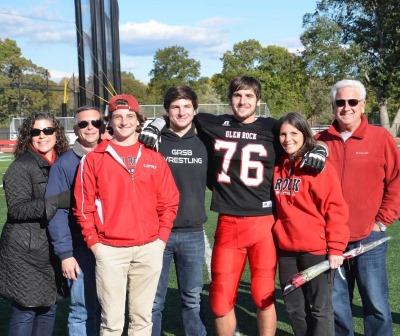 Lipsky knew that the coaches were going to push him with no limits to get him in shape for the freshman season and his first season of football.  He was up for the challenge and was excited about learning his position and working hard to be the best he could possibly be.
As a new player, Lipsky didn't know many of the rules and didn't know the difference between run blocking and pass protection, let alone how to do them.
Nonetheless, Lipsky started in the first scrimmage for the freshman team.
"They had this beautiful field," said Lipsky.  "Kind of what you picture when you think of high school football."
On the first play of the scrimmage, a player rushed Lipsky.  Lipsky then grabbed his shoulder pads and lifted him off the ground.
"Coach O'Hagan came up to me and said, 'Jeremy, not that I didn't like what you just did but you can't do that,'" Lipsky said.
At this point, Lipsky believed college football was possible if he put in the work. Lipsky was never one to shy away from a challenge, but this would be something he had never done before.
Lipsky progressed over the next few years and began to get emails from multiple colleges at the beginning of his senior year.
Despite this, he was not as focused on college as he was for the upcoming season at the beginning of his senior year.
Lipsky knew that this was a team that could contend for a state title. He loved the fact that he was trusted with playing left tackle. Left tackle is commonly known as the quarterback's blindside.
Lipsky had gone from a kid who didn't know much about the basic form of an offensive lineman to a polished one being recruited to play college football. He knew his number one choice would be Springfield College. He had just hoped that he would be able to get an offer from the school.
During the season, Lipsky focused more on football and less on college.  He and the rest of the all-senior offensive line led Glen Rock to a 6-2 record.
Kurz considered the success of the team this season a result of the offensive line. Their 6-1 record through seven games gave them the one seed for the North I Group II state playoffs.
In the first round, Glen Rock took on Kittatinny and beat them 42-14. This moved them on to the next round to face fourth-seeded Hawthorne.
Glen Rock eventually beat Hawthorne 35-34 in overtime to advance to the state finals to play Mahwah.
This was something the whole team, especially Lipsky, had worked so hard for all their lives, especially the last four years.
Despite a gritty performance, Glen Rock lost in the state final by a score of 38-13.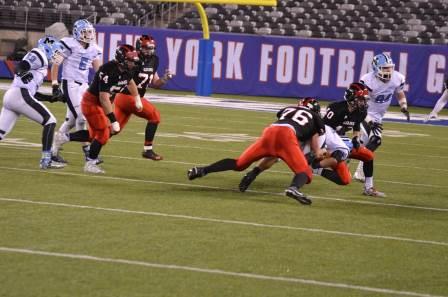 Lipsky will carry this loss with him into college and use it as motivation to get better but will not dwell on the loss.
The man behind the story
The recruiting process truly began after the season had ended. Lipsky had received offers from many schools. He liked a few but truly had his eye on Springfield College.
Springfield College is a small private school of about 3700 students.  It is located in Springfield, Massachusetts, which is approximately two and a half hours from Glen Rock. Springfield College is known for its exercise science department as it has a good relationship with plenty professional sports teams.
Lipsky's interest in Springfield is something that is common knowledge to his closest friends, including Matt Lange ('16) and Mike O'Hagan ('16).
"He's like a 25-year-old stuck in an 18-year-old's body," Lange said.  "That's one of the main reasons that so many coaches are interested in him."
"On the other side, Lange and I are like four-year-olds stuck in 18-year-old bodies," O'Hagan said.  "Jeremy's maturity and our childish behaviors really balance out our friendship."
Lipsky has matured from an eighth grader who was only focused on fishing to a high senior who has his eyes set on his future at Springfield.
O'Hagan has known Lipsky since first grade.  Lipsky told O'Hagan that he could come out on his boat and they could go fishing.
"Jeremy is a trustworthy type of guy," O'Hagan said.  "He is usually a man of his word, except I'm still waiting on that fishing trip."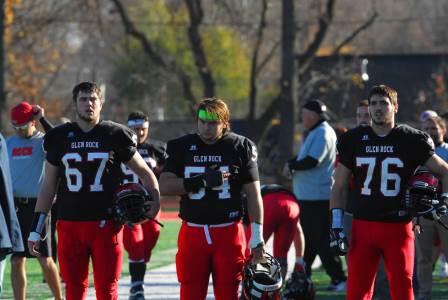 Lipsky is excited to start the next chapter of his life at Springfield, as he has now officially committed to the school to play football. Springfield is a Division III school. They run a fast-paced, high octane offense. They run an offense commonly known as the triple option. The triple option incorporates a few options for the quarterback in which he can either hand the ball off to one of the two running backs or carry the ball himself.
Springfield finished last season with a record of 4-6 with an in conference record of 2-5. Lipsky hopes that can improve that record and get it over .500 in the coming years.
"Lipsky fits what we want here," said coach Corey Kaiser, the coach at Springfield College who recruited Lipsky.  "He is the type of offensive linemen we have at Springfield College."
"Lipsky seems like a real genuine and polite kid," he said.  "He made my job just easy in general  He was all about Springfield."
Prior to the recruitment process, Lipsky had done his research on colleges.  He immediately realized that he wanted to spend the next four years at Springfield, making it easier for Kaiser to recruit him.
"He loves Springfield," said O'Hagan.  "It was a major goal for him."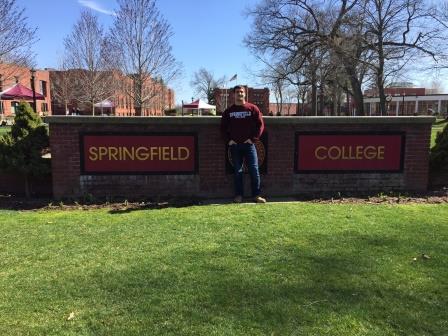 Lipsky plans on majoring in exercise science.  He is interested in the reputable program at the school. Springfield has alumni working for professional sports teams across the country.
Lipsky hopes to one day be a strength and conditioning coach for an NFL team.
View Comments (1)
About the Contributor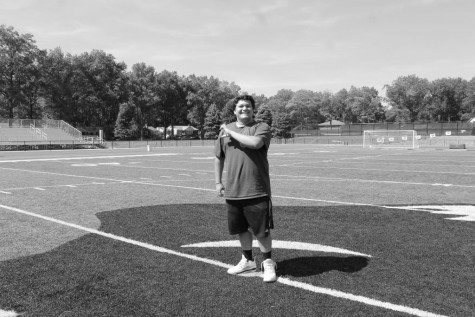 Jack Jensen, Business Manager
Jack is a senior at Glen Rock High School. This is Jack's second year taking journalism. His hobbies include playing sports, hanging out with friends and...