Those without senioritis
It is a strange predicament when the writer of the story finds himself at the epicenter of his topic, like standing in the eye of the hurricane and watching the gyre of winds swirl around it.
Yet, as a senior journalist graduating this June, I move through the rites of passage familiar to those before me: applying for colleges, deciding on a school, and then inexorably moving away from high school and toward college.  
Senioritis; the word is supposed to be a joke, a novel way of making mentally "checking out" sound as if it is contagious.
Yet, strangely enough, not everyone gets senioritis.  Some students are oddly immune.
This is the story of Julie Singh who has fallen into the grips of senioritis and the only cure on the horizon is the summer air.  
This is also the story of Juliana Roddy who, despite her impending matriculation into college, has not stepped off the academic gas.
It may also shed some light on education: what learning is and how students perceive it. Are students ultimately running toward a goal, or are they working doggedly to reach a finish line that doesn't exist?  
This is a story that, unlike high school, does not end on June 23.
For the past three years, everyday after school, one could find senior Julie Singh in the same place for hours upon hours after arriving home. Diligently studying and completing other assignments. Singh possessed an understanding that was key to her success in high school.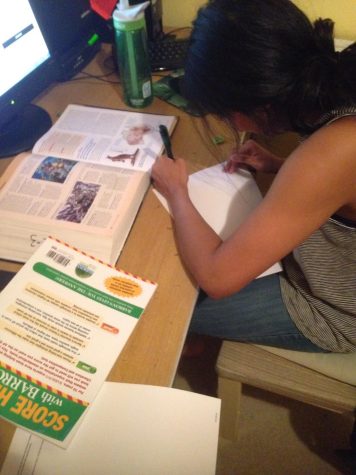 Upon going home, Singh prefers to do her homework in isolation. Her big, old desk holds her computer which she often uses for work. She has most of her textbooks on the side with her, including her Biology textbook, and her keyboard in front of that. Her backpack sits on the side of the chair. But when the stress kicks in, Singh often resorts to doing work on her bed so she can spread everything out and study more effectively. The map of the world is hung behind the computer while pictures of her friends and family sit just to the right. The windows are lined with pink curtains.
"I understood that all of my academic efforts would have an effect on my ability to get accepted into college," Singh said.
Singh worked hard for three years so she could feel secure when fall of senior year came around, and she had to begin applying to colleges.
If one were to take a look at senior Juliana Roddy for the past three years the picture would look very similar to Singh's.
Roddy worked earnestly to ensure the same security when it came time for her to apply to schools.
Both students also took on several extracurricular activities to bolster their college applications. Roddy participated in Relay for Life, Girl Scouts, Student Government, and cheerleading, among several other activities. Singh also participated in Girl Scouts.
Yet fast forward to January of senior year and two very different scenarios have unfolded.
Roddy has kept the same routine in her life. Coming home and spending the majority of her night working diligently on studying and completing other various assignments.
Singh, on the other hand, has developed more lax tendencies towards school, and now finds herself doing other productive things in the hours she used to dedicate towards school.
Both of these students remain strong academically and both will matriculate to universities next fall, so this feature is not about one student who has continued to work and one who has not.
This feature is more about one student who made a promise to herself and another who has found the value of time and was able to appropriate her hours to things she values more at this point in her high school career..
When Roddy sits down in her dining room to begin the night's work, it is much more than a fear of her grades falling that continues to motivate her. It is about a vow she made to herself to finish what she started during freshman year.
"I still feel like to need to maintain what I started," Roddy said.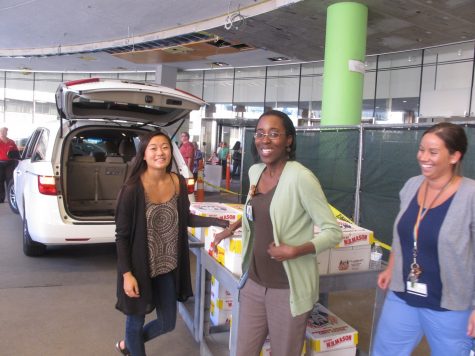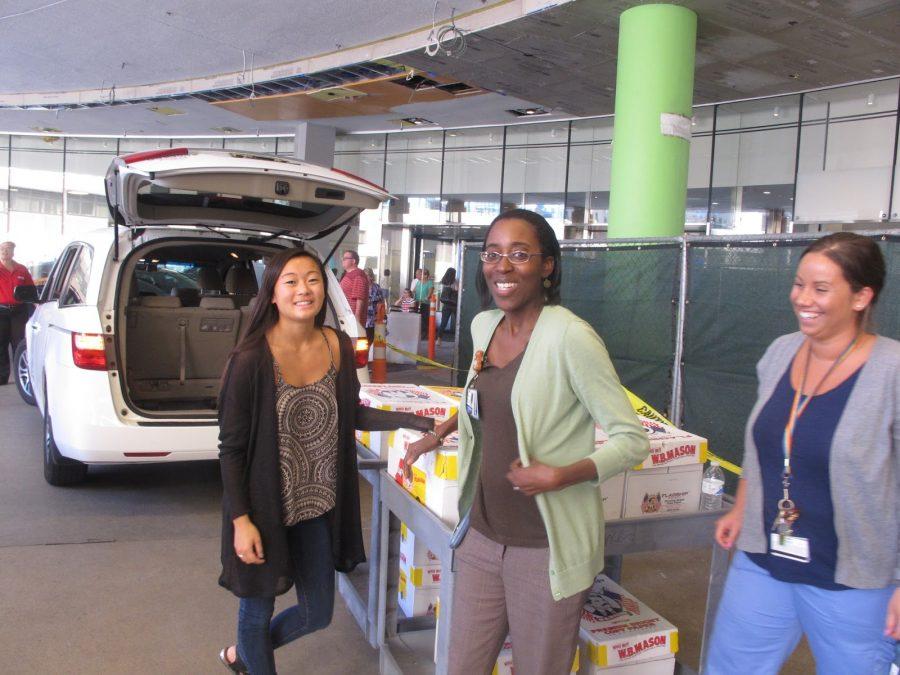 Roddy often lamented that she did not come this far for for the perks of being able to slack off her second semester of senior year. But rather, set an example of herself of how to succeed in college and beyond. Roddy has worked diligently and developed study habits that she realized would work for her beyond high school. She now hopes to continue those habits in an effort to find similar success in college.
Singh falls in the same boat as she did not anticipate falling into the traps of senioritis. But once the college acceptance letters began rolling in, Singh felt she was able to now dedicate her time to more useful things.
Among many other things, Singh came in third place in an essay competition through the VFW.
Among winning a $100 college scholarship, Singh was honored with the privilege of reading her essay at the VFW in front of Veterans and other VFW supporters.
Singh stood in a room with white barren walls, several people gathered into close corners, the majority of whom Singh was unfamiliar with. While the walls remain plain, the words Singh is reading illuminate the atmosphere and create a mood of hope. Singh is sharing her vision for the future of America and what America means to her. While the scene appears bland, the Veterans who are just to Singh's right, are on the edge of their seats, eager to hear what the next generation sees in store.
Through this award, Singh was able to validate the hours she normally would have spent vigorously studying.
"I feel that managing my social life and school life is a lot more lax this year," Singh said.
Yet despite her reprieve, Singh still finds motivation to study.
Singh's incentive to continue to do work lay within Glen Rock High School policy.
Glen Rock High School has a rule in place in an effort to keep senior students motivated. If a student receives at least an A- in all four marking periods, the student will be exempt from taking a final in that class. This rule is part of what the administration has done to prevent senioritis. By rewarding students for succeeding all four marking periods during their senior year, the hope is that fewer students will sink below the work they are capable of.
"I think that my goal is to avoid finals," Singh said. " As of right now I do not have to take finals, and psychologically this has made me feel more relaxed about school."
This rule is what has held Singh to her high standards. She is currently in line to take zero finals. Singh's hard work paid off when she decided in late March that she will be attending the University of Delaware next fall.
Singh also alluded to her teachers as a reason that she stays motivated.
"My teachers do motivate me and my classmates to stay focused and remain focused for the remainder of the year." Singh said. Singh also admitted that it does get to a point where the teachers themselves understand how a senior is feeling.
Singh predicted that her studying habits might take a hit once she has definite plans for the fall of 2016.
"Once the weather gets nicer, and we are all in college, we will all lose motivation to continue trying as hard as we did during our years as underclassmen," she said.
Roddy has had similar success but has taken a different path during her senior year.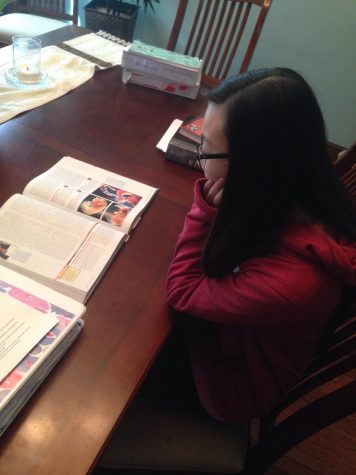 The long dining room table is covered in eraser shavings and papers from Biology, Psychology, and Physics classes. The room covered in a delicate silence with only the sound of the pen on paper penetrating the quiet environment. Roddy fills only one of the empty chairs surrounding the table. A sense of comfort overwhelms her thanks to the robin's egg blue walls and the grandfather clock behind her the she has grown to know all too well.
Roddy has become accustomed to this recurring picture throughout her four years of high school.
Roddy's continued motivation has a much bigger meaning then finishing out high school on a strong note. She wants to be able to carry out this attitude throughout her whole life.
"I think in college I will have good study habits from high school and the self control to know when it is time for work and fun," Roddy said.
Despite Roddy's hard work ethic, she has been able to make time for other extracurriculars. These activities include Relay for Life, student government, cheerleading and volunteering at her local church.
Roddy is certainly in the minority of high schools students as most have succumbed to the depths of senioritis by their second semester of senior year.
Whatever Roddy and Singh find it is that motivates them, the two have in common that they receive very little pressure to perform from their parents.
"My parents understand the concept of senioritis and are more lenient with school as long as my grades do not significantly drop," Singh said.
Roddy echoed a similar sentiment saying," All the pressure I feel comes from myself. My parents always encouraged me to do my best, but I am my biggest critic overall.
———–
Principal John Arlotta is no stranger to senioritis and its potential detrimental impacts.
After serving as a teacher before becoming a Principal, Arlotta has seen what senioritis can do to one's life. At Arlotta's previous school he had a student who was accepted into an Ivy League School. The university then asked for the student's second semester grades and his admission was rescinded.
But at Glen Rock High School, Arlotta does not feel that senioritis has plagued the senior class with as much severity.
"Fortunately, we have a small school, so it easy to speak to students individually if they are not working up to their potential," Arlotta said.
Arlotta does admit though, that as the year goes on, things have the potential to become much more relaxed.
"
Just because one has gotten into college doesn't mean that learning should stop."
— Prinicipal Arlotta
'I do notice that when the weather warms up and the senior activities increase, that students can be challenged to stay focused."
Arlotta hopes and sees that Glen Rock students still care about learning the material rather than just trying to get through their final year.
"As a teacher, I used to cringe when a students would ask 'Do we have to know this?', 'Is it on the test?' One would hope that students want to learn for more than extrinsic reasons.
Arlotta drove home the message of senioritis and high school as a whole.
"Just because one has gotten into college doesn't mean that learning should stop."
—
For several junior students, the prospect of catching the senioritis cold seems far off. Many are just focused on trying to get into college and are not really worrying about their senior year.
But, for junior Julia Rooney, the focus remains on maintaining the work ethic she has developed over the past few years. Rooney describes herself as a motivated student who emerses herself into topics that she finds interesting. But, also has been prone to do the bare minimum if she knows she can get a good grade.
"At time over the past few years I have been lazy when I knew I could get a good grade," Rooney said.
Rooney worries that this attitude could translate into her developing senioritis. Rooney believes that the main cause of senioritis is distractions such as applying to college, SATs and other things that can take a senior's mind off of school.
"It is kind of scary thinking about getting senioritis," Rooney said. "I don't want to slack off while applying and hearing back from colleges."
But, having several senior friends, Rooney has seen how senioritis has impacted them, and she has seen that students are able to maintain their grades will doing a significantly less amount of work.
"I know a lot of them have stopped putting as much work in, but they are still able to earn good grades," Rooney said.
But like Roddy and Singh, Rooney's main focus remains on how her senior year will impact her in college and beyond.
"The main thing for me is making sure what I do in my senior year won't hurt my study habits once I get into college," Rooney said.
—
When one moves onto a different phase of their life, reflection and subsequent regrets often follow.
Both Roddy and Singh share different opinions of their high school careers.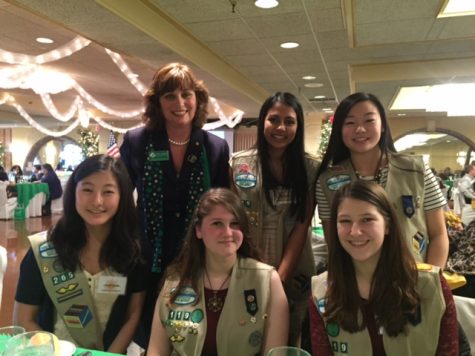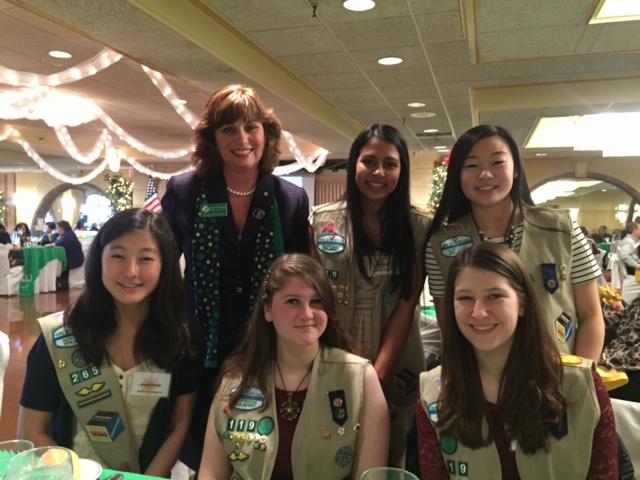 Singh expressed no regrets about how she managed her social and academic lives throughout the past four years. But, Singh did acknowledge that her recent laxed habits might hurt her as she ventures off to college next fall. This fear also contributes to Singh's motivation.
"I do think that senioritis will make it slightly difficult to regain old studying habits; because of this I try not to give up completely on school," Singh said.  "I understand that there's a line between trying and giving up."
Looking back, Roddy has also admitted she does regret how much academics controlled her life.
"Sometimes I wish I cared a little less about school," Roddy said.
Roddy did admit that once she decides where she will be attending, she could fall into the habits she fought so hard to avoid.
"It will definitely be harder to concentrate and I could see myself being a little more relaxed knowing I have set plans," Roddy said.
But Roddy's vigorous work ethic was rewarded when was accepted into the University of Pennsylvania. She will be attending there next fall.
But this story is about much more than regret, it is about survival. Often times high school can be the toughest years of one life. Succumb to high school drama, schoolwork, athletics and various other factors.
This story is about how students react to their hard work paying off in the second half of their senior year.
Not every student will fit into the mold of how either Singh or Roddy handled their final year of high school: but not everyone should.
Just like Roddy and Singh, everyone will react to the final stretch of their high school days. Some will sprint to the end, some will begin coasting halfway through. All of these prove to be acceptable and capable, just as long as one's path leads one to the finish line.
Leave a Comment
About the Contributor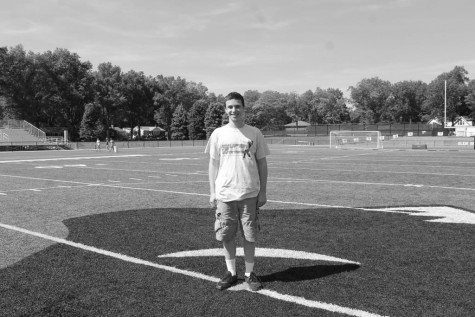 Ryan Stolz, Sports Editor
Ryan is a senior this year and will be serving as the Sports Editor.Ryan  is an avid enthusiast of baseball history and he enjoys painting landscape pictures...