Students benefit from parents as faculty
The daunting thought of Back-to-School Night may have students on their best behavior the week prior, but students whose parents work at Glen Rock High School have the yearlong expectation to follow the rules.
Both of senior Tim Fink's parents are part of the Glen Rock school faculty. His mother, Mrs. Irene Bickert-Fink, works in the high school as a science teacher, while his dad, Mr. James Fink, works in the middle school as a social studies teacher. Tim said that he sees his mom consistently throughout the day.
"The benefit of having them in the school is that, if I ever need something, I know where they are so it's convenient," Tim said. "A downside is that they always know about everything whether it's a missed assignment or fooling around in class."
One out of the three Fink boys, John, has already graduated from Glen Rock High School, while Tim is still a senior and Chris is still in the middle school. After working in Glen Rock for 20 years, the Finks asked permission to bring their kids through Glen Rock's schooling system four years ago.
"The benefit for them to come here is the great support system they received for sports and academics. The opportunities here are much greater than where they would have gone to school with more AP courses, art courses, and clubs." Mrs. Bickert-Fink said.
Another family intertwined within the school are the Walters. Mrs. Kathleen Walter has been teaching history here for 8 years, while sophomore daughters, Jean and Alex are just cozying up to idea of walking the same halls as their mom.
"It's going to be super weird if Alex and I take AP History next year. She's going to have a lot of our friends as students and she has some of our friends this year which is super weird as well," Jean said.
Though her mom mingling with her friends on a daily basis is a compromising matter, her mom chitchatting with her teachers is not as much of a concern.
"I try to avoid talking with Alex or Jean's teachers because I understand that high school is a time where you become an individual and need to learn the responsibility of being independent," Mrs. Walter said.
After Jean recovered from Langerhans Cell Histiocytosis, a form of cancer, Mrs. Walter hopes that being in the same building with both her daughters is as much of a safety net for them as it is for her.
"Otherwise, the benefits are that if I ever forget something then she can grab it for me, she can sign important papers, and if I ever need someplace quiet to study or do something else then she lets me use her classroom," Jean said.
About the Contributor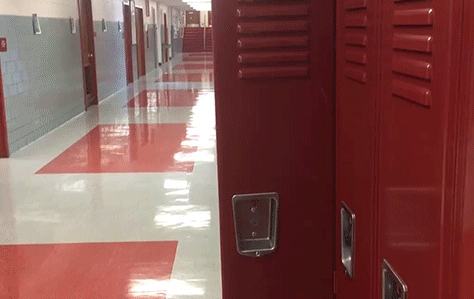 Sophie Ferreri, Head Copy Editor
Sophie Ferreri is a senior and this is her third year writing for The Glen Echo. She attended an Investigative Reporting program at Boston University this...