Career panel teaches students about healthcare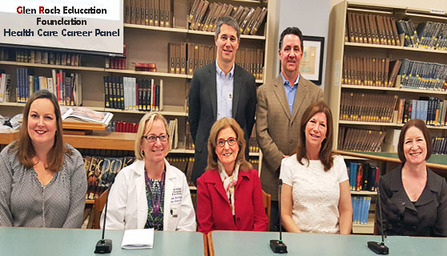 Students attended a health-care career panel in the Media Center on Wed. Dec. 8.
The panel was meant for students interested in hearing professionals talk about their jobs in the healthcare field.
At the panel were two pediatricians, a school nurse, a physical therapist, a dentist, a registered nurse, and a pharmacist. Each answered different questions about his or her particular job, and how it relates to the learning students do in High School and College.
Dr. Adam Bloomfield, citizen of Glen Rock and father of three boys, is a pediatrician at the Chestnut Ridge Pediatric Associates, located in Woodcliff Lake. He thinks all students interested in one day obtaining a job in  health sciences should always work hard at what they do and head in a direction, whether it be working in a lab, or gaining experience in a hospital.
Throughout the panel, managing time, connecting with patients, preparing well, and managing stress were emphasized as tactics to being successful in the healthcare field.
Dr. Joyce Johnson, a dentist at the West Ridgewood Dental Professionals made a point to the students that preparing prevents mistakes and she also stressed the idea that one can never have enough practice.
"Being prepared definitely takes away my stress," Dr. Johnson said.
Students said this panel was educational, fun, and worthwhile. Sarah Hutchins ('19) thought each panel speaker answered all the questions she had.
"I like science and biology, so I think that I could definitely go into like being a doctor or like a nurse or something," Hutchins said. "The career panel helped me realize this. I had kind of known before, too, but it gave me a better understanding."