Theatre company debuts fall performance
The theatre company performed its first public showing of its fall play, The Matchmaker, last night, to a crowd that laughed aloud to the light-hearted comedy.
Written and published in 1957 by Thornton Wilder, The Matchmaker is critically acclaimed. Its musical comedy version, Hello, Dolly!, is also well-known. Wilder is the author of the play Our Town, which often appears on high school English curriculum. 
The play follows a rich man named Horace Vandergelder, who hires Dolly Levi to help him find a wife. Yet, in reality, Dolly has already decided that she would be the perfect partner. She begins setting him up with other people while secretly attempting to 'match-make' Vandergelder with herself.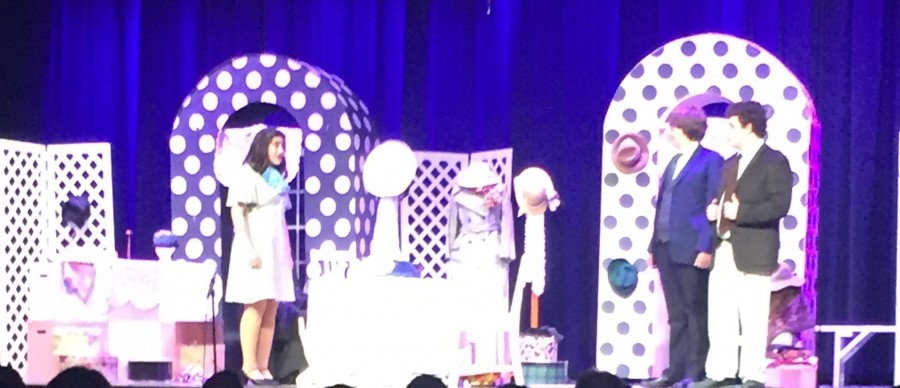 Other subplots in the production include the story of two shopkeepers, Cornelius Hackl and Barnaby Tucker, who have unauthorized adventures in New York, as well as that of Mr. Vandergelder's niece, Ermengarde, who wants to marry an artist of whom her uncle does not approve.
The play was presented in four short acts with two in the beginning, a fifteen minute intermission, and then two after the intermission.
Ms. Juliet McKinley, the director of the theatre company and a high school English teacher, has been the club adviser since 2012. While selecting the script for the fall play, she took a lot of issues into consideration.
"The first thing I thought about is what would be a good learning experience for everyone," McKinley said. She said that she considered what the company "could do technically" and "in terms of cast size."
She added, "I want to have something with a lot of parts, and I wanted something that would especially be fun and a comedy."

Some of the central themes of the play include friendship, adventure, and life experience.
"I would definitely say the theme is about adventure and probably going out and experiencing life and not locking yourself away in your room, and also making yourself emotionally available as well as making connections with people, either romantic or friendships, " McKinley said.
Other aspects of the production, such as costumes and design, were undertaken by Mandy Rosengren, a senior, and lighting was designed by Sam Halpert Rodis, a former student.
Erish Halpert Rodis, a senior and Sam's sibling, enjoyed participating in the production. Erish played the role of the Cabman in the third and fourth acts and also performed in Beauty and The Beast, Theatre Through The Ages, and The Drowsy Chaperone.
"I am so grateful to be a part of another production, and I hope everyone comes to see the show," Erish said.
Isabel Siggers, a freshman, said that she has had a wonderful first experience with the theatre company. In this production, she was part of the ensemble.
"I can't wait to do more shows in the future," Siggers said.
The company will be holding two more performances on Nov. 20 and 21.