GSA raises fundraising goal after t-shirt sale success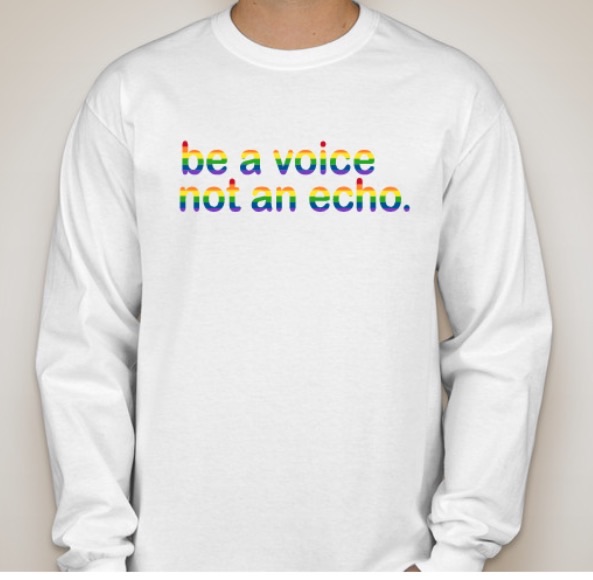 The Gay-Straight Alliance beat its fundraising goal through selling t-shirts printed with the Albert Einstein quote "Be a voice, not an echo" in rainbow lettering and is now planning to raise its goal.
As of Nov. 12, the GSA had sold a total of 73 shirts, surpassing their original goal of 50.
Their new goal is to sell 100 shirts by Tuesday, Nov. 17. Proceeds and donations made through their booster website will help the club with future assemblies, fieldtrips, and outreach programs. Because the fundraiser is going better than expected however, the GSA is also looking to donate some of the proceeds to other programs that support their cause.
According to the GSA booster page, "The Gay-Straight Alliance (GSA) seeks to promote safety, respect, diversity and compassion for all students in Glen Rock regardless of sexual orientation or gender identification."
Jordan McMahon, the club's president, described the Gay-Straight Alliance as being a place of equality, friendship, progressivism, and acceptance.
"This is a place where it's a judge-free zone, and we want everyone to be able to say what they feel, cause it starts good conversation, definitely helps people out with their own problems… so I like when people can just say what they want and say how they're feeling," McMahon said.
The GSA is already putting the money to good use.
On Friday, Dec. 11, an assembly with Leo Caldwell will be held at the school. Caldwell is a transgender man and he will be coming to the school to talk about his story and discuss gender roles. The GSA hopes that this assembly is the first of many and that they continue to help teach our community about LGBTQ+ rights.
"We're really focused on getting the message out to people. So telling people about equality, and what they can do to help achieve that… There's so much out in the world that we can learn from too," said Ms. Nicole Rusin, GSA co-adviser and designer of the t-shirt.
Rusin is a new adviser for the GSA this year, taking Phyllis Sneyers' place. Mr. Dan Brodhead, guidance counselor, is another co-adviser of the GSA, and he has been with the GSA since it began.
"To me, we have the nicest kids in the school, really, and if anybody's going to be supportive it's going to be us. We welcome everybody… you don't need to be anything, you just want to be nice, that's really all it is," Brodhead said.