Behind the Director's Chair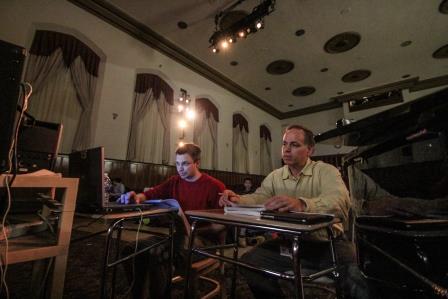 As great as musicals and productions go, from high school all the way up to Broadway, the cast members, with all individual talent aside, must rely on the director to put together the entire show.
The show is well-known, Disney's Beauty and the Beast.
"Disney's Beauty and the Beast was a smash hit on Broadway and London's West End, winning awards for Best New Musical and Costume Design," Carl Helder, vocal music director, said.
Showings went from Thursday Feb. 12 through Saturday Feb. 14; performances began at 7. Tickets were $15 for adults and $10 for students, and people could buy tickets at the door, if they chose to go last minute.
So, The Glen Echo asks: What would the musical be without its directors?
For Christopher Barker, it's not his first rodeo
Christopher Barker is the main director behind the play: he has control over the cast, designing the set, choosing the costumes, and story. This isn't the first time he has worked with young adults, and it also isn't the first time he's worked on the musical in Glen Rock.
"This is his second season with us, after doing a terrific job last year with The Drowsy Chaperone," Helder said.
Barker, who has years of experience with this type of role, has been in and out of all sorts of play productions since he graduated from SUNY Purchase.
Over the years, Barker has gained a lot of experience that helps to make a successful show. He says to always keep a positive attitude and environment for the cast. If a mistake happens, Barker says, they just have to "get through it."
"Mistakes are made and we try to support them the best that we can so those things don't happen," Barker said.
Along with the main cast, Barker is involved with a crew of two other directors. One of these people is the vocal and music director for the actors, actresses and ensemble/music, Carl Helder.
"I went to high school with him right over in Fair Lawn," Barker says.
The other member holds the title of "Student Director." Francis Mountain, who goes by his middle name, Tim, is the third member of this triumvirate.
"I look at myself as a sports coach because that's how I approach directing personally," Barker said. "We try to rev them up through two or three months of energy, steamrolling towards the finished product," he added.
Timothy Mountain, a team captain
Breaking away from the adult's perspective, student director, Tim Mountain, gives his input as someone directly from the cast.
Playing Cogsworth in Beauty and the Beast, Mountain's character provides comical input and leadership in the castle, which is also a good way to describe him in the classroom.
Barker explains that he views the theater as analogous to a sports team.
"I think of myself as a sports coach," Barker said.  Mountain, he says, is the "team captain."
For Tim Mountain, theater may be his current passion but he also played hockey.
"Hockey was great, don't get me wrong, but it never fulfilled me in the way theatre does. I quit the hockey team and focused on the stage in the beginning of sophomore year," Mountain said. "I suppose sophomore year was the Renaissance of Tim Mountain."
Under the title of "Student Director," Mountain has responsibilities like the other directors, but his duties are limited. He mentions that he doesn't have as much "creative input" and that he's more of a "communicator between the cast, crew, directors, and parents."
Although limited, Mountain still does all the things in his power to keep spirits up and to make sure everyone is on task and having a good time. However, just like a team captain, he does not take all the credit.
"It's really not just me," Mountain said. "There are people such as Tyler Hirschfield, Annie Burke, Maddie Basirico, Sam Halpert Rodis, Delaine Karcanes, Maddie Seibold, Andrew Peiser, Jack Whyte, Dylan Kennedy, and Kyle O'Connell, just to name a few, who are really talented leaders who help the show run as well as it can."
Carl Helder sings through life
The vocal music director of the Beauty and the Beast is a familiar face; he is the choir, music theory, and music production teacher, Carl Helder. Helder, who went to high school in Fair Lawn, has been best friends with Christopher Barker since they were 14.
"I met Mr. Barker when I was in high school because I had become friendly with his younger brother, Jon, from a musical production we were both working on," Helder said.
However, there was something special between the three young adults at the time; they all had something the other did not.
"Chris Barker in film writing and direction, Jon Barker in acting, and me in music," Helder said. "Jon is actually responsible for the amazing sets you see in Beauty and the Beast."
The two function like clockwork in their trust for one another, never overlapping their duties or stepping onto the other's responsibilities.
"We work together well because we respect each other's expertise and have faith that the other knows exactly what he is doing," Helder said.
"We've never stopped working together for like 20 years," Barker said.
Helder has been working with music, including vocal music, all his life. He has been in bands with classmates, worked on soundboards and mixers (for events like musicals) and also helps with other special events throughout the year, like the October/November themed Cabaret Night.
Technology and mixing haven't been Helder's primary pursuits, though. His first experience with an ensemble goes back to when he was growing up in Fair Lawn and actually performed in "the pit" (the vast ensemble of instruments that produce the music for the show) for Fair Lawn High School's play of Pirate of Penzance. 
Helder graduated from William Patterson, when it was still a teaching school, and, from there, he departed on his personal adventure teaching music and imparting the knowledge he gained during his years of first-hand experience.
With a live show, both Helder and Barker know that mistakes cannot be glossed over. Yet nobody is perfect, and Helder knows that.
When dealing with a mistake in a live performance, Helder says, the key is to "be flexible and think fast on your feet."
"When a mistake happens," he says, "you must go on as if it wasn't a mistake, recover quickly, and not lose focus."