Making a pitch
Every February, all thirty Major League Baseball teams travel down to various sites in Florida and Arizona to play competitive exhibition games and prepare for the upcoming baseball season. Additionally, more and more northeast college programs go south in February as well.
Although Glen Rock High School's varsity baseball team is neither collegiate nor professional, Perfect Game provides an alternative for high school teams looking to get a jump-start on their seasons with its 2nd annual Spring Swing tournament.
Attending the Spring Swing would provide Glen Rock High School's baseball team with a competitive baseball experience, playing against some of the nation's top teams and give the players the "ultimate experience," playing at LakePoint Sports' state-of-the-art facilities in Emerson, Georgia.
Glen Rock High School baseball player Matt Gresham, who traveled to LakePoint last summer, said, "I've never played on better baseball diamonds than the fields at LakePoint, and they provide the best baseball experience in the country."
Although it would be nice to say that the baseball team is just going to go to Georgia this spring, it's not that easy.
The Perfect Game Spring Swing Tournament, held from March 12 to March 14 this year, has an entry fee of $225 per game. In addition to extra expenses including hotels, flights, and meals everyday. The Panthers would choose the number of games they'd play.
The baseball team will need to fundraise and gather up every penny they could find to make this pitch a strike.
While the tournament itself may cost an elephantine amount, the experience is priceless.
Not only will the players be gaining an edge this spring against local competition, they will also be getting a head start with their college baseball search, as many colleges from around the country will be in attendance.
Last season alone, this event displayed 171 players who committed to college baseball programs and 20 players who went on to be drafted by Major League Baseball teams.  Clearly, there will be no shortage of national competition at this premier spring event.
As of Jan. 20, Perfect Game has 44 teams from seven different states attending this event and, while it is too late to register this year, Glen Rock will do well to consider going to the plate for the spring of 2016.
Glen Rock's first baseman, Matt Lange, said, "I think it's necessary to properly train before the season because the games aren't won during the season, the games are won before the season and how hard you work."
The Perfect Game experience at LakePoint is second to none, which could make Glen Rock High School the most prepared High School baseball team in the Northeast.
About the Contributor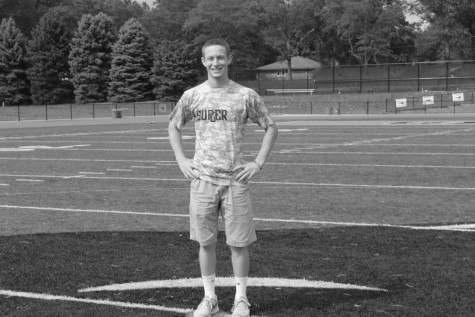 Max Felsenstein, Managing Editor
Max Felsenstein is a senior at Glen Rock High School. For the past two years, Max was the Sports Editor for The Glen Echo. Max enjoys playing baseball...