Threading a new look
GLEN ROCK, N.J. – Arachnophobia: fear of spiders. Claustrophobia: fear of small spaces. Social Phobia: fear of being judged by others. All of these are common terrors, quietly eating at students throughout their lives.
Within a school loaded with stereotypes and specific ways of 'fitting in,' are any students courageous enough to freely express their individuality and creativity?
Enter Rebecca Nathanson ('15), a student who goes against the grain to unleash her uniqueness through both style and her passion for fashion.
"You can express anything you want through what you wear," explains Nathanson.
This motto is how she styles her look. Considering Nathanson's wardrobe every day, there is no one specific way to label her fashion. Her style depends on her mood and outlook of that day.
"Like baggy jeans, boyfriend jeans, and a comfy sweater with a shirt underneath the sweater," she explains, describing her laid back mood.
"
She goes with what she likes, and that's all that matters."
— Meaghan Murray
"I just feel like I have a lot of energy," she says, showing how her outfits put her in a good mood.
Where a sweater and pants means a chill day for Rebecca, a skirt with jeans and a self-made top symbolize a 'normal day' for this fashion maven.
"I think that she is very creative, and she doesn't really have any shame. She doesn't care what anyone thinks… she goes with what she likes, and that's all that matters," Meaghan Murray ('15) says.
Her style catches the eyes of her peers. Some people are completely inspired, while others admire – but are not willing to necessarily compose outfits – of such an intense caliber.
Rebecca is seen as a fashion icon in the halls of Glen Rock due to her choice to not hide within the commonly accepted stereotypes, but her confidence in her fashion was not always as strong as it is today.
It took Rebecca a while to break through her shell.
During middle school, Rebecca was your typically-dressed girl. Abercrombie jeans, a shirt tucked into a belt, and moccasins. She wore her hair in headbands and sported her Tiffany heart necklace.
But once high school hit, she realized it was time to ditch the moccasins and the t-shirts and explore entire new aspects of style.
A new age of style
"I think freshman year [was when I discovered my new interests in fashion], but I was too scared to wear what I wanted to," Rebecca says.
To draw inspiration for the new, signature look she was creating, Rebecca turned to many different types of sources, including her prior work in the fashion industry.
As a teen model, Rebecca has participated in many photo shoots and fashion shows.
Just as the stylists transform her, right in front of her eyes, soo too did Rebecca ultimately develop the courage (as well as firm mental blueprints) to craft a new version of' 'Rebecca Nathansons' style.'
"[When] you're back in the backstage, and you see all of the different types of clothing that's there and how different it is from what people actually wear, and it's just very inspirational," Rebecca says.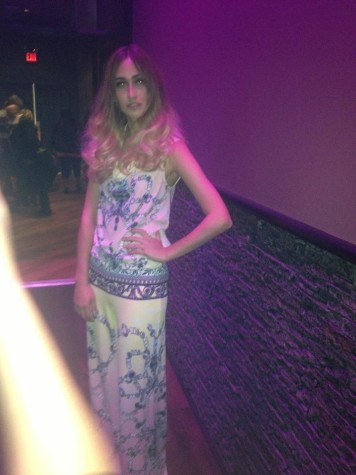 Rebecca doesn't only work with stylists, though. She has been granted the opportunity at points to style herself for photo-shoots.
Her unique eye for styling has evolved over the years.
To enhance her level of creativity Rebecca also has been indulging into classes to further educate herself on styling tips.
FIT'ing in, standing out
Every Sunday, Rebecca wakes up early to catch a train into New York City.
As she steps off the train and into the city that never sleeps, she makes her way down to the Fashion Institute of Technology (FIT).
Located on Seventh Avenue & 27th Street, this prestigious fashion school is known worldwide and is said to be one of the top schools for fashion art and design.
"I take an eye-for-styling class," explains Nathanson to The Glen Echo.
Together with other student from Glen Rock High School, this 'eye-for-styling class' teaches Rebecca and her Glen Rock neighbors new techniques and concepts.
The atmosphere to Rebecca acts as place of solace and comfort to her.
"During the week, when I visited, there are all different types of styles, there're some people who are fancy and some who are more laid back," Nathanson says.
Whether a person comes from near or far, everyone at FIT has the same goal: to freely express her love for fashion and individuality.
The future
In the future, Nathanson will "probably [be designing clothes] like dresses, [more specifically] like evening gowns."
But fashion designing is not the only field of fashion she would enter.
"I could… [own a boutique or style for a celebrity]," Nathanson says.
Rebecca thought that the Artic Monkeys, an English indie rock band, with their "very laid back [style]" would match her celebrity style guide.
Whether it's making her dream of studying in Hong Kong come true or bringing her "Rebecca style" to life (and store racks), perhaps one day there will be Nathanson's name on clothing tags.
A fashionable group
But Rebecca Nathanson is not the lone student focused on shaking up Glen Rock High School's fashion bubble.
Caroline Mancuso, a junior at Glen Rock High School, has also has insight into fashion and is very creative when putting outfits together.
"[My style] is a mix of everything: kind of like urban, like retro, bohemian," Mancuso says.
Her closet is filled with a variety of styles, colors, and designers.
"Bloomingdales and Urban Outfitters [are where I get most of my clothes]," Mancuso explains.
"
Don't think too much; just look good without trying."
— Caroline Mancuso
Since her mother is employed at Bloomingdales, she gets some of the best clothing to put in her closet and add to her daily repertoire.
Her inspirations come from Alexa Chung, an English television personality, who teaches simple yet effective tips to raise the style bar.
"A plain white tee shirt [is my favorite] because it goes with everything,"
Caroline Mancuso and Rebecca Nathanson are classmates in the eye-for-styling high school courses at FIT.
Although uncertain about what she wants to do in the future, it is in her heart that Caroline will be in the fashion industry.
But Mancuso "most definitely" dreams about styling one day.
And as for her styling rule: "Don't think too much; just look good without trying."
Leave a Comment