Golf Is Serious Buisiness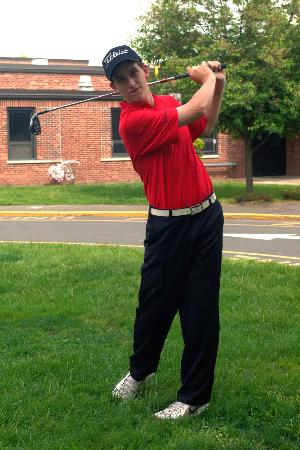 Andrew Nappi is a junior at Glen Rock High School; He is relatively into golfing, but is there something else behind it?  In a study done, 54% of business professionals see golf as "The sport of business".  Motorsports came in second place with 9% of the votes and football had a minimal 8%.  Also, 48% of executives claim the golf course is the "ideal business environment".  A four year varsity golfer here at Glen Rock High School, Andrew Nappi said "I would also like to play golf in college".
Andrew went to Florida on consecutive weekends in mid-January.  When asked what he did there, he replied, "[I] went to Tampa and Orlando and competed in junior tournaments." Factually, golf is linked directly to business and is the biggest sport among business higher-ups through their clients. Andrew said, "I would like to pursue a career in business because of how intertwined it has become with golf."
"Business is a huge part of golf.  Most business programs now require their students to take golf lessons and learn the game." He said.  With clear experience playing golf year round in different areas of the country, Andrew has a step up on most of his future business competitors.  Ranked by Golf Digest, six of the top ten golf courses in the United States lie here, in the tri-state area.  This shows the huge popularity of golf here in the Northeast.  47% of 401 executives interviewed by The New York Times agreed that the way somebody plays golf parallels the way they often conduct business.
To support the connection between business and golf, one of every three executives admitted to cheating in golf.  From that 33%, two in five admitted to moving their ball closer to the hole, and another one of every five conceded to skipping over a stroke or two.  Combined, roughly 60% of the executives that admitted to cheating specified, and admitted to also cheating in business on at least one occasion.
Don't plan on Andrew cheating, however if you wind up playing golf with him at some point or another.  With great turnouts at the tournaments he competed in throughout January, Andrew seeks little need for this.  He said, "My favorite part is the competition.  It brings out the best of me."  Andrew has great passion for the sport of golf; look to see the junior captain residing in the spotlight.