Super Mario Sophomores
The sophomore class of 2016 reached for the stars when decorating their Super Mario themed hallway for spirit week.
The class advisor, Ms. Forstot, said, "After months of hard work, the sophomore hallway was a thrilling sight to see during Spirit Week!"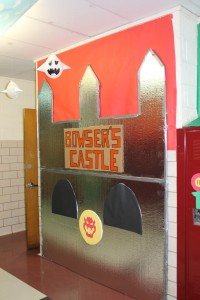 The sophomore class voted on different themes, but the Super Mario motif gradually took root.  "Our theme was voted [on] by all the sophomore students towards [the] end of freshman year, which I think helped us a tremendous amount," sophomore Juliana Roddy said. "Knowing our theme more than a month in advance made the planning and organization of the hallway much easier."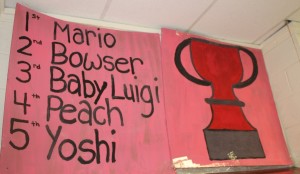 Ms. Forstot added, "Our theme of Super Mario Sophomores was displayed all over the 10th grade hallway in various forms."
The hallway was crafted with colorful images and lettering, hearkening back to Nintendo's iconic characters.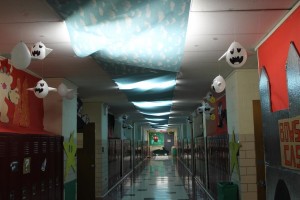 "We started our journey down Rainbow Road while heading up the stairwell.  A banner welcomed one and all and upon entering the hall we were delighted with a blaze of colors on the walls," Ms. Forstot said.
The staircase reflected the rainbow railroad, the hallway contained all of the super Mario characters, and the giant X-box at the end of the hallway which played the famous Mario Brothers theme song.
"We saw Mario, of course, as well as fire flowers, Bowser's Castle, Luigi's Circuit, Boos, a Game Cube, and we knew it was over when we arrived at the massive Game Over sign."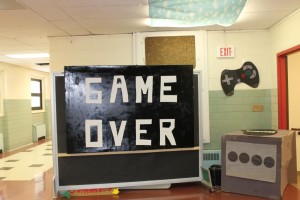 The hallway was given a lot of flexibility to go beyond their expectations.
Sophomore class counsel member, Kaitlin Stansel, said, "I believe that because our theme was relatively broad, we were able to create a hallway that contained numerous different elements and had a little bit of everything. Although I cannot speak for everyone else, I believe we were all are very pleased with how the hallway turned out."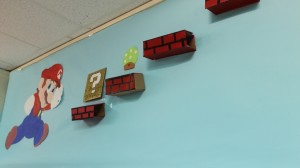 The sophomore class won 'Best Float' during the Homecoming Parade. The sophomores had spent many hours creating all of the designs for the decorations which were very detailed.