Life in the Fast Lane with Julia Kelly
The clock never stops for sophomore Julia Kelly, who was recently named last year's Freshman Girl's Athlete of the Year. Kelly wakes up early every morning and is dedicated to being a student-athlete, every waking hour during all four seasons.
Although this year's girl's soccer season will soon come to an end, that doesn't mean Kelly stops working. She dashes right into winter track season and then from winter track to spring track (while also playing soccer during every season, including the summer, for two club teams).
Julia's schedule is clearly packed. "I get overwhelmed with school work and late nights after practice," said Kelly. "But sports have always been my escape from schoolwork. This way I can burn off steam and relax for a few hours."
Kelly was a part of the 2012 Girl's soccer team, that won the state championship and league title for their respective divisions. Coming from the middle school directly into Varsity, however, was a massive transition. "The pace of the game was an extreme difference and challenge than from the soccer I knew throughout middle school," she said. "You're playing against better competition at the varsity level and over time, I got used to it. I would go on monotonous runs, to improve my stamina during the games, so when I was called upon, I'd be ready in any given situation."
The soccer team lost twelve graduating seniors and, consequently, a lot of veteran leadership. Julia Kelly said, "I try to bring leadership and confidence to the team with my influence on-and off the field. With Sarah Fiorino graduating, I have a big role to fill, as she went to Seton Hall University as a sweeper, my position."
Glen Rock High School junior student and teammate, Kaitlyn Bernard, said of Kelly, "You know she's going to have a good game. She's the rock in our defense that keeps us in check. There is no one better to fill Sarah's shoes."
Not only does Kelly feel as though she has to fill Fiorino's shoes, but she also feels like she has to fill the running shoes of spring track's graduated seniors. "My role models as a runner last season were Jennifer Godfrey, Alex Leary, and Emily Rogan. They all took me under their wing and helped me become a better runner and a fierce competitor," Kelly said.
"I want to bring the same mentality and enthusiasm that those seniors taught me and apply those traits to other runners. I want to help everyone maximize and reach their full potential, including myself," said Kelly. "I want to be a captain this year for either winter or spring track. I want to break records during spring track especially the 400, an intermediate run."
Julia Kelly learned the true meaning of endurance last season as a freshman; she described to The Glen Echo her most difficult event. "The intermediates were by far my most difficult and demanding runs," she said. "You sprint for an entire lap, while jumping over many hurdles every few meters. My legs are burning by the end of the race."
Julia Kelly is a sprinter, hurdler, and expects to be a long jumper this year as well. She finished with a few leading times last season. During the gruesome 400, she finished with a remarkable 1:03.31 time. Also, Kelly ran the 100 meter dash in an astonishing 13:64.
Kelly finished her freshman year with two varsity letters in soccer and spring track, but she also ran for varsity during winter track.
Leave a Comment
About the Contributor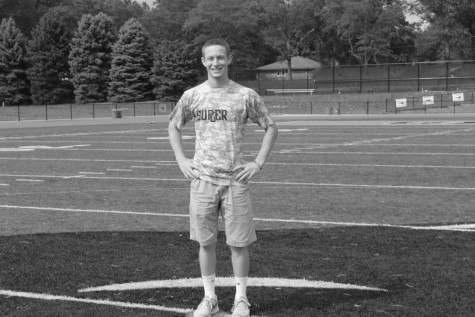 Max Felsenstein, Managing Editor
Max Felsenstein is a senior at Glen Rock High School. For the past two years, Max was the Sports Editor for The Glen Echo. Max enjoys playing baseball...