Respect — Give it to Get it
Glen Rock High School is reminding students about the importance of appreciation during a Week of Respect, held from October 7th to the 12th.
Glen Rock High School is reminding students about the importance of appreciation during a Week of Respect, held from October 7th to the 12th.
The Week of Respect is an annual week of awareness, education, and action towards addressing bullying in New Jersey public schools. The Week of Respect is mandated in New Jersey and all schools must take part in the week. Some schools, however, get more involved than others.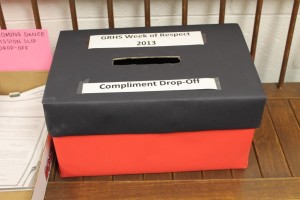 "I think the Week of Respect is a good concept," Glen Rock High School English teacher, Mr. Toncic, said. "I also think that students should be encouraged to follow these ways throughout the entire year rather than one week in October."
Glen Rock High School's Students Assistant Counselor director, Miss Wombough acted to take a big part in this year's Week of Respect.  An SAC-directed contest encourages students to be more respectful of their peers. The objective of the contest is to see which grade can give out the most compliments.
"The Week of Respect has always been a tradition in Glen Rock High School but we decided to do more with it because it is also Spirit Week," Miss Wombough said.
Throughout the entire week, there will be color-coded paper that is labeled for each grade in various locations of the school. Students are encouraged to take a piece of paper that corresponds to their grade and write a compliment on it.
Then, students should give these kind words to a peer. After the recipient reads the compliment given to them, they are instructed to bring the slip to one of the many drop-off locations around the school and put it in the box.
"My English teacher talked about respect today," said a Glen Rock High School freshman, "My first reaction was, why should we be awarded for something we were taught to do since Kindergarten?"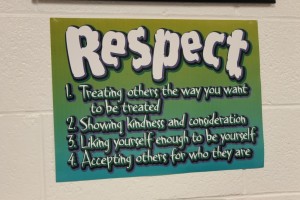 The grade to give the most compliments will be announced at the Pep Rally on Friday, October 11th. The winning grade will receive a prize and the pride of winning during the Week of Respect.
"It may be seen as self-serving and disingenuous when a reward becomes the sole motivation needed to hand out a compliment. Being respectful begins and ends with one's actions. If those actions are forced and out of character then that is exactly how they will appear," Glen Rock High School English teacher, Mr. Silver, noted.
Opinions, however, vary regarding a contest to see which grade is most "respectful." Some think that this contest is beneficial for the students to learn about how to be respectful to one another, yet others say the contest is teaching students only to respect when awarded.
"I think that anything that brings attention to the issue is great, and if bringing attention to respect has to be done in a week, that's okay. A school is a place where we have to teach things and we definitely should teach respect," said Web Design teacher, Mr. Kroft.
Similarly, an additional issue of respect will face Glen Rock this Friday.  One Glen Rock High School tradition during the Homecoming Pep Rally is for the seniors to chant "sit down freshman" to the underclassmen as they walk in to the gymnasium, a ritual recently criticized as belying the tenets of the Week of Respect.
High School Principal Mr. Arlotta has been moving to stop this tradition and replace it with a new, positive one. The ultimate test will be at Friday's Pep Rally to see if the seniors will take the "high road" and be more respectful.
There are some, however, who feel that tradition should be preserved.
"The 'sit down freshman' tradition should not be erased because it's just playful cheering, not direct bullying," a current Glen Rock High School sophomore said. "I lived through my freshman year and I plan on telling the freshman to sit down in two years."
Despite the many different opinions we may have on the contest, there is one goal everyone wants by the end of the week. The entire student body should respect one another. In order to receive someone's respect, you have to give it.
"The Week of Respect has been successful so far. As long as students are respective of one another, it's successful in my book," said Miss Wombough.
Leave a Comment
About the Contributor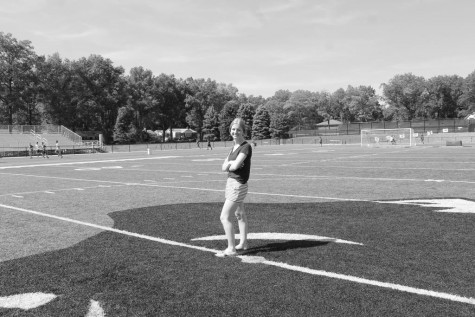 Lilia Wood, Editor-in-Chief
Lilia Wood is the Editor-in-Chief and this is her fourth year working on the newspaper. After she graduates, she plans to study journalism and pursue...