Lee Maitner's new makeup style is exactly what autumn is about
The changes from summer make-up to the styles of fall are drastic. In the Fall, we make-up aficionados use dark eye shadows to create a 'smokey eye' with a plain face and a dark lip color, and that's exactly what I created on my good friend and fellow GRHS student, Lee Maitner.
Smokey eyes to start
Lee was kind enough to be my 'Barbie Doll' for this fall look. Lee has beautiful, big eyes that are great for sculpting smokey eyes. The smokey look for fall is a trend we've seen for years. It is used to make the eyes look bigger and bring more attention to them.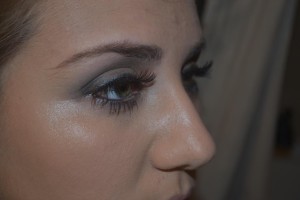 The smokey eye I gave to Lee was a brown/black smokey eye with a smudged liner look. In the fall, a bold eye is important. The effect of the smudged eye liner made the black eye shadow less dramatic but still very bold at the same time.
To make this look, I put Urban Decays eye shadow primer and primed her eyes. This will help the shadow stay on longer. Then, I used the Lorac Pro Pallete and took the color "taupe" and put this around the lid of her eyes. Then, taking the "black" color from the same pallete, I put it on the outer corner of her eye and brought it into the crease.  In the very inner corner of her eye, I used a white shadow to make the difference in color "pop".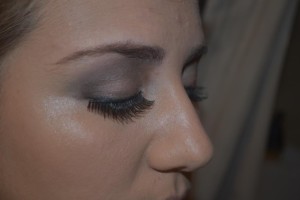 Taking Mac's pro long wear eye liner, I lined her eyes from the inner corner to the outer corner. Taking a plain eye shadow brush with no product on it, I moved the brush back and forth to give the liner that smudged look. I then took the liner again and put it on the water line of her eye to make the look even bolder. As a finishing touch, I took "white" form the eye shadow pallete and put it underneath her brow bone to define her brows. Speaking of brows: I also used ELF brow powder in the shade "medium dark" and filled in her brows with a small liner brush to make her brows more full.
Fresh fall face
Moving from the eyes, when creating a "fall face" we start with concealer.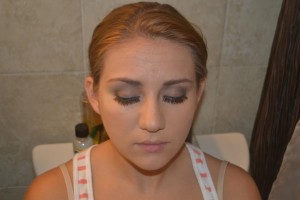 Concealer is used to cover up under eye circles and little spots of acne or imperfections that you want extra coverage on. I'm using MAC pro long wear concealer in color NW20. I applied this with a small stippling brush. Also, foundation is a great tool to cover up imperfections, discoloration and an un-even skin tone. When working on Lee I used Make-up Forever's foundation in color medium and blended this into her skin with a foundation brush, to even everything out and make it look natural.
Contour for sharp looks
In the fall, we focus more on defining the face. We can do this by contouring. Contouring is when your face is molded, by makeup, to create a sharper and bold look. Contouring is also used to bring out your cheek and jaw bones. For Lee, I used MAC bronzer in the color "give me sun." I used an angled blush brush to apply this bronzer to her cheekbones, jaw bone, and then I brought it up lightly to her upper temples and down the bridge of her nose. This can create a sharper look and bring more attention to the natural beauty of her face.
Lips to fall over
The best part of this fall look is the lips. The lips are what grab the most attention. On Lee I used "blue red" by MAC. It's a plum red and it really brings that fall feel to the look.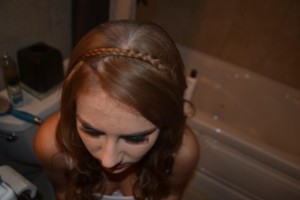 End with hair
There are few specific hair trends for the fall, but you can never go wrong with a braided headband curly hair look. I took my curling wand by Argon Heat (in the smallest barrel size) and wrapped one-to-two pieces of her hair around the barrel and held it there for five seconds. After each curled hair, I sprayed a little bit of hair spray to keep it curly.  When I finished with her whole head, I took the front two pieces by her temples and braided them tightly then I wrapped the braids around her head and kept it still with some bobby pins.
That is my finished fall look! Lee looks great and is definitely ready for fall.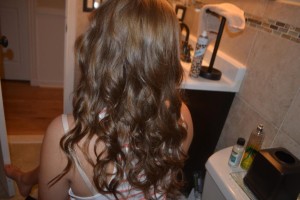 View Comments (1)