Students' design project sees fruition, faculty lounge renovation begins
The teachers' lounge is in need of a face lift; luckily, the interior design class is in charge of granting that wish.
Glen Rock High School's sculpture teacher, Ms. Emond, is working with students from her interior design class to redesign the teachers' lounge according to the plans submitted by Emilie Gosselin, Jacqueline Maselli, and Kate Harrison.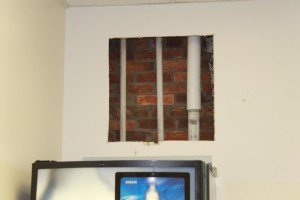 Last year, Mr. Arlotta and Ms. Emond decided to give interior design students a chance to design a real space instead of an imaginary one.
The lounge had outdoor furniture in it, old cabinets, and was very dull. Mr. Arlotta knew that the teachers' lounge was desperately in need of a new design, and the two of them put the project into play.
The students in interior design were already familiar with the typical living room layout, and this room resembled it closely. The students that took interior design last year each designed a room, and the contest winners are having their design come to life.
Mr. Arlotta is doing a tremendous amount of work helping Ms. Emond, along with a few indispensable faculty members.  Specifically, Mr. Ecochard and Ms. O'Hearn have helped this process along the way.
The group is focusing on getting new cabinets in the kitchen area and getting new couches, tables, chairs — ultimately sprucing up the space. They are planning to paint the walls an exciting color to get rid of the boring white palette.
The furniture was purchased at IKEA, and artwork made by students will be displayed on the walls to make it more meaningful and personal. There will be other accessories in the room, as well.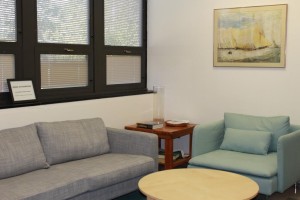 "I'm pretty excited because it's not every day that your work gets featured like this," said Emilie Gosselin, one of last year's contest winners, regarding the project. "I love the fact that my design got featured."
View Comments(1)