This weekend, on the Glen Rock High School football field, the American Cancer Society hosted their annual Relay for Life.  Tents were set up behind the bleachers for overnight fundraiser participants.  There was a deejay, food, Frisbee, football, raffles, and many other fun activities for participants to enjoy.  People walked around the track to help raise money to fund researchers trying to find a cure for cancer.  Glen Rock raised 32 thousand dollars towards the cause.
The Luminaria Ceremony was conducted at 10PM.  In lieu of candles, glow sticks were placed inside the Luminaries.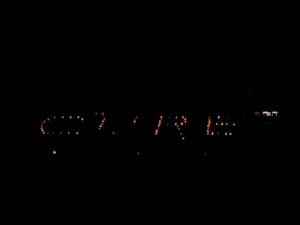 Sophomore Hannah Daschil and fellow students told touching stories about how cancer has deeply affected their loved ones and their lives.
Olivia Ryan performed I'll Follow You into the Dark by Pink.  Lauren Besser sang a Death Cab for Cutie song.  Eleanor, Brandon, and Gina Shaw performed "You Raise Me Up," by Josh Groban as a cello duet accompanied by piano in memory of their family friend, Kristen Grady Milligan.  Today, Kristen's legacy of caring for other young families with a terminally ill parent lives on through Inheritance of Hope, a nonprofit ministry she established.  The Ceremony brought tears to people's eyes as they remembered close friends and family members; it was a touching experience for everyone involved.
Relay for Life continues to be a powerful event that Glen Rock High School hosts every year in honor of survivors and those who have passed from cancer.