GRHS Sophomores Construct Stars of Hope
The 9/12 Generation Project, a national service-learning program that promotes student citizenship in the wake of natural disasters, hosted a student workshop for the tenth grade class on May 21. Students watched a documentary film designed to inspire citizenship, and they later engaged in a creative disaster-relief project.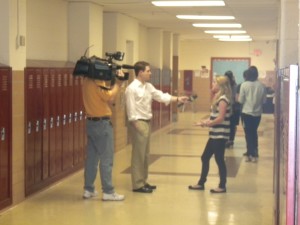 The Glen Rock High School website stated that "On May 21, all 10th grade students will view the video and create Stars of Hope, one of the service-learning projects. These wooden stars will be decorated with inspirational messages and sent to Boston. The project teaches students compassion, diversity, kindness, volunteering and overcoming tragedy through hope by focusing on educating students about 9/11 and the kind acts of 9/12." The 9/12 project was created to provide relief from many national crises in addition to the Boston Marathon bombing, such as the attacks recent disastrous Oklahoma tornado, and the Newtown, CT shooting.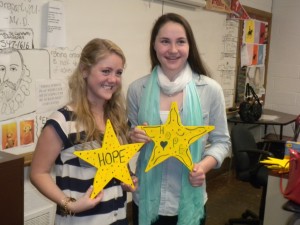 Students crafted wooden stars for Neighborhood House Charter School, the school where the youngest victim of the Boston Marathon bombings, Richard Martin, attended. Richard's mother, Denise, is the school nurse at Neighborhood House Charter School. She lost her eyesight as a result of the blast. Martin's sister also lost her leg in one of the explosions. She still attends the Neighborhood House Charter School.
All of the kits for making the stars were sponsored by electric company PSE&G. The 9/12 directors thought that GRHS would be a good fit for their project, as GRHS was just recently ranked 218th on Newsweek's Top High Schools in the country list. "We decided to go to Glen Rock High School as it is a great high school, ranked top in the country," said Tracey Vitchers, co-director of the 9/12 Generation Project.  At the assembly, a representative also announced that she was a Glen Rock High School alumni.
The GRHS sophomore class participated in the project with gusto and appeared to enjoy every minute of it. Jack Mattsson, a sophomore, stated,  "I think it was really something special to see us as human beings really come together to help each other out. Things like that show that there is still a lot of good in the world." While watching the sophomores work on the project in the classrooms, it seemed like they all knew that they were a part of something big.