My Case for a Second Pep Rally
As a junior at Glen Rock High School, a large part of my excitement for school this year was the annual Homecoming Pep Rally. Although the freshmen may not always enjoy this event quite as much as the other grades do, it seems to bring a majority of the students together into one big, school-spirited class. It's one of the only times in the year that our whole school gets painted, dressed, and amped (as well as grows unified) while everyone cheers for the same cause.
We ordinarily use this pep rally to get pumped up for the Homecoming Football Game and to acknowledge how well the other GRHS sports and clubs are doing in the fall. Glen Rock, however, is not just a school notorious for its teams in the beginning of the school year. In fact, over the past few years we have seemed to excel in many other aspects of extracurricular activities, such as our hockey team, which made it to the final round of the NJSIAA Tournament this year, the debate team, which is regularly commended for the 1st and 2nd place awards they take home each month (they already have gained 6 awards this year), the GRHS Lacrosse team, which went to the Quarterfinal Round in the NJSIAA Tournament last year, and even our theater company, which constantly wins awards each year for its terrific actors and directors.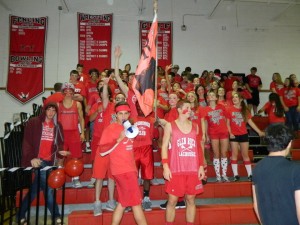 The point I'm trying to get across is that although the pep rally has traditionally been used to celebrate our fall teams, it is time for a change. Our school is filled with various talented students whose performances, games, or matches take place in different seasons of the school year. Perhaps it's time to add another pep rally (or two) to the school's calendar in order to give these students the recognition they deserve. This fun, loud, and crazy occurrence that takes place each October does not have to be confined to one month of our year, and it is more than obvious that the other extracurricular groups of this institution are worthy of another pep rally.