Friday Night Lights: Glen Rock Football @ Garfield HS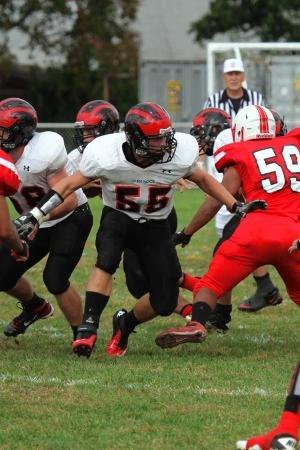 The September 29th, Friday night football game was played under the lights at Garfield HS. This was a big test for the Glen Rock Football team. After a loss at Elmwood Park, Glen Rock needed to "bounce back" with a win. Both teams came out fighting in the first quarter and came up with blanks.
After a scoreless first quarter, Garfield was the first to score. A touchdown and missed PAT made the score 6-0 in favor of Garfield. But Glen Rock's powerful drive after brought the score to 7-6 Glen Rock. By half time the score remained at 7-6.
Garfield received the kickoff to start the 3rd quarter. After going 3-and-out, Garfield punted to the Panthers. The game went back and forth scoreless until the 4th quarter. Glen Rock finally scored in the beginning of the 4th. The game was then 14-6.
The subsequent Garfield drive also resulted in a TD and another missed extra point. Now the game was 14-12 with around 3 minutes left. Glen Rock's objective had been to run out the clock, but they were unsuccessful. Giving the ball to Garfield with a minute left and on their 20 yard line, all fans were on the edge of their seats.
Glen Rock's defense made a great final stand, making Garfield miss the 1st down with one yard away from the end zone. Glen Rock came out victory, securing a 2-2 record.