Pilsener Haus Biergarten: A Restaurant Critique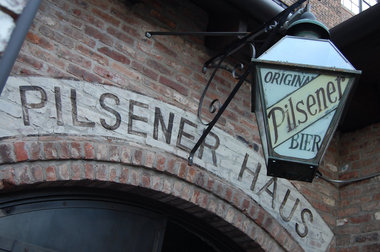 Are you looking for an escape, a place full of pretzels and spatzle? In other words, are you thinking of taking a vacation to Germany? Don't start packing your bags quite yet because I found the place right for you, at Pilsener Haus Biergarten right in Hoboken.  Start off with a nice, warm, and soft pretzel – dip it into a creamy liptauer cheese or some delightful mustard. Then I was served tartar sauce, a cucumber salad, parsley potatoes (which were just so inviting to my mouth!), and, finally, the cod filet schnitzel which was divine.
But if you're not interested in these options, there is melted-cheese-encoated-spatzle which tasted amazing; I couldn't get enough. It tingled like if there were a party of food in my mouth. For a side dish, there were caramelized onions and an optional bacon platter, served with cucumber salad.
Not only are their entrees delectable, but they also have a different band each week.  The band sings different German songs that have a welcoming, warming tune. Personally, I would go there for a special occasion because the dishes, while somewhat expensive, are easily worth the price. Customers under the age of 21 aren't allowed in the restaurant after 9:00pm.
Pilsener Haus Biergarten
1422 Grand Street Hoboken, NJ 07030