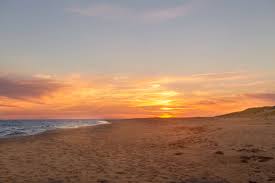 Blue, crashing waves, soft, crunchy sand beneath your feet, hands sticky from watermelon, and the ever-lingering scent of coconut sunscreen…doesn't that just take you back to the beach? Everyone has that one spot they've grown up going to down the shore. It's the Jersey experience, of packing up chairs and towels and bags and heading to our slice of sandy paradise. I don't know about you, but the second the final bell rings on the last day of school, the first place I want to head to is the beach. Read below to find out GRHS' top beach picks….
Quaint and Quiet: Ocean Grove
Monmouth County's Ocean Grove Beach proves to be a Glen Rock favorite. Aside from the beautiful sandy beach, the quaint downtown is a big hit with students. Characterized as peaceful and fun- Ocean Grove is also known for its stores. Among the most notable is "Days Ice Cream" an old-fashioned ice cream joint packing a flavorful punch. Junior Olivia Thompson says, "Ocean Grove is my favorite NJ beach because it's quiet, serene, and nostalgic, while also maintaining some mystery… There are lots of old buildings that have seen a lot of history, so it's the perfect spot for a beach adventure." If you've never been, be sure to check out Ocean Grove this summer!
Classic Jersey Summer: LBI
There's nothing like good ol' LBI. LBI is the quintessential Jersey beach spot- ask anyone! LBI has great waves, cute homes, and plenty of shops and restaurants. For many, LBI is also nostalgic. Junior Mia Bernstein says, "It really feels like a beach town, and I've been going there for many summers now, so it's a tradition." Despite the far drive from town, LBI is the perfect getaway this summer. Even if you end up only going for a day trip, the time spent in the car is immediately worth it.
Lively Boardwalk: Ocean City
USA Todays' 2023 Winner of the Reader's Choice "Best Beach in the Northeast" contest, Ocean City offers both clean beaches and an exciting, fun boardwalk. "….They [Ocean City] have the best shops and the best boardwalk, and also the best coffee and donuts", says Junior Emma DeStaso. The fun beach resort town is usually a hit amongst families. If you're looking for an action-packed boardwalk, Ocean City is the place to visit.
As we head off to a well-deserved, relaxing summer break, be sure to make time for a visit to your favorite beach down the shore!