Star sophomore hurdler breaks school record amid outbreak season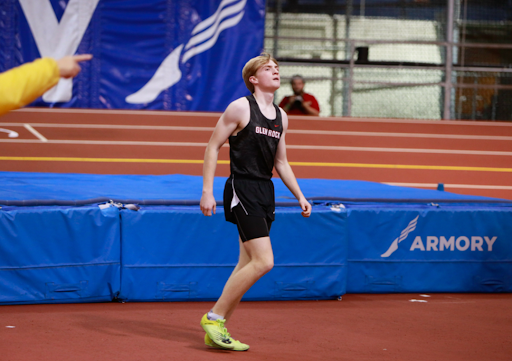 It didn't take long for sophomore hurdler Tyler Caswell to be nicknamed "white lightning," as it was easy for people associated with Glen Rock High School's track and field team to recognize his extraordinary talent.  After an impressive freshman year where he displayed all the signs of a future star, this past winter season saw Caswell develop into even more than what coaches and teammates expected.
If he isn't already the best, Caswell has established himself as one of the best hurdlers in the school's history.  He set the school record for 55-meter hurdles with a time of 7.89 seconds at Bergen County Championships in February, which also qualified him for the Nike National Championship where he finished 25th overall – a remarkable achievement for someone of such young age and level of experience. In addition, he claimed an individual state sectional championship in that same event, despite his young age.
As people know, talent alone is not an automatic ticket to success – it's the work behind the scenes and the ability to rebound after failure combined with some level of talent that allows athletes to achieve at a high level, and Caswell perfectly embodies that.  
"He's a very hard worker and very coachable. He wants to get better and faster. He's super talented and always gives 110% at practice," noted Coach Stacie Gallo, who served as his hurdling coach this past season.  It doesn't go unnoticed by coaches and teammates that Caswell is often one of the last people to leave practice each night and is always striving for perfection.
It would only be appropriate, however, if his tremendous success came with a small bit of disappointment which occurred at the State Group Championships where he had a chance to take home an individual state title.  The end result was a false start, but part of what separates Caswell from other talented hurdlers is the mindset with which he handled this.
"Tyler takes everything in stride and uses the experiences he gets from competing.  When he false-started at State Groups, he handled the situation in a mature manner and said he was only a sophomore and will be back. He didn't wallow in self-pity, but he reflected on it and used the information to make himself better," observed Coach Gallo, who also mentioned that opposing coaches took note of his potential to be among the state's best for years to come, despite this disappointing result.
Caswell has the perfect mix of talent, work ethic, and mentality that is required to succeed at a high level in this sport, and it has already shown in his results.  Despite this, he isn't satisfied.  Caswell will be a vital part of the team's success going forward and will look to continue his dominance in events such as 110-meter hurdles, 200-meter run, 400-meter run, 400-meter hurdles, 4×400, and the 4×200.
Caswell put it simply: "I look forward to putting in the work at practice and then seeing it pay off during meets… I also look forward to the competition, because the faster I get, the better the competition is, which just pushes me to work even harder."