Cabana Coffee: your new favorite coffee stop
     Located at 1016 Maple Ave. right here in Glen Rock, Cabana Coffee is finally open after a year of renovations. After looking at their website, I could gather that Cabana is a passion project created by people with a love of coffee, the roasting process and bold flavors. The business prides itself on using beans from across the globe to bring the most unique flavors right to you.
     But is it too good to be true? With only five-star reviews so far, I had to check it out for myself. At 7:30 a.m. on a Sunday, this place was a dream. My dad and I walked into the sunlit cafe and were immediately greeted by the friendly staff and modern aesthetic. The barista (who happened to be the owner of the Glen Rock location) shared how he opened the shop and was a friend of the owner of the Wayne location. He seemed to have endless knowledge about coffee, talking about the different roasts, their acidity and bitterness and tried to help us choose something we would enjoy. My dad, an avid coffee drinker, ordered a medium roast pour over (streaming hot water over coffee grounds, allowing gravity to brew it right into your cup) and I went out of my comfort zone and got a latte. Their setup is impressive- I watched them make the pour over right on the counter next to the register, right into the cup. They also have a small selection of pastries, teas and decaf, so there's something for everyone.
     Some people drink coffee for the caffeine, but I like to sip slowly throughout my morning. That being said, when it comes to flavor notes and profiles, I'll either tell you that it's "a cup" or "a good cup". I'm not normally a latte girl, I find them too sweet or that sometimes they just taste like milk. I got the small Catskill Maple latte to try something exclusive to Cabana. The maple taste was subtle and it didn't overpower the espresso. It's not something I would drink every day, but I would definitely get it again.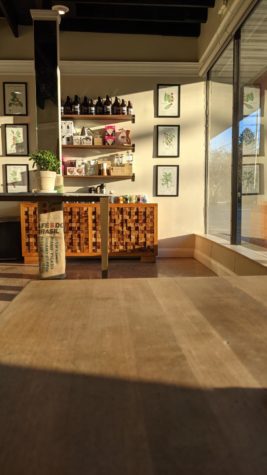 I'll leave you with this: prices were comparable to a Dunkin or Starbucks (between $3-5 per drink), but without all of the carelessness and chaos. Not only was the staff friendly and helpful, but they really knew their stuff. They even asked us how we liked our drinks and chatted for a few minutes. The layout of the café itself was pretty open: big windows let in some sunlight and armchairs and spacious tables created a cozy atmosphere. Cabana lived up to my expectation and will without a doubt be my new go-to for chatting with friends, studying or whenever I just want "a good cup."