The inside scoop on our therapy dogs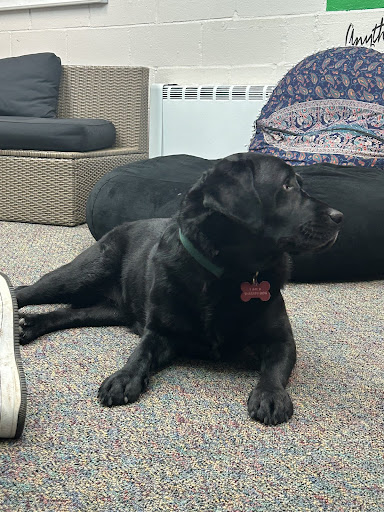 If you are ever having a bad day or just feeling down in general, you should know that Glen Rock has had a program for about a year where therapy dogs come into the Wellness Center every other Friday. The wellness staff came up with the idea of therapy dogs coming to the school because they wanted to have a unique activity for students that would also introduce them to the center and make a more comfortable environment.
Our therapy dogs come from a program called Bright and Beautiful Dogs, this program matches us with local volunteers who bring in the dogs. For students interested in meeting the therapy dogs and visiting the Wellness Center, you can find information about the therapy dog visits on the counseling bulletin which has the dates posted, and a notice is also posted on Schoology the morning of. For visits there are no sign ups, it's just first come first serve. The Wellness Center will allow about 8-10 students to be with the dogs at a time, and the amount of time spent with the dogs depends on the amount of students waiting to participate. Visits take place during high school lunch and the dogs will stay for no more than an hour.
Mr. Klump has observed that students interacting with the service dogs and just spending time with the wellness counselors in the center has had a very positive impact on their mental health and has caused students to feel more comfortable opening up about their mental health and any struggles they may be having. By doing this, students are engaging in mental health services without even knowing.
During a therapy dog visit, students are welcome to pet the dogs, talk to other students, and even talk to the wellness counselors about something that might be bothering them. What this program looks like varies from time to time, one Friday it might just be some students coming in to pet the dog, while other times there might be a circle of students engaging with each other and talking about what's going on in their life currently. Nonetheless, the atmosphere of the room during this program is always extremely peaceful and welcoming.
All in all, attending a therapy dog visit is a great way to introduce students to the Wellness Center and mental health services. Feeling comfortable using mental health services can have a great impact on students, it can reduce anxiety, create healthy coping skills, and promote a positive social environment in the school.