Dynamic Duo: Captains Emma Mittelman and Harper Goshin's last dance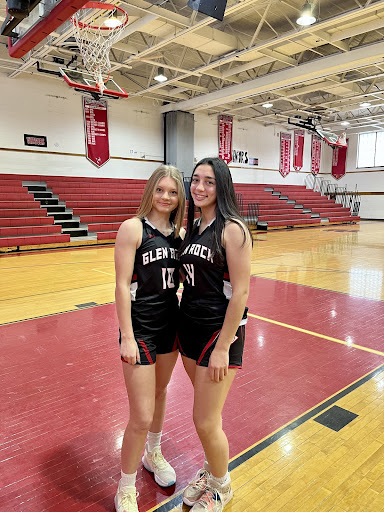 As the High School Basketball season begins to commence, it will be the last dance for seniors Emma Mittelman and Harper Goshin, the captains and foundation of the team.
Basketball has been a staple in both their lives but for Mittelman, the influence to play came especially easy. Her father, Jason Mittelman, currently head coach of the boys team here at GRHS, had originally gotten her into playing the sport at three years old. In addition, her older sister had inspired Mittelman to put in the work every single day after seeing her do the same. Mittelman's hard work outside of practice is shown on the court where she was the second leading scorer as a junior last year.
Similar to how they play the game, Goshin's upbringing in the sport was vastly different from Mittelman. Because of the fact that Goshin's older sister and parents had not played, she had heard about the sport from a family friend. Little did she know that by participating in the Rec and travel league, she would later become the captain of the high school team with many awards to follow. She commends her coaches, Steve Grenz, Sara Wolman, and especially Margi Rivara for pushing her to become the player she is today. Rivara (class of 2012) was a previous 1,000 point scorer at GRHS who had coached both Goshin and Mittelman during the development middle school travel basketball years.
"So I just think that really helped me emote, really just as a person overall, not just basketball," Goshin explained.
However, their different upbringings within the sport didn't change their experience in the high school program. Goshin explained that her best moment in the program didn't even involve her playing on the court but rather, sitting on the bench cheering her teammates on in her freshman year when Glen Rock had played Northern Highlands, beating them by one point in double overtime. Mittelman describes her best moment had happened last year, when she had hit every shot in the team's first state game, helping the team to capture the win over their opponent.
Mittelman and Goshin have been playing together since fifth grade and their connection has grown astonishingly since that time. Not only has their love for basketball factored into being the cornerstone of the team, but their chemistry on and off the court has also highly contributed to their success individually, and as co-captains at the High School level. Both of them also having received First Team All-League and Honorable Mention All County as Juniors.
"We've been able to figure out what works for both of us and I think that's really benefited our team because we both are on the same page most of the time," Mittelman described.
As Mittelman and Goshin make their exits as seniors on the basketball team, they hope to win the NJIC division, a goal that has yet to be achieved in nearly half a decade. Both Mittelman and Goshin plan to leave the court not regretting ever picking up a basketball because of the life lessons they have learned from playing the sport which they will carry with them for the rest of their lives.
"Playing sports is one of the things that I will never regret no matter if I lose all games this season or anything because it teaches you so much as a person, regardless of if you're winning or losing," Goshin said.
They both mutually emphasize to underclassmen who are just settling into high school sports to work hard for every practice, scrimmage, and game because before they know it, they will one day be in the shoes of a senior player like them, at their last, first game. Even though they are sad to see a high school basketball program without them, Mittelman and Goshin believe they have left the program better than they found it, hoping for immense success in the years to come.
"…I think that Harper and I are gonna leave this place better than when we found it. …they're going to be able to battle through and continue to win, which is what Glen Rock basketball girls do," Mittelman said.