Behind the scenes on the transition of Fall to Winter season: GRHS Cheer edition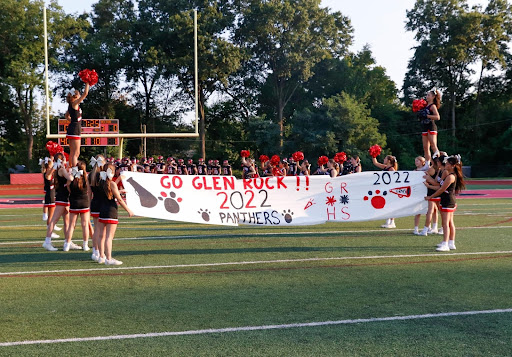 The 2022 fall season for the Glen Rock Cheerleaders was truly one to remember. Fall cheer started in August with week-long try-outs. Practices followed in order to learn a half-time routine for the first few football games. After that it was full steam ahead to have the big routine ready for pep-rally and homecoming! Homecoming prep consisted of three practices a week. The main focus was cleaning the routine and practicing the stunts over and over again. When it was finally time to premier the routine at pep rally, every stunt hit and all of the hard work paid off. The fall season was a huge success! We had a number of games to follow the long-awaited homecoming one, and it showed that our hard work paid off at those games as well.
But, with the start of a new season comes not only new weather, but also new sports. So as we switch from football to basketball (the field to the gym), so do the Glen Rock High School Cheerleaders!
Not only do cheerleaders support football and basketball, but they also compete in competitions! The winter season is just as much of a commitment as the fall season. Every weekend the GRHS Cheerleaders take the bus to other schools in the area and compete against their cheerleading squads during the winter. Practices are taken a lot more seriously as we are to prepare for not just a game, but a competition as well.
Now, let's leave it to our fellow team members to get their scoop on their opinions on the season and which one they like more. Junior, Agam Or-Chen, feels good going into this winter season since our team works so hard. "This team has such a great bond," she added.
We hope everyone else is just as excited to enter the winter season as we are and that we have an audience to come out and support us at our competitions!