2022 Club Fair: A great success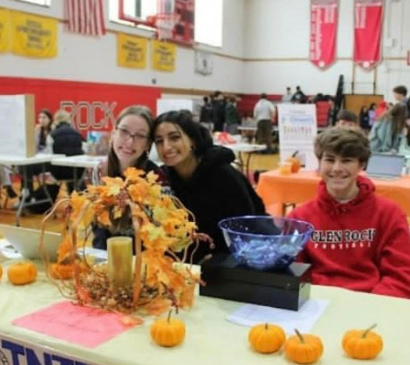 The Glen Rock High School Club Fair, a yearly tradition that is beloved by the student body, took place on Tuesday, Oct. 11. A stark contrast to the day-to-day silence, the gym was abuzz with students signing up at every table. The gymnasium was transformed from an athletic facility into a network of 42 adorned plastic tables, one for each participating group. The long list of clubs available ranged from the Table-Tennis Club to the Key Club, ensuring that every student would find the place meant for them.
The 2022 club fair was distinct from years before due to the sheer amount of effort each club put into their display. The robotics club brought out a robot that truly stole the show! Controlled by a remote, the robot could be seen wheeling through the table maze of the fair. Some clubs got really creative with their table set up: The Relay For Life table had a cohesive all-purple theme, representing the color of hope. The Thrive! Mental Health Awareness Club was handing out stickers to all who signed up. Additionally, the GRHS band laid out a show stopping, bright pink feather hat that could be seen from across the gym.
The effort made by the club tables paid off and sign up sheets were full across the board. All clubs garnered the attention of the student body at the fair.
According to junior Francesca Schneidman, president of the French club, this year was a great success: "We recruited over half of the number of members we had before and met many new students that are interested in French culture!"
The Princeton Review advice column states that joining a club in high school is of utmost importance and can teach you essential life skills. Much of high school centers around the idea of finding yourself and making decisions that reflect who you are as a person. As Lea Michele's character Rachel Berry from the famed television show "Glee" once said, "Being part of something special makes you special."
The 2022 Club Fair was spectacular this year.
Students got to view the broad club selection and find their niche. No matter what interests you, there's something for everyone at the club fair.
"I have found that it is an amazing opportunity for meeting new people that share some of the same interests as you," Schneidman stated.