Clue: A mystery behind the scenes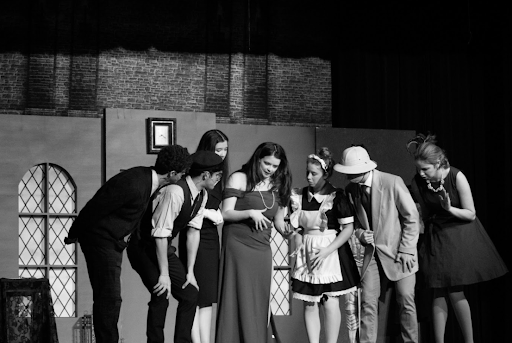 by Neil Sahu, Social Media Manager
April 27, 2022
The auditorium was quiet, less than 5 minutes before the show started. It was dark and the lights were dim. When the show had started the whole auditorium was silent. The stage lit up colors, and the cast appeared on the stage. The play had just started, and the cast had come out on stage, Clue had just begun.
The producers used the lights and the effects to their full potential, lightening up the stage and using the effects in the dark theater. This play was based on the Parker Brothers board game "Clue" and it included all the characters from the board game, into the play, and the story revolves around a murder.
We interviewed Mr. Barker, the director of the play, on how this play came about, and his scheduling of the play. Barker stated:
It has been the busiest year of my life. For theater, I normally do all the productions here, we do the play. I did a musical. And then I also own my own theater in Allendale and have a full year of doing 12 different shows.
The pandemic had really taken a toll on the production of clue, and there were many challenges that the production faced.
"I think since we came back from the pandemic, everybody's more focused, every student that I've worked with brings all their talent, their skills, their focus 24 hours a day, and we've been working on this production since last July. So we started planning this, the set, the costume, everything about it. And, you know, it's all coming together in a short period of time, but also, because we were very worried."
After the play ended, the lights were dark for a second, then lit up again as the crowd kept clapping and cheering from the play. The auditorium was full of conversations on what they thought of the play, and there were crowds of people leaving the auditorium.