Susanna Kaysen's 'Girl, Interrupted:' The Most Interesting Way to Ruin Your Day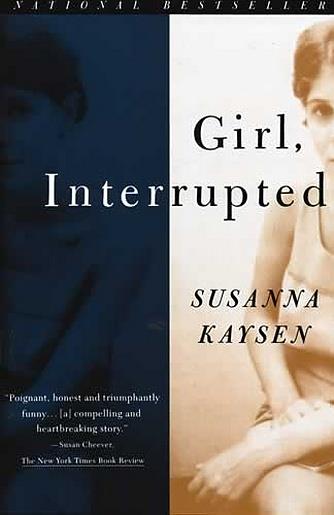 Girl, Interrupted is about Susanna Kaysen, a young Jewish woman from New Jersey in the 1960s experience in the Mclean Psychiatric hospital. This memoir grabs you and pulls you in to speculate your own sanity. As I read Girl, Interrupted I attempted to keep track of the moments that made me laugh till my face went numb and the moments that broke my heart, at times it was hard to differentiate the two, an example of the indistinguishable feeling of laughter and concern is: " 'You schizophrenic bat!' Usually they found her within a day. She couldn't get far on foot, with no money " (Kaysen, 20). This book is the kind of funny that makes you go dead silent after you laugh, forcing you to think about how funny and twisted some of life is. Kaysen is describing her friend, Lisa's, favorite insults but the thought quickly goes downhill; Lisa had escaped once more and resumed her cycle of leaving the psych ward for a brief moment and being brought back screaming and crying.
While I don't read often or consistently this memoir brought me back into the flow of reading within a few paragraphs. Having watched the movie adaptation (amazing by the way!) It took no time for me to become invested in the characters and story. I can imagine that without watching the movie as a sparse reader it still wouldn't take longer than a few pages. Those first few pages remain introspective making it easy to get into because it's human nature to think about ourselves. That first page begs the question: Am I capable of going "crazy"? What would that even mean for me? Have I already gone insane? A symbolic note about the crazy and the observers is presented in the first page and prevails till the last.
Something I really appreciated in this book were the medical records and letters copied into the pages. The acknowledgments refer to those documents saying she needed legal help to access them. This made those little details I had so much fun reading over and over again to piece together her experience so much more meaningful. Kaysen wanted her audience to know exactly what happened, or really how doctors, therapists and psychiatrists saw it happen: they thought she admitted herself "voluntarily"; On the contrary she did not, she had no idea she had the choice not to sign herself into Mclean. Throughout the book, there are more contradictions, when she was proving to herself she was alive they saw her eating less, withdrawing, and not working or studying.
This book tackles stigma, and self-hatred in a unique way I personally haven't seen flood through pop psychology. Addressing it in a more clinical way, which to many may be refreshing.
I enjoyed the duration of this book, the ending however required more thought than the rest. For me, saying I finished the book was more satisfying than reading that last sentence. There wasn't a sense of pride in reading the final sentence but reading the final medical document was certainly satisfying. Girl, Interrupted is as incomplete as its name and as its author's life, but still provided a safe sense of partial closure. This book is filled with conflicts not only between the characters but between the book and reader, if you need to shake up your day and think a little harder this is the book to read.