Glen Rock High School Fashion: What's Hot and What's Not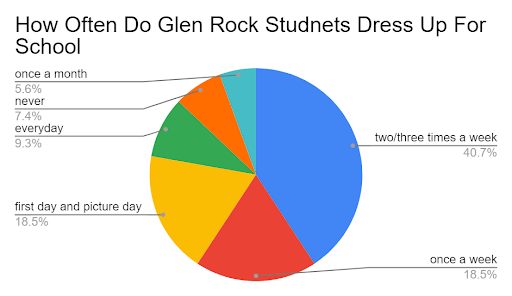 While walking down the halls of Glen Rock High Sschool, it's hard not to notice a difference in student's styles. A notable amount of students prefer being in comfortable outfits, others want to keep up with current trends, and others stay true to their own unique style. In addition, a prominent gender divide is evident when it comes to prioritizing practicality over fashion.
In a poll of Glen Rock students conducted in January of 2022, 72.4% of students prefer to be comfortable, whereas 27.6% prefer being fashionable. When walking down the halls, this 70-30 split is evident. The poll showed that only 45.7% of students dress up two to three times a week. 21.7% dress up once a week, and 17.4 % dress up on just the first day and picture day. Finally, 8.7% of students never dress up.
The prevailing fashion among boys is the "go to" hoodie with sweats and maybe a flannel if they want to add some spice. Sophomore Alessandra Baldacchino states, "guys wearing flannels over hoodies: EVERYWHERE YOU LOOK." She's not wrong. According to the survey, most students notice that "sweats and a flannel" is the most popular look for boys.
The girls tend to prioritize style, and being fashionable more than the guys. Most popular items are inspired by the Y2K renaissance. This look started to make a comeback in early 2021 and has been growing ever since. Items that were hot in the early 2000 are staples today, such as low-rise jeans, flare leggings, and claw clips.
Early 2000 trends aren't the only thing that's popular right now. Due to cold weather, it's hard to find someone who isn't wearing a puffer coat in school. Chunky shoes are also trending, especially Converse. Other shoes worth mentioning include Nike Blazers and the notorious UGG slippers.
Certain trends may be widely adopted, but are they truly liked or disliked by students? The most adored staples are baggy jeans, with 24.1% of the responses. Runners up include flare leggings and claw clips, also taking up 24% of the votes combined. But not everyone is a fan of these trends. The most disliked trend among students in the poll was flare leggings, with 15% of the votes. Also, slippers take up about 10% of the votes, Naomi Bashan, a Glen Rock Sophomore, states, "slippers to school. Treasonous."
The vast majority of students are open-minded when it comes to popular trends. Sophomore Mia Bernstein states, "There aren't any trends that I dislike right now. I think that everyone's style is a personal decision and they should just wear whatever clothes they want, whether it's trendy or not."
As we look to the coming year, breaking away from the pandemic, students will likely start to explore new kinds of fashion and break out of their "comfort" zone. According to a fashion writer at Forbes magazine, "2021 is a mix of comfortable and pulled together and is the product of people having been home so much in 2020." Chances are students will begin to explore more unique styles rather than typical comfort wear. With social media emerging as a top fashion influencer, it will allow students to discover their own personal style.
Most students are open to a lot of the trends at the moment. Even if they are divided on comfort and fashion. But whether a trend is liked or disliked, one thing remains true, flare leggings are a force to be reckoned with.