Sports betting has taken over the country. Should we be concerned?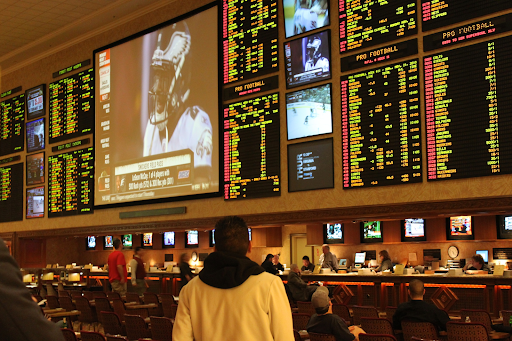 Quick- think of a sporting event. Any sporting event that you can remember. If you watched this game on television, odds are you probably saw an advertisement for sports betting. (Get it? Odds? Never mind.) And if you saw that advertisement and got a little intrigued, you're not alone. According to ESPN, betting companies made over $4.5 billion from the state of New Jersey alone in 2020, and are on pace to make over $5 billion in 2021.
Sports betting is so ingrained into our society today that we don't even notice it. It's legal in more than half the states in the US, and every single major sports league has at least one or more major betting partners. These betting partners are promoted at nearly every single commercial break, and it seems to be working: MGM Resorts, the main betting partner of the MLB, NBA, and NHL, closed 2020 with over $175 million in total revenue.
One of the main contributors to the rise of sports betting is its online accessibility. It's become so easy to put your money on the line that now you can do it without even getting up from your couch. Over 80% of New Jersey bets are made over the Internet, which gives rise to another problem: age requirements. You have to be over 18 to place a bet, however, many teenagers are simply lying about their age online. This can't be done in person, as the "bookie" will simply ask you for proven certification.
For example, let's take two of the most popular betting websites,        FanDuel and DraftKings. You've probably heard of at least one of them before, if not both. All it takes to sign up is a username, password, email, and your date of birth. However, there's no way to tell if you're telling the truth or not when it comes to your age. This is essentially the online equivalent of stealing your dad's credit card.
Even though it can be done safely with no consequences, sports betting is also being promoted to children at an extremely young age. The earlier you hear about something, the more likely you are to get hooked on it. Gambling is extremely addicting and exposing young children to it could go horribly wrong.
All of this doesn't even encompass the actual practice of betting. It's volatile, it's addicting, and it's extremely risky. According to a recent study, only three to four percent of bettors actually make money in the long run. The odds of actually landing a huge bet are extremely low, and sometimes you'd just be better off closing your eyes and picking a random answer on a multiple-choice test.
However, there's one thing about betting that's hard to ignore- it's fun. Combining the world of sports with the thrill of gambling is the perfect combination for hard-core fans. Betting of any kind, especially sports betting, comes with a lot of risks, but it's hard to say it isn't fun in moderation.