Homecoming: Then and Now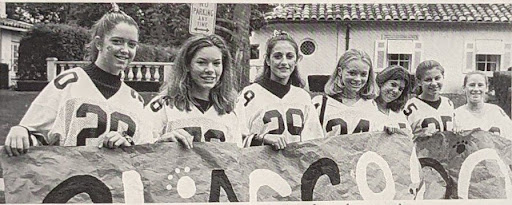 It's a chilly Friday night. You're in the bleachers, flooding with chants of support and school pride. Homecoming: one of the few times a year where high schools all across the nation pull out all the stops. Spirit week, dances, football games, fundraisers, pep rallies, the list goes on. The Glen Echo met with Glen Rock High School alumni to take a trip down memory lane as they recalled their homecoming experiences.
As for any school or organization, traditions are vividly remembered over time. Jim Kurz, a physical education teacher and head football coach here at Glen Rock and Paul Cusack, Supervisor of Instructional and Educational Technologies shared their stories. Kurz recalled having a bonfire leading up to their homecoming games and dance. Each year, the class gathered around the fire, full of anticipation. Located on the baseball field not just flames were ignited, but a spark of Glen Rock pride. This tradition has stopped since present day, likely due to safety, however both alumni recognize it as a great memory.
What's homecoming without a parade? In the past, the halls didn't get decorated as they do today but there were some impressive floats. Kurz and Cusack say they remember spending hours at their classmate's houses preparing floats for the parade. There were some extravagant floats, some of which can be seen in previous print editions of The Glen Echo. According to Kurz, the elaborate floats would be driven around the track circling the football field and would stay parked there throughout the game.
The first thing that comes to mind for many people when they hear "homecoming" is a game. 
"Our sophomore year we played against a team that was four times bigger than us and we beat them… it was a really great environment and I feel like the community had a part in it because whether you were on the field or in the stands or on the sidelines it was such an amazing event," Kurz said. This was one of his most memorable high school experiences, and that it was his favorite homecoming he's ever been a part of.
Cusack, a former soccer player, remembers that "it was a great experience to be with all of our classmates and teammates, and then cheer on our football team".
Another tradition that's stayed at Glen Rock is the homecoming dance. While today the students have formed an "unofficial dress code," things have changed from the past. In 2021, the seniors wear red and underclassmen wear black to show their school colors. Typically, most students will "dress down" their outfits by wearing sneakers rather than heels or dress shoes. In the past, the dance was much more formal. Nice dresses, dress shirts, khaki pants and sports jackets were common sights at past dances. 
"It creates a certain buzz in the school. It's always been that way," remarks Kurz.
He recalled feeling immense school spirit during his time as a student here, and also as a coach. Homecoming is a great unifier of a school, allowing students to show their spirit and lift each other up. Each year, Glen Rock students hold a homecoming game and dance, pep rally, spirit week and hallway decorating. During spirit week, students vote on a variety of themes to dress for throughout the week. This year, some themes include decade day and sports jersey day. Cusack mentions, "It's a great concept and I think it does a great job to build the school culture".
No matter what year it is, what music we're listening to or what we're wearing, Glen Rock pride doesn't fade over time.