Homecoming game predictions
Statistics/Info: The Glen Rock Panthers are ready to battle it out this Friday for our homecoming game against the Manchester Regional Falcons. Glen Rock, sitting at 3-2, will look towards working their way up in the North Jersey Liberty Division. They are coming off their bye week, their last game played being on Oct. 8, where they shut out New Milford, 35-0. As a team, the Panthers average 224 yards a game and average 18.8 points per game. On the other hand the opposing team, Manchester Regional, has had a rough season. The Falcons are coming off a tough loss to the Garfield Boilermakers, 27-20 which was played on Oct. 16. Sitting at 1-5, they are 4th in the North Jersey Colonial Division, with their win against Lodi separating them from last place. They average 209 yards per game and 12.4 points per game.
Key Players to Look For: The Panthers have many great players on their team, all of which will be on display on Friday. Here are a few key players to keep an eye out for:
Mike McCarthy (#3, Sr.)

The starting quarterback, McCarthy serves as a dual-threat quarterback as he can air the ball out as well as keep it on the ground. He has thrown for 197 yards and two scores as well as ran for 311 yards and two touchdowns.

Andrew Sara (#25, Sr.)

Sara has been nothing but a beast at running back. He is the team leader in rushing yards, with 374 yards and two touchdowns. On the defensive side of the ball, he has 15 tackles and a sack.

Nolan Clark (#50, Sr.)

Clark is one of the leaders of the defense, being a disruptive nose tackle. He leads the team in sacks with three, and is tied for first in tackles with 20. He also has four pancake blocks on the offensive side of the ball.

John Scotto (#58, Jr.)

Another player of the defensive line, Scotto is tied for first with Clark with three sacks, and is second on the team in tackles, with 19.

Luke Famularo (#5, Jr.)

On the offensive side of the ball, Famularo serves as a big receiver who can block downfield. On defense, he plays as an Outside Linebacker, with 20 tackles and two sacks.

Hayden Yuzon (#4, Jr.)

Yuzon is a player with many talents on all three sides of the ball: offense, defense, and special teams. On offense, he plays Running Back alongside Sara, with 57 yards rushing and 13 yards receiving. On the defensive side, he plays cornerback, with 10 tackles and an interception. Also an electric punt returner, Yuzon has 150 punt return yards with two touchdowns.
Some of Glen Rock Stats: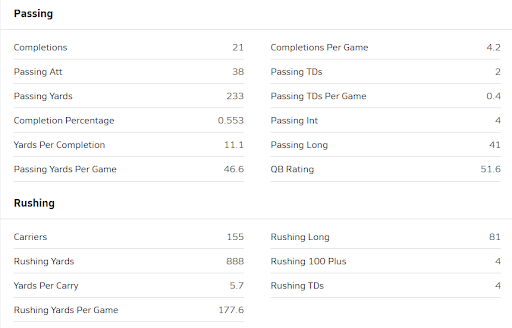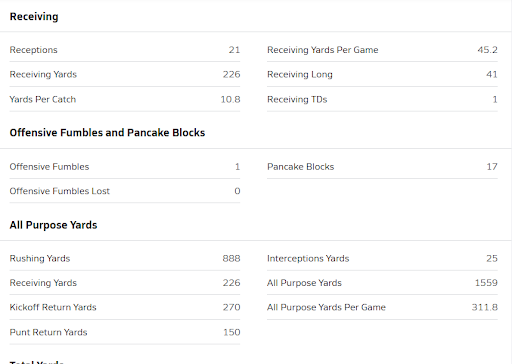 Source: Maxpreps.com
Some of Manchester's Stats:
Source: Maxpreps.com
Opinion by Neil Sahu
After looking at the statistics, it's evident that Glen Rock is better as a team. However, Manchester does beat us in some areas. They may have a better QB rating, more yards per catch, and yards per completion, but Glen Rock still outweighs Manchester in; completions, total yards, rushing yards, and receptions and all of our defensive stats are much better than theirs. I am definitely going to see the game. My prediction of the score will be 42 – 28, somewhere around there with Glen Rock winning. I will be surprised if Manchester comes through and beats Glen Rock.