How the 2021 winter sports seasons were affected by Covid-19: Volleyball and Winter Track
As the fall season came to an end, and the cold weather brought a resurgence and increased fear of COVID-19, it was tough to imagine a successful winter sports season would transpire, let alone happen. But with the stringent guidance from the Department of Health, and the go-ahead from Governor Phil Murphy, winter sports were given full permission to occur on a high school level, and Glen Rock used that approval to their full advantage. Different sports called for different rules and regulations to be put in place, but almost all sports experienced some level of change. However, according to the winter coaches of Glen Rock High School, these challenges and obstacles didn't stop most of them from achieving many of their pre-season goals and rising as champions.

Volleyball
Despite COVID-19 being a prominent burden on this team as a whole, volleyball was a sport that faced many other derailments throughout the course of the year. Volleyball is normally considered a fall sport, but one of the few fall sports that is played indoors. Back in the summer of 2020, government and local officials were worried that letting athletes play inside would increase the risk of COVID-19 throughout the team and the school and increase the level of infections. Therefore, football, soccer, and tennis practiced and played outside, something those athletes were used to. But for volleyball, practicing outside proved to be quite an adjustment. 
Near the end of summer training, local officials released a statement that banned the competition of sports in an indoor vicinity, which unfortunately, sealed the fate of the volleyball season. However, the sport was given another chance at redemption when the winter season came around, considering it would not be the only indoors sport during that time then. But with timing regulations and schedule changes being out of the question, volleyball, as well as wrestling, were pushed into their own season, dubbed "Season 3."
With that turbulent change, another adjustment occurred on a coaching level that served to be significant as well. Alyssa Sedlack, business teacher and varsity volleyball coach, left for maternity leave at the onset of "Season 3." Because of this, junior varsity coach as well as history teacher Kathleen Walter stepped up to her position for the course of this season. While startling and shocked were feelings going through her mind at the time, Walter ascended to the position of interim-varsity coach with dignity and optimism.
"I was nervous at first, but really just tried to copy Sedlack and do what she would do because she was a great coach," said Walter. "I didn't want the girls to have to wrap their heads around yet another change."
Walter made it clear that volleyball had a haphazard schedule throughout the course of their season, picking up matches against schools whenever and wherever they could. Even though this meant the girls were playing some schools they had never played before, or some schools that were considered more advanced than they were, the team managed to overcome those challenges and never let their guard down. Their actions spoke for themselves.
"I was so proud of my girls and how they played this season. Especially in the match against Leonia, I didn't care who won because this team was considered better than us, but in the end, the score came so close and Glen Rock emerged victorious. It just showed that the match was so hard fought and the girls never gave up, even despite a challenge like that," said Walter. "I am unbelievably grateful for their reliance and they should be too."
Obviously, the team had to endure many of the same obstacles that other winter sports teams had to as well, including mask mandates and sanitation requirements of equipment. The girls wore masks the whole time throughout all matches as well as separated balls at practices to keep everything sterile. Other regulations include the ban of shaking hands and not having a normal number of line judges present.
"Though there were a lot of things that really were a bummer for the girls to accommodate, one nice thing that came out of this season was that there was a live feed of all the games so families at home and around the country could watch," said Walter.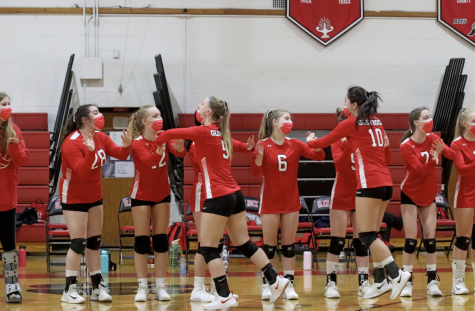 The team ended up being one of the strongest teams in the league, almost gaining the opportunity to win the league. They managed to use the season to build up a scrappy, fiery reputation in the eyes of their opponents. In doing so, they were able to win against many teams that normally consider Glen Rock to be inferior, including Fair Lawn and Leonia.
Overall, the girls were thrusted into a pit of the unknown and had obstacles coming their way throughout the course of the year, but when they finally got the chance to have a season, they took advantage of their privilege and gave it all they had.
"All of them did everything they could do to keep each other safe and make sure that we could have a season and it was that attitude that boosted their confidence and devotion, and made Glen Rock a feared school," said Walter.
Winter Track
A sport that normally does not have a tumultuous time maintaining social distancing regulations or having to sanitize equipment is track and field. Despite that, the team did have to get accustomed to some changes throughout the season. 
The team usually resides its practices on the track, but with inclement weather creating some injurious conditions, the team began it's practices in the middle school gym and the cafeteria. Inside, masks must have been worn at all times, regardless or not if one was running or warming up. Those requirements stayed even when the track was cleared and the team moved outside to practice. 
"I think that our diligence about our mask wearing really contributed to the team not shutting down at all during the season," said Brian Weinberg, head winter track coach. "Obviously running is not fun to do with a mask on, but the team really did well with maintaining a sense of discipline,".
Normally winter track competitions and meets occur at the indoor track in the Armory in New York City. But with COVID-19 affecting the amount of people that could be in one room, the Armory canceled their spot as a venue for all high school meets. This left the winter track team having to participate in "polar bear meets," meets that took place outdoors instead of indoors, which was quite a change they had to get accustomed to. Their schedule, with that, also was derailed frequently as many schools scrambled to host meets and keep their teams safe so they could participate. 
"Glen Rock came into quite a scenario of last-minute meet cancellations due to COVID-19 and scrambling to find other places to run, which brought up a lot of stress throughout the season," said Weinberg.
The team maintained it's healthy resilience and was able to compete everyday, which according to Weinberg, was an "accomplishment in itself".
The team mentioned that they very much look forward to putting that mask away, and seeing the smiling faces of each athlete once again.
"I do think that the COVID-19 restrictions, though they were a burden, helped us stay healthy and helped successfully combat other factors we had to face including the weather," said Weinberg.