Cinderella story ends in championship fashion for the Glen Rock Hockey team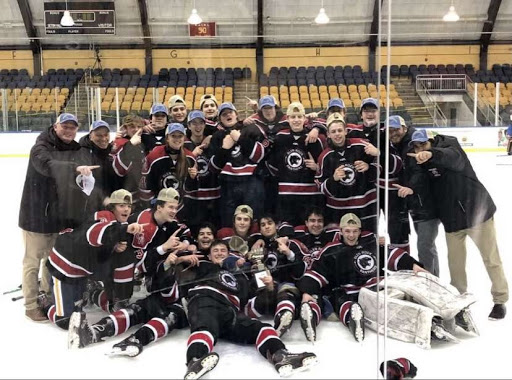 It didn't take Glen Rock long to make its mark in the NJIIHL, as they defeated Livingston 4-0 last Thursday to win the McInnis Cup. Just two years after leaving the Big North Conference, Glen Rock has yet again cemented themselves as not only the best team in their conference, but one of the best in the state, taking down public powerhouses Summit and Westfield.
The Panthers entered the conference tournament as the number 5 seed, and had to face rivals Summit in the first round, a team in which they had not defeated in four seasons.
Sophomore Colin Redmond started the onslaught for the Panthers in the first period, and the Panthers started to roll. Senior assistant captain Anthony Maurice assisted on three of the Panthers four goals, and senior goalie Mack Alvino turned away an outstanding 40 shots, and helped the Panthers knock off Summit 4-1.
The second round was arguably the Panthers' biggest test of the season, as they took on Westfield, who was ranked #17 in the NJ.com Top 20 and the one seed for the tournament. Westfield defeated Glen Rock in their only previous meeting this season 5-3 on Jan. 29.
After defeating Westfield 4-2 in the semifinal, the Panthers were on to the McInnis Cup final at Codey Area in West Orange. Two goals were scored by senior Anthony Maurice, and it was capped off by the game winner from freshman forward Brady Peck early in the third period.  Alvino shined once again saving 44 of the 46 shots he faced, and sophomore Braden Van Sickle netted an empty net goal late in the third period, sealing the deal for the Panthers.
Livingston (2 seed) was the Panthers' championship foe. This game was controlled by Glen Rock right from the start, and it resulted in a 4-0 Glen Rock win, with senior goaltender Mack Alvino recording a 40 save shutout.
 Alvino was the backbone of this championship run, as he faced over 130 shots throughout the tournament, giving up just three goals over the three games. Senior captain Ryan LeBlanc netted a goal, along with junior Andrew Brassil, Peck, and Van Sickle. Glen Rock joined Ramsey, and Don Bosco Prep as the three schools to come out of Bergen County as league champs, Bosco in the Gordon cup and Ramsey the Big North.