How the 2020 fall sports seasons were affected by Covid-19: Football and Cheerleading
The upbringing of COVID-19 throughout the year 2020 has no doubt caused many adjustments and alterations to be made to certain entities, but one distinguished change that was brought about was the high school fall sports season. Within the previous summer season, New Jersey Governor Phil Murphy announced that high school fall sports could commence under certain rules and regulations to help prevent the spread of COVID-19. Different sports called for different procedures, but overall, every coach and athlete found themselves to adapt to a new sense of reality, at least for this season. According to the fall coaches of Glen Rock High School, all sports endured many challenges and obstacles throughout the season, but it didn't stop most of them from achieving many of their pre-season goals. Here are two sports: Football and Cheerleading, and their stories on how Covid-19 positively and negatively affected their seasons.
Football
"All things considered our number one goal was to practice as much as possible and play as many games as we possibly could. We accomplished that goal," said head coach Jim Kurz, "We never had a practice canceled and we played in 8 total games. In a year like this that was our main focus. Find a way to do everything we could and to make every sacrifice possible to play as much as we can."
Certainly, the toughest sport to incorporate acts of social distancing and safety guidelines set by the state was football. But with the go ahead given to the NFL and College Football to practice and compete, high school football followed behind. That being said, Glen Rock Football could not have handled the challenges better than any expected outcome.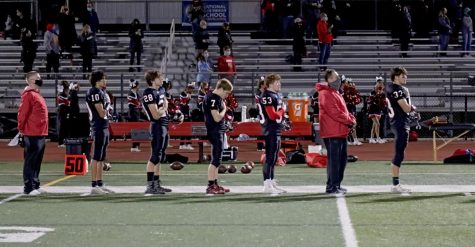 In the duration of the season, the varsity team was set for playing eight games, which they accomplished, and won six. They credit their own determination and devoted mindset toward success as the primary factors. Because of this, they were able to revere from any medical turbulence that occured in other sports. As well as a positive outlook, Kurz had a lot of help from other sources to keep a confident morale. 
"The assistant coaches were amazing this year like they are every year. We had each other's backs and we all looked out for each other. The seniors also did a tremendous job setting the tone and keeping things in order," said Kurz.
As far as games, there were many regulations that dealt with the magnitude of people that could attend. There was a maximum of 500 spectators who could attend each game. Players received two or three wristbands before every game and they could give them to family and friends. Most of the games were also live streamed which gave other fans the ability to watch the games.  
Aside from games, the team wasn't able to indulge themselves in the annual bonding festivals to prevent the spread of COVID-19.
"We obviously weren't able to have team dinners, breakfasts, pep rallies, etc. But all of that is just an added bonus to practicing and playing and getting to spend quality time together on the field. Those things are all nice but we kept our eyes on the prize and that was playing as many games as we possibly could," said Kurz.
Nonetheless, the team played as many games as possible and we were pretty good along the way. Many teams in the state were only able to play three or four games. The team was challenged every week with a very challenging schedule. The combined record of the teams we played this year at the time we played them was 20-6. All but one of those teams had a winning record at the time we played them. Four of them were undefeated at the time we played them. They battled every game and we never backed down. Overall, they played whatever team that showed up and we did a good job with a 6-2 record.
"Even with restrictions we were able to find a way to be successful and we will probably make some changes moving forward as a result of what we learned this year. As we always say, we do not lose here at Glen Rock. We either win or we learn and we did a lot of winning and learning this season," said Kurz.
Cheerleading
With football having been given the go ahead to proceed with their season, it didn't come as a shock when state officials allowed the cheer season to be able to practice as well, but nonetheless, with restraints. Cheerleading is more or less defined as a sport that literally relies on the strength of it's teammates in order to be successful. With that, cheerleading seemed tough at the beginning of the season to continue as the girls were already subjected to getting close with one another and touching each other. Nevertheless, Varsity Coach Erica Little and Junior Varsity Coach Angela Irvolino, the team was able to have their season and incorporate some sense of normalcy within it despite the many challenges they faced.
"The girls did AMAZING!!! I am so happy that they were compliant with mask wearing at practice.  Especially being the only fall sport that had away games taken away from them it didn't stop them! It took a bit to get used to practicing new skills on the turf and track but the girls really gave their all!" writes Irvolino.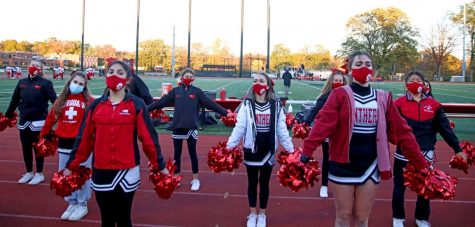 With a myriad of drawbacks that the girls had to endure, certainly the most colossal was the fact that they were unable to to attend any away games according to the league. 
"It was  really upsetting to a lot of athletes and parents that our team was not allowed at away games but the girls didn't let it stop them from making the best of what they could do!"  said Little. "The seniors really made the best out of a situation that I wish they didn't have to go through but I am so proud of them for never giving up!
At home games, the girls had to adjust themselves to new circumstances when cheering for the football team. They had to wear masks when they were cheering as well, due to lack of social distancing that occurs when cheering.
"We adjusted very quickly to wearing masks at practices and games and when on the sidelines – we even got matching ones!" said Irvolino, "Being on the sidelines we really feed off crowd interactions!  Not having a student section was tough."
Unfortunately, as well as getting accustomed to new regulations at games and competitions, the girls also had to also adjust to many abnormal obstacles at practices. They were subjected to the track as the setting for their practices, which occurred around 5:00 PM, as opposed to after school in the Middle School gym. The track made for some difficulties. They occupied a smaller space, and they did not have their usual equipment like mats that are crucial to the teams' improvement. Nonetheless, they made due with what they had.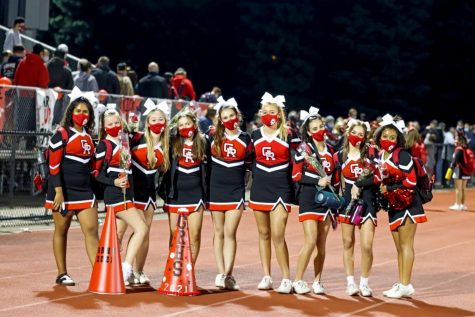 "We continued to learn and try new skills with adequate spotting (athletes who are just their safety help) in our new stunts. We also did our best to perform at the same if not higher level as previous years!" writes Little.
Thankfully, there was little turbulence when it came to any athlete getting sick or ill as adequate precautions were input for the greater good of the season. Overall, the sisterhood created within the clique of cheerleaders helped overcome the many challenges and obstacles they faced in the 2020 season.
"I have said this to my team and I will say it again – they truly worked like athletes despite not being treated by the league as such! They had so much taken away from them because they are considered spectators from a COVID-19 perspective and not athletes, but the level of skill they developed is incredible and I could only hope that in the future cheerleaders are respected athletes that get all of the privileges of the other sports!" writes Little.