Francesca continues to provide for Glen Rock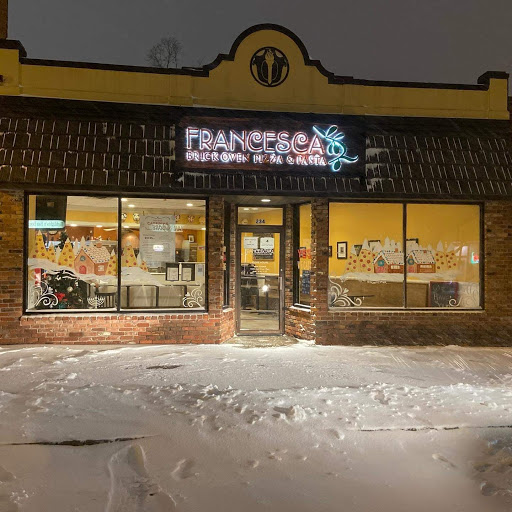 Throughout the COVID-19 pandemic, small businesses around the country have either been shut down, or run out of business due to various reasons.
Here in Glen Rock, businesses around town have continued to adapt to the constantly changing circumstances. Owners and employees alike have done an excellent job continuing to provide for the people of the town while keeping themselves and their customers safe.
One business in particular that has done an outstanding job in continuing to provide for their customers is Francesca's Brick Oven Pizza and Pasta. One major influence to the store's success through the pandemic is store owner, Salvatore Reina. 
Reina has a great reputation amongst the people of Glen Rock, and they truly appreciate all the great things he does for his customers and the people of Glen Rock. 
Not only does Reina help the younger and older people in our community, but he helps the high school kids by giving them job opportunities at the restaurant.
"It was an easy decision, when I was 15, 16, I was working at a local restaurant in Long Island, and I was a shy, quiet kid, but working there forces you to talk to customers, and deal with people. I learned so much there, and grew as a person, I need to pay that forward to others."
He added by saying: "I feel like everyone needs to work with customers of some sort at that age, and they are unbelievable employees and people."
Several employees also reinforced how great Sal is to work under. Senior Ryan Kelly said, "He's been cool, calm, and collected through these tough times. He is very understanding as well."
Kelly, who has been employed at the restaurant for about a year and a half, added that he was contact traced for COVID-19 through the school, so he called Reina, and Reina was immediately able to find people to cover Kelly's shifts, and informed the entire staff of the changes that needed to be made.
Senior Molly Knight added, "He has been keeping his employees and customers safe and happy, and has been understanding of any last minute changes because of the uncertain times."
Although business has not slowed down over the pandemic, thanks to the help of having many delivery drivers, the one thing he misses the most is having customers eating inside the restaurant.
"It's a little sad, I always try to see the glass half full, I always try to be positive, but when you don't see the kid celebrating his birthday, it stinks," Reina said.
Reina looked back upon memories from his childhood, and how happy it makes him feel to watch young kids celebrate their birthday in his restaurant. 
"When I was younger I would always pick my favorite place to eat at for my birthday, and when a kid chooses Francesca's, you know how nice that feels when a kid says he wants to go to your restaurant for his birthday," Reina said.
He went on to mention that he can still connect with those who come into the store to pick up their food, yet he can't wait until the customers can return to the store.
Not only did Reina continue to connect with his customers during the pandemic, but he also connected with the community as a whole.
Back in April, Reina ran a fundraiser for local hospitals, as he was motivated to do good by people on social media. Reina posted on Facebook, and at the end of about four hours, he raised $8,000. He followed up by raising another $8,000 the following week.
Reina would go on to mention that it was, "One of my proudest moments at the pizzeria, and the funny thing is that it didn't have to do with pizza."
In terms of the future, Reina hopes to make it through the winter, and stay afloat. At this point in time, Reina has not had to cut any staff members, or cut pay. 
"I just don't need to profit during this time, I just want to keep the doors open, and keep my staff employed," Reina said.
Reina is truly grateful for both the people of Glen Rock, and his outstanding staff as they have helped him through so much in his almost 13 years of service in Glen Rock.
"Thanks to the community, the town, and our customers for their support, and thanks to our staff for working extra hard during this time. It's the people who make the business."