New math teacher adjusts to chaotic school year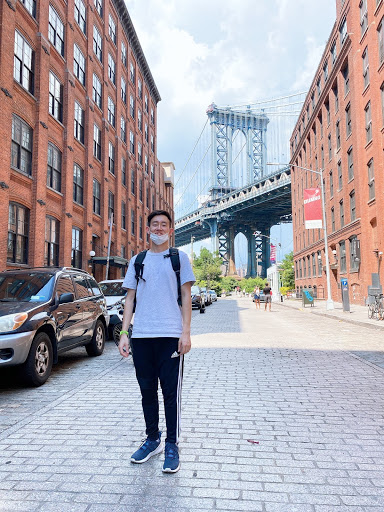 When Mr. David Kim joined the high school math department staff this year, he never imagined how chaotic the beginning of the school year would be.
"It's not only a new school year, but moving up here and starting the school year like this where I'm not really able to build relationships with students – it's a dramatic change to my life," Kim said. 
Though an atypical start, Kim is adjusting to the circumstances as he teaches the subject he loves. Currently, he teaches Advanced Algebra II and Geometry.
Originally from South Korea, Kim resided there for about 10 years before moving to the United States in 2003. After briefly living in Virginia and Pennsylvania, he settled in New Jersey and has lived here ever since. He subsequently attended Rutgers University's School of Engineering where he obtained his degree. 
After graduating, Kim taught math for two years, specifically around the Edison area and in a STEM academy in West Orange, N.J. Prior to his experience as a teacher, he also tutored students in math and SAT practice.
Kim's interest in math stemmed from how it was always a topic that came naturally to him. As a teacher, he strives to relay this ability and help as many students as possible.
"My ultimate goal is for the students to realize that math is not that hard. There's this subtle fear of math for a lot of students. It's just the public education system that tends to make it hard, but it's really not that bad," Kim said. "Once you get to know it and practice enough, everybody can do math – it's just a matter of how you think and how you practice."
Kim was further drawn to teaching when taking into consideration the connections he was able to make with students. 
"What I really enjoy about teaching is just priceless relationships that I'm able to form with students. For someone to be like 'Oh, thanks to you, I now finally get this stuff' – that's the kind of thing that really drew me into it. That's the kind of comments or compliments I live for," he said. 
This year has been somewhat hampered due to COVID-19, but Kim is gradually adjusting to teaching virtually with the hybrid schedule and forming connections. 
"The overall vibe is so different because I don't get to see everyone's faces and I don't get to interact with everyone." Kim said. "Now that we're slowly snowballing into the October-November phase, I'm getting the hang of it." 
With virtual teaching, Kim has also had to adapt his teaching methods to accommodate everyone. While he originally bought an iPad for graphic design and art – both hobbies he enjoys in his free time – he soon realized it could be used as a device for virtual learning to assist students. 
"It turned out to be a tool where it was like a digital whiteboard for my tutoring kids and it became a must-have for virtual learning where I'm teaching through the iPad."
Apart from teaching math, Kim enjoys a multitude of hobbies, such as drawing, playing the piano, and playing games with his friends, such as the popular game, Among Us. 
Kim looks forward to teaching and developing this year: "There's so much room for me to grow and so much to learn from other experienced teachers."