Students reveal thoughts on hybrid learning model
Glen Rock High School started the 2020-2021 school year with a hybrid learning model. The model consists of two days — A and B— divided evenly amongst the students, with the cohorts rotating every day for a full day of school. When students are not in school they may be participating in class remotely. The model has brought various changes, including the removal of the drop schedule and new safety protocols.
Below is a survey of 145 students across all four grade levels.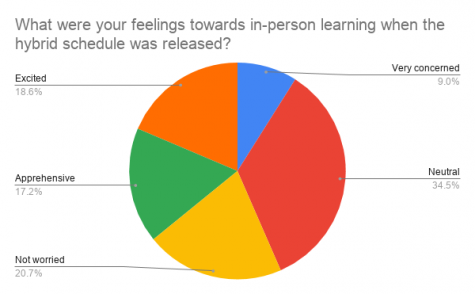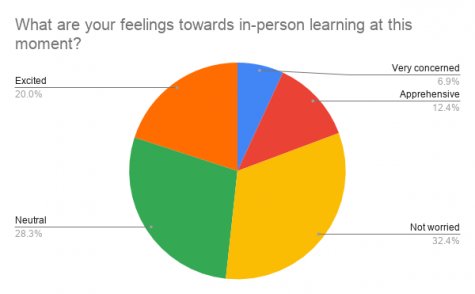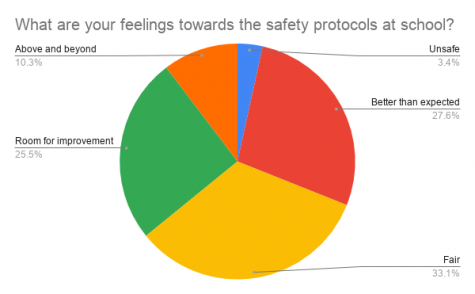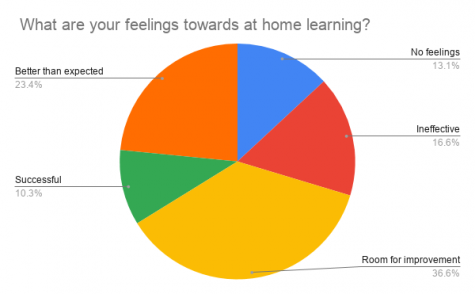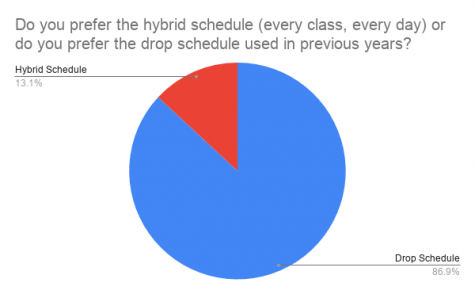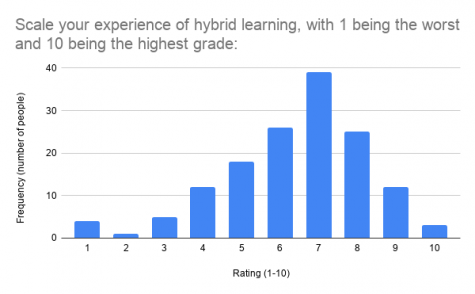 Open Ended: Students were asked two open ended questions about hybrid learning. Below are the questions with key takeaways and select responses.
Question 1: Please share one thing that could be improved about hybrid learning.
Key Takeaways: We should… 
Bring back the drop schedule so class periods are longer and classes do not meet everyday

Have less busywork on "at-home" days

Have less zooms on "at-home" days
Select Responses:
Lily Renga, Grade 12: "

I think one thing that could be improved is opening up the water fountains to at least allow students to fill up their water bottles, maybe not even to drink from if that's too risky."

Julia Dzurenko, Grade 11:

"

I just feel that the teachers should've had more time to get into their class and figure out what to do with the classes on Zoom and the classes in person simultaneously. No matter how stressed us students are, the teachers are so much more stressed and confused. So, I think that the teachers learning farther in advance on how to run their classes would be more efficient especially for them, and their students."

Kate, Grade 10:

"

Teachers need to better balance their Zoom class and their corresponding in-person class. While on Zoom it can be hard to hear, see, and directions/instruction is sometimes missed."

Dylan Vila, Grade 12: "No more Zooms! 99% of the Zoom calls are useless time that could be better spent sleeping, reinforcing material, or literally anything else that is slightly productive because Zooms are the biggest waste of time I have ever endured."
Question 2: Please share one positive about hybrid learning.
Key Takeaways: Students have… 
More time to finish homework

An opportunity to see teachers in-person and friends in school

Half of the school days at home, which gives them a break
Select Responses:
Lauren Patasnik, Grade 12: "

I like having a break from going to school everyday. I feel like staying home and doing school work every other day benefits my mental health in a way. I don't consider doing school work over the computer a break from but it is definitely a way less stressful day than it would be in school."

Hugh Rae, Grade 11:

 "

I feel like I can go home, take a break, and make sure all of my assignments are done by the time I come back to school. It feels a little more like a college schedule. It also leads to leaving for lunch and option which is a plus."

Nina Bober, Grade 12: "I think the teachers are doing an amazing job balancing all their classes and the B and A day kids. The online days are also effective and efficient to enhance what I learn in class."