A highlight of Track and Field seniors of 2020
by Michael Taromina, Sports Beat Manager (Volleyball, Wrestling, and Softball)
June 17, 2020
With the abrupt cancellation of spring sports of the 2020 season, causing many broken hearts for all Glen Rock athletes, it's easy to misrecollect the hard work that the seniors put in the past three years that they'll unfortunately never get to pursue. The seniors of the class of 2020 who participated in Cross Country and Track and Field, were described as "a class that will always be remembered for their persistence and perseverance toward the team and the sport." According to Coach JP McCarten, Coach Stacie Gallo and Coach Brian Weinberg, certain athletes of the class of 2020 made a substantial difference in improving the team's success through their leadership, determination, and devotion. "It was a team effort, but without them we would have never accomplished what we did", according to McCarten, head coach of the track and field team.
Mary Andreou
Due to her eagerness to prevail and her charismatic leadership she brings to the team, Mary Andreou will go down as one of the greatest Cross Country and Track athletes ever to come through Glen Rock. Her career started out with two years on the Junior Varsity soccer team before skewing her way to cross country where she spent two years as a varsity runner. She has participated in winter track for three years, starting in her sophomore year and has done spring track for all her four years of high school. 
Andreou has always been an avid runner and enthusiastic athlete which drove her to switch her sport selection form soccer to cross country, as well as some insight from her coach and her friends. Though Androeu was mistaken for a sprinter at the beginning of her track career, she quickly evolved to a superb long distance runner. Andreou took the role as senior captain for the cross country and winter track team and was able to shed a positive and forward-looking attitude and aptitude throughout the seasons. 
"Since running is such a tough and tiring sport, it's important to convey a positive mindset and an encouraging attitude toward the team so no one quits and that's what I tried to do," said Andreou. 
Andreou's adoration for supporting people and helping those in need created a bond-like atmosphere around the whole team. Her instinct to never give up and to always endure the pain no matter the circumstances formatted the basis Andr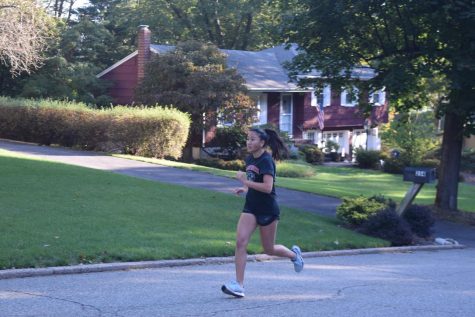 eous's athletic legacy.
"As a student and an athlete for many years, I really can't think of a girl who has worked harder, and sweated more, and most importantly, loves ab exercises, more than Mary Andreou." said head distance coach of winter track, Brian Weinberg. "Her overall personality is exactly what is looked for in a leader and she will be missed dearly."
Though she may be leaving next year, Andreou has established many memories and achievements that she credits are "unforgettable". One memory that Andreou will always remember was State Groups 2019. Andreou was placed in the mile with a bunch of seniors from competing teams. As a minority in the heat, Andreou thought it would be next to impossible to accomplish her primary goal of achieving 5:30 or under. Nonetheless, her hard work and determination suppressed her anxiety and finished the race second to last with a 5:28 personal record. 
"When I got on the line, I was so scared and I usually don't get so scared. As I was running, my body was on fire and I just felt horrible but it was so worth it in the end when I got a PR," said Andreou, "I was so happy because it was my last race of the season and all that because all that pain finally paid off."
Though Andreou will not be at Glen Rock next year, coaches, captains, and the rest of the team will try very hard to preserve her legacy as a person who exhibits the qualities of kindness, generosity, assiduousness, and determination. As she ventures down south to Elon University, Andreou will continue her running career on the club team, while also pursuing her major in public health. 
"With her personality and her work ethic; we know she'll be successful wherever she goes," said Gallo.
Ryan Lazev 
A true role model and elite athlete within the track and cross country team who will be missed for his leadership qualities and integrity is Ryan Lazev. As a two year varsity runner on the cross country team and a three year varsity runner on the track team, Lazev surely made his mark as one of the most diligent and competitive runners to ever come through Glen Rock. 
"He was one of the s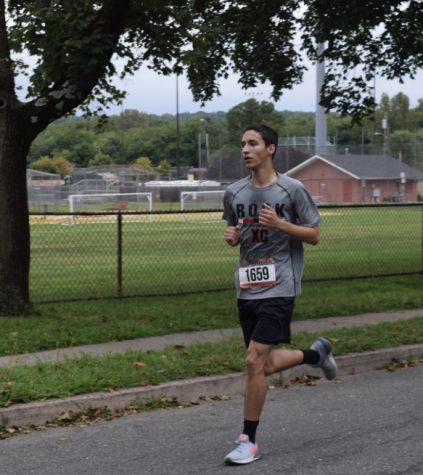 martest runners we've ever seen. He knew everything whether it was the people he was running up against or what his splits needed to be in order to PR," said McCarten, "He knew it all."
As a captain for the cross country team in the fall, Lazev took the role with authority and dignity. Lazev will always be remembered for a person who led with a confident and self-composed attitude to ensure everyone takes part in guaranteeing success for the team. 
"He never thought about the success of himself when he would run, it was all about the success of the team and that's what made him such a good person and such an accomplished athlete," said Gallo. 
Lazev credits his most memorable track moments when he was running on the 4×8 and 4×4 relay teams, especially the races in which he set his personal records. 
"Without him, our 4×8 and 4×4 relay teams would have never accomplished what they did," said Weinberg. 
With respect to track, Lazev also credits one of his most memorable moments happened in the 2019 season of cross country at the Bergen Meet of Champions. His yearning to obtain a personal record compelled with his determination, strength, and devotion led him to finish the race with a time of 17:56, which is a two minute PR.
"I honestly just wanted to finish that race with a good time and I never slowed down throughout the whole race because of that," said Lazev, "I wanted it so bad and I was so happy when I got it."
Lazev will also be remembered as a person who is always one step ahead. His leadership qualities and how he would handle everything the coach said with assiduous effort will forever be remembered and cherished.
"He had the best attitude of every athlete I have ever met and hoe he used that attitude to led people and motivate people is why Glen Rock will always honor him," said McCarten.
Rachel Turanchik
"It's impossible to talk about the success of the team without mentioning Rachel's name," said McCarten.
Rachel Turanchik pursued winter track since she was a sophomore and participated in spring track for all four years of her high school career. Turanchik is credited with being the coaches' prime example and model for everything from drills to warm-ups to workouts.
"Sh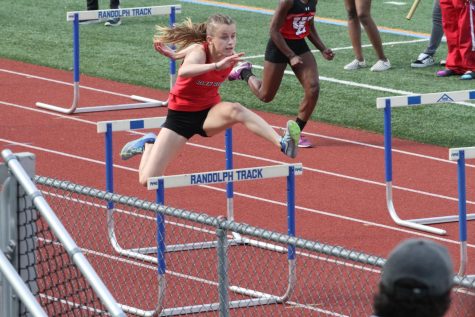 e became my example because she did everything perfectly. She was the perfect athlete," said McCarten. 
Turanchik always kept an ardent and impassioned mindset while doing track. She credits her coaches' and past senior captains for helping her become the outstanding athlete and charismatic person she is today. As a senior captain, Turanchik asserted the qualities of affableness toward others; always making sure people were comfortable talking to her and taking criticism from her; and determination; always open for criticism that'll improve her overall ability. 
"Overall, I want to be remembered as someone who never gives up when pursuing some type of goal and putting in the work and effort and motivation that is necessary to achieve that goal," said Turanchik.
Turanchik's specialty events including the 100 meter and 200 meter sprints however, she was able to evolve and train herself to be one of the greatest long jumper and high jumper that Glen Rock has ever seen. Her infatuation with hurdles also played a prominent role in the teams success throughout her four years but also proved to be her undoing.
Unfortunately, Turanchik had to cut her winter season short due to an unexpected injury involving hurdles. On January 6, 2020 in the Armory, Turanchik made it all the way to the finals for hurdlers. However, after having a rough start out, she hit the third hurdle and landed on her right leg in an awkward position. 
"I didn't know what was going on, but all I remember was that I was in so much pain," said Turanchik. 
After visiting the doctor, it was concluded that Turanchik had sustained a tear in her ACL which ultimately resulted in her absence for running for the remainder of the season. In her road to recovery, Turanchik made frequent visits to a Physical Therapist while also working on improving and rehabilitating her athletic mental state of mind as it was shattered subsequent to this injury.
"I think this injury has made me mentally stronger as a person and I hope it will one day make me a better athlete," said Turanchik. "I hope I regain enough strength to one day do hurdles again."
Though Turanchik has been through some very tough times as an athlete, both physically and mentally, one of her most memorable events that she credits was "unforgettable", was the day she fulfilled a new personal record for long jump. Turanchik experienced the benefit of an old superstition and she managed to jump 18 feet and three-quarters of an inch. She was ecstatic and thrilled after completing her accomplishment.
"Normally I don't get too excited about my personal records but that was the best feeling of my life and the best moment that has ever happened to me," said Turanchik
Turanchik will continue to pursue her running career at the University of Connecticut where she will hopefully be fully recovered and in good health to run as a sprinter on their club team. While running, she also perspires to major in Computer Science. 
Though Turanchik might be leaving Glen Rock after this year, her legacy will forever be remembered. As a person who has participated in Penn Relays, Nationals and has had many articles written about her, Turanchik will always be remembered as a person who never gives up when pursuing a goal and always be a kind and compassionate leader toward others wanting to achieve greatness. 
"It'll be tough without her," said Gallo, "We wish her luck and hope for her all the best."
Lindsey Burstiner
Due to her tireless effort she puts into repeatedly breaking school records attending National meets consecutively; along with her leadership and follower-ship qualities that she portrayed, Lindsey Burstiner will go down as one of the greatest girl sprinters to ever come through Glen Rock. 
Starting off high school with soccer being her main sport, Burstiner was reluctant to give it all up to pursue track yet nonetheless a little convincing was all it took.
"It was a tough decision at first, but in the end I have no regrets," said Burstiner.
Before her senior year, Burstiner dabbled with sprint races and sprint medley's but it wasn't until her senior year where she became extremely adequate and enticed with hurdles and jumps. 
"I've never been more happy to be wrong about an athlete and their capabilities," said McCarten.
Burstiner worked arduously both during the season and the off season to improve her form, her times, and her stamina. With the help of Coach McCarten, Burstiner managed to score a varsity letter all four years of her track career and have a chance to compete at Penn Relays, one of the most famous track and field events in the country. 
"She continues the legacy of a good sprinter girl, always working hard and challenging herself," said McCarten, "That's what we look for in our leaders."
As a senior captain, Burstiner highlighted the qualities of good corporation and communication. She always made sure to present herself to everyone as a
n easy-going person, making it easier for people to come with her with questions or concerns. While portraying the qualities of corporations a
nd communication, Burstiner also highlighted acts of determination and perseverance to ensure success for both her and the team.
Burstiner will continue her track and field career as she heads up north to Boston College while also pursuing a major in physcology. However, despite her leaving next year, her legacy and her accomplishments live on.
"Her name will never be forgotten at Glen Rock. In fact her name is on the record board, so literally, her name will never be forgotten," said Gallo. 
One ultimate event that Burstiner and her coaches credit they will never forget is the Metropolitan Invitational during the Winter track season of 2020. Burstiner was running the 55 meter hurdles. On the same day, the school had put up a record board of the track and field records that various athletes over time have set. Burstiner beat the record of the 55 meter hurdles on the same day that it was picked up. She credits it as "unexpected".
"On the same day we put up the record board, we had to change it," said McCarten.
With her countless accomplishments, Burstiner will forever be remembered at Glen Rock for devotion to the sport, her determination never to give up, and her corporation toward anyone who needs support. 
"I couldn't think of a better senior to award the Senior Athlete of the Year award then to Lindsey," said McCarten. 
Matt Theuerkauf
"Without Matt, the pole-vault team, let alone the track team, would never have accomplished what it did," said Gallo.
Though track does revolve around running for a general amount of time, Matt Theuerkauf spent most of his high school career perfecting and training himself to be one greatest pole-vaulters, long jumpers, and triple jumpers that Glen Rock has ever seen. 
As an athlete, Theuerkauf skewed away from the running sector of track and affiliated himself more with the jumping and pole-vaulting part. As a person who comes from "track royalty", in the sense that most of his family has pursued track when they were in high school, Theuerkauf, being the youngest, was expected to fill some pretty high standards that were set for him.
"I have had the pleasure of coaching Matt's brothers and his uncle is a track coach at a different school so when I knew Matt was going to be participating in track and field for as a high school sport I obviously knew he had some shoes to fulfill," said McCarten, "But in the end, he fulfilled them."
As a person who rarely received any guidance from coaches throughout his career, Theuerkauf managed to establish himself to be his own coach and take on the responsibilities that were directed solely onto him. In doing so, Theuerkauf evolved into an amazing athlete who always performed at a high level, no matter how much pain he had to endure, and was always credited with being one of the most responsible and independent athletes the coaches had ever seen.
"Matt was essentially his own coach in that he would plan his own workouts and be responsible for the training that was required in order for him to PR," said McCarten, "It's not easy to take on that responsibility but Matt did and we all are very proud of him for that."
As Theuerkauf heads over to the University of Miami to pursue his track and field career even further, his legacy of earning records and setting the foundation for what the pole-vault team is will never be forgotten. Theuerkauf developed his athletic ability since he first started as a freshman and will be remembered for his qualities of always giving a maximum amount of effort and never backing down from a challenge. 
"His attitude and overall personality is exactly what I look for in all track athletes and because of his dedication he exerts toward any challenge that comes his way, I know he will go far," said Gallo. 
Conclusion
On the whole, there is no way to properly honor the seniors who lacked a senior spring season, but commemorating their accomplishments and everything that made them great is a start. All twenty-one of them were exceptional athletes that had various unique qualities which individually, made them all great. Brandon Perez led the sprinter team to consecutive final events and has won many state titles and Karina Rose will go down as one of the greatest throwers in Glen Rock history.  From freshman to senior year, they have endured many unexpected obstacles but unfortunately, nothing of this magnitude. As they mourn the loss of their senior year, we can't forget all they have done to make this team and this school a better place.  "They are all role models. We will miss them," according to Gallo. Their accomplishments and overall class personality not only makes past athletes proud to have once served on such a prestigious team but also inspires incoming freshmen to join as well.