Glen Rocks makes plan to honor the senior class
Although the senior class of 2020 will not be able to get back the experiences lost due to the COVID-19 pandemic, accommodations can be made to give them a proper sendoff to honor their graduation. 
High schools across the state have many different types of ideas to honor their seniors. Ridgewood High School has put banners across the Village of Ridgewood with each senior's name.
Glen Rock has since followed in Ridgewood's footsteps, as they have put their banners on fences around the high school.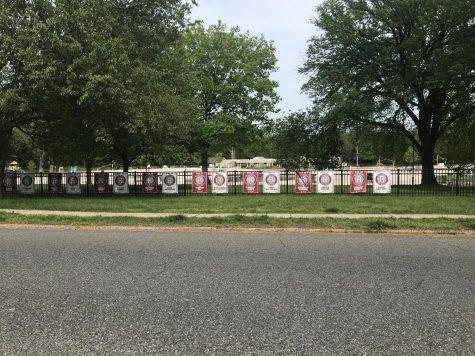 Ridgewood has also decorated the scoreboard on their football field to read, 'We Love You All 2020', a nice ode to the graduating class. Many schools will now do this every Friday until the end of the school year at 8:20 (20:20 military time) for 20 minutes and 20 seconds to honor the seniors.
The Glen Rock outdoor graduation this year will have to take place a lot different than what we're used to. The plan for an in-person ceremony will take place on July 30. It will be restricted to follow the rules of social distancing. 
The maximum capacity that is agreed upon will consist of students and families, but also the teachers, police officers, etc. that are on staff for the event. 
"Students, parents, and staff may not be available to participate in the rescheduled traditional ceremony on July 30th and deserve, like all graduates, to be recognized on June 18th," said Principal John Arlotta. 
Deptford High School has planned to host a graduation ceremony for their 125 seniors, with two students going at a time for fifteen minutes. 
Only the students and their close relatives will be in attendance for the ceremony, which will take place over the course of four and a half days. Glen Rock's ceremony should be similar to this procedure.
"I think this is a really hard time for the seniors especially and the teachers are doing their best to acknowledge that. I think that the best way for the administration to honor the class of 2020 is to give us an in-person graduation," said senior Stephanie Radin.
Because it is unlikely for large social gatherings to be able to take place anytime soon, seniors are more than willing to wait until July 30 for this ceremony to occur. Radin also explained her enthusiasm for a postponed prom and grad ball party.
"I also think a prom, or prom-like event, could be scheduled for next year, as well as a different event as a substitution for grad-ball," she said. 
Grad Ball is a challenging issue because each graduating class fundraises tens of thousands of dollars to create the party, and now there are issues on what to do with the money that was raised. Alternative measures will have to be considered to celebrate the class of 2020.
Students will cherish the moments at these events for the rest of their lives, and it would mean a lot for them to get somewhat of an in-person farewell to their high schools that goes beyond a restricted graduation ceremony.