A Family Affair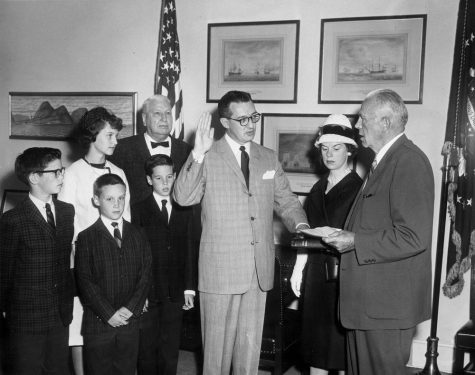 September 2019– Laying awake late at night, I could hear the branches swaying in the wind. Acorns and twigs were crashing on the roof alongside the onslaught of spring raindrops echoing through the still and silent night. I opened my eyes and took a quick glance at the green glowing numbers taunting me from across the room. They read 03:22. I always struggled to sleep on nights like this. Ever since Hurricane Sandy, I had been scared of storms, seeing all the branches torn off trees and ruining people's houses and lives. Little did I know a completely different storm was brewing, one that would blow a branch back onto a tree, and fill a hole in my life that I never knew was inside of me.
Rewind 55 years, a young couple stand anxiously awaiting the greatest gift they would ever receive, but the moment was far from perfect. Down the hall, a stern-looking woman was speaking with a social worker. It was not so much a conversation out as much as a lecture. Without knowing any of the words being said, it was easy for the young couple to infer the context of this conversation. This lady, who I knew as Nana, was ensuring that there wouldn't be records to be later discovered of what had happened in this home for unwed mothers during the previous week.
Naola McDermott, or Nana as I knew her, was a hardworking Irish Catholic woman from Chicago and the loving wife of Edward Aloysius McDermott. Ed McDermott, or Papa,  was a well known prominent member of President John F. Kennedy's staff. He served as the Director of Emergency Planning for the White House during the biggest avoided disaster in the history of the United States, the Cuban Missile Crisis. That meant that  43-year-old Papa was in charge of planning every detail of any catastrophe, either natural or manmade. According to Michael Bohn, author of Nerve Center: Inside the White House Situation Room He was not just any man in the situation room; he was the man in the room; "His presence explicitly reflected the situation's gravity."
Nana was the wife of an influential member of President Kennedy's advisory staff, A home for unwed mothers is probably the last place most people would expect to find her, but there she was. Papa and Nana had lived in Dubuque, Iowa, with their four kids Maureen, Eddie, Chuck, and Danny. In Iowa, he had been the chair of the Iowa Democratic delegation, and the midwest campaign manager for John F. Kennedy, after President Kennedy was elected, he asked Papa to move to Washington D.C. and offered him a position in his White House. After mulling over the proposal with his wife, they decided this was too good an opportunity to pass up. Papa and his family took a leap, packed up, and moved to the nation's capital. His daughter Maureen remarked how hard a decision this was; "So he quit his law practice, which he worked very hard to build up. He was named partner …. and decided to give it all up and pack everything up to Washington DC where he took a position in President Kennedy's administration." (Maureen McDermott). 
The move wasn't only hard for Papa and Nana, but also for their kids. Any teenagers moving from a small rural midwestern town to Washington D.C. would have a hard transition. Being the eldest daughter of Nana, the perfect wife and mother, only upped the stress and pressure of this sudden move. 
Maureen, or Mo as I know her, did struggle with the move. Like any teenager, she struggled to acclimate to High School and find her footing in the school's social hierarchy. Mo had to navigate the typical challenges of being a teenager with her new environment and Papa's new powerful job. She once told me "I was on the phone with a boy, because there was no texting back then, and Papa came in and took the phone from, because we only had one in the house, and switched to the call on the other line. President Kennedy said, "Mr. McDermott, you are a hard man to get a hold of." and Papa responded, "Mr. President, obviously you don't have a teenage daughter."
Being susceptible to the usual dangers of adolescents, Mo found herself in a compromising situation. And she ended up pregnant. Now the man who the New York Times described as "Ed McDermott, 43 years old, trim and meticulous in dress and habit, is the Nation's No. 1 rescue operator. He is also the first to think of a potential emergency and to plan for it down to the last thinkable detail." was left completely unprepared for this personal emergency. There was no plan for this assault on his impeccable reputation, but one quickly emerged. The enforcement wasn't the full strength of the United States armed forces like he was used to having at his resource. But instead, it was a force much more powerful, Nana. 
Nobody was to know what had happened to Nana and Papa's oldest daughter. Instead, Nana and Papa had come up with a cover story.   Mo would go to a home for unwed mothers for the duration of her pregnancy, and she would give birth and have a few days to recover, then she would return to everyday life. While she was away, her friends and even her family were told that she had mononucleosis and was recovering at a facility in Florida. Her three brothers weren't privy to the truth until they were in their thirties, and even then, it was to Nana's dismay. By then, Mo had already given birth to her second daughter, Erin, my mom.
Mo gave birth to this forbidden child, but she was only given a week with her baby, whom she named Anna Collen. "I was 17, and that's what I came up with. I got better at naming with practice," Mo told me.  The baby's adoptive parents honored this name by calling her Anna Chris.  She now goes by Chris or Chrissy.
         When I asked her what it was like living the home for unwed mothers as a teenager, she said "We had a couple of hours at school every day, and we went into the nursery where we took care of the babies born by other mothers who got up and had gone back to work or school or wherever. And we took care of the babies before they were adopted. And I remember looking at those babies, and I fell in love with a couple of them."  
"I thought I would have a week or two before I expected that I would go home. I remember lying in bed at night and just sort of talking to the baby, telling the baby that I was going to try to do what was best for the baby. Not getting to grow up and with it in my life, it would always be in my heart. And that I hoped that it would find a loving, caring family, and I would continue to love it all the days of my life.  And a day after she was born, they brought her in, and I fed her,  I told her I loved her, and I had to turn over to the social worker, and then I packed my bags and went home. And we never talked about it again in my household."
Going home was a difficult process, after living through such a significant event in complete secrecy, Mo had to feel both incredibly lonely and isolated. After all, she wasn't allowed to talk to even her closest friends about the baby and what she had been through, but she couldn't even tell her brothers. Obviously, her parents didn't provide a place of support for whatever emotions Mo had to fight with at this time.  But like the warrior she is, she found a way to overcome; "It was a very lonely and difficult time because I had no one to talk to about it with. And I remember standing at the kitchen sink one night, drying the dishes. I was 17 years old. Chris was born ten days after my 17th birthday and realizing I said to myself, you know, if I was hit by a car tomorrow, I would have died a woman because I just think that is the hardest thing any woman could ever do; to give away someone that you love."
Mo did move on with her life. She never stopped thinking about the baby, but now, being married, and in her mid-twenties, it was a socially acceptable time to begin motherhood, and her daughter, Erin, my mom, was born.
Like most moms raising a child for the first time, Mo wasn't sure what to do, but she knew this time she had the support of her parents; "Erin and I went to mom and dad's and stayed there because they had a room on the first floor that had a bathroom attached to it, so I didn't have to go up and down the stairs. And I slept on the couch, actually the couch that used to be in your basement. We were there, and Jim stayed at our house because he to get up early and get work. I didn't want to be crying about the baby, and I remember looking at her with tears running down my face, and I was like, What am I going do, you know, I mean, I've never done this before, and I looked down at her, and I said to her, listen. We're going to make this work. I've never done this before, but you've never been a baby before either. We're going figure this out. And that's kind of how I started here, and you know parenting is 99% common sense. And, you know that is that something that, if you're lucky, you're born with. And I felt like I was. She was a beautiful baby."
Unfortunately, Mo's marriage to James Boyle, my Papa Jim, wouldn't last long. Like many young love stories, the real world hits hard, and sometimes marriages fall apart, but Mo and Papa Jim remained steadfast partners in raising Erin. My mom often tells me, "To this day, I have never seen them argue."
 Although they were unified in raising their daughter, Mo was left alone once again, this time with a baby, in her hands. Mo was hardly the first single mother in the history of the world, but being the daughter of a prominent political figure, this didn't feel right, life wasn't supposed to go like this
It turns out, raising my mom was no cakewalk. As much as we all envision our parents as strict authority figures from day one, they all are in reality, infants, toddlers, and children at one point or another just like us. Mo said, "[Erin] was a very active little kid.  When she was about three, my father went out and bought a little miniature director's chair. You know the chairs that have the canvas backs, because Erin was always telling everybody what to do". 
Apparently, I was wrong. My mom was bossy from the time she was a child. When she was a kid, she spent a lot of time at Nana and Papas' house, since both her parents worked. Because Mo was the oldest of her siblings and seven years older than her youngest brother, when my mom was spending the night there, she wasn't the only child in the house. Mo's brothers Eddie and Chuck had graduated and gone onto college at this point, but her youngest brother Danny remained at home, now sharing the house and his parents' attention with his young niece. Mo remembered, "Danny was still in high school at the time, and he would have parties at the house, and they'd have kegs and whatever.  There would be this little girl standing next to some great big football player, talking, and one of the guys made the mistake of sitting in dad's chair in the family room. Erin went up to him with her hands on her hips and said, "I'm sorry that's Papas chair, you're going to have to move," and the big football player like pops out of the chair and apologized. But, she had tons of personality."
Mo would have another daughter, Lisa, six years later. And life went on. She raised Erin and Lisa, she had a career, remarried, became single again,  moved into her own townhouse in Mclean, Virginia, and returned to her maiden name of Maureen Mcdermott. She had no shortage of life experiences. That didn't stop her from spending every day wondering what had happened to her first child.  "All of those years. I thought about her. And that's why I always came back to my maiden name because I wanted to make sure that if she were going through the records, she would be able to find me. I stayed in Washington as long as I could, in hopes that she would find me. I contacted Catholic Charities, which was the adoption agency through which she was adopted to make sure that they had all my current information. And as it turns out, Chris was doing the same thing. She was contacted, and I don't know. We have an idea of why we never connected, but for whatever reason, it never connected. And so, as she got older, she was looking at her life being fulfilled, and she was happy. And as the years went on. I told your mom and Lisa (about Chris) when they were about 12. When it happened that there was a sister out there. And someday. If we were lucky, she would come knocking on our door. Hopefully, they would accept her with open arms, but I never wanted them to be surprised. I was hoping that someday we would find each other. But we didn't talk about it very often." Even though the matter went undiscussed, it remained in her mind as she went through her life. Some of those experiences were great and are some of her best memories to this day. But many were hard, she struggled, she was down, but that's when she proved her resilience. She always overcame, and all those hard times made her a stronger, wiser person. In the early 2000's she married Stephan "Lee" Coogan, Pennsylvania born and raised, Lee also had his fair share of life experience, and a pair of adult daughters, Courtney and Catie. 
Mo and Lee settled in to spend the rest of their life together and quickly became grandparents. Erin welcomed Mack and Lily in 2002 and 2005. Lisa had her first daughter Caroline in 2006. Caroline was followed by Erin's son Aidan in 2007 and then Lisa's son Nicholas in 2008. Shortly after that, Lee's younger daughter Catie and her husband Bryan had their first daughter Avery, and a son Graeme a few years after that. The three daughters and their eight children had established a tradition in 2004 to meet and share a house for a week every summer in Ocean City, New Jersey. The beach bunch never seemed to have all the same tenants year after year, with a constant shuffle of husbands and siblings missing, but the beach allowed Mo to have most of her family under one roof. Something that has grown rarer and rarer as all her grandkids grow up, but still summer after summer, all the cousins get to make memories together and maintain relationships that they can keep with them later in life. As she raised this incredibly close family she simultaneously carried with her the heavy heart for the daughter she was missing, none of her grandchildren having known there was another aunt and possibly more cousins out there. 
But what she didn't know was just how close they were. Her granddaughter Lily was a spunky 13-year-old who desperately wanted to be black or Jewish because "being black was cool, and all my friends are Jewish." But, much to this catholic white girl's dismay, she was neither. But that didn't stop her from hoping. Lily got her hands on an Ancestry DNA analysis kit. She couldn't possibly have imagined what her test would uncover. 
The summer after Lily took her DNA test. Mo happened to have a trip planned to Ireland.  It was her first time visiting the place her ancestors had come from, and she was deeply moved by the experience.  When she got home, she, too, took an Ancestry DNA test in the hopes of learning more about the generations of her family that had emigrated to the U.S.
Meanwhile, in an effort to connect to her birth mother, and not getting anywhere with the adoption records, Chris tried a DNA test of her own.  She got a partial match to someone listed as a cousin, someone named Lily Alvino.  They never connected online, but Chris didn't get discouraged.  She knew that this one connection could lead to others.
And then one day, the planets aligned, and as fate would have it, Mo and Chris stumbled upon each other. "After 55 years, I had realized she doesn't want to find me or something's happened to her, and she may not be alive anymore because those are the only two options that I can think about."
"I opened my iPad to find that I had an email from Ancestry.com. I almost deleted it because I've had a lot of ads, but for some reason, I opened it, and it said you have a 100% match. This person. And my heart stopped. I mean, I couldn't believe it. And you know, we contacted each other back and forth, you know, and texted, and finally, we talked on the phone, you know, it didn't seem real to me.
But she was such a wonderful, loving, engaging person. There was no way that I couldn't respond to her."
And so, just like that, the mother and daughter were connected, able to speak to one another through email, and then text, and then hear one another's voices over the phone. They set a date for the initial meeting. Chris would host, with her husband Bryan and sons Mac and Seamus. Erin and Lisa went with Mo but didn't bring all the husbands and grandchildren because they didn't want to overwhelm the new family. Nerves were high, there may not have been tension, but there was an undeniable fear of not making the perfect first impression, or not having the natural love connection everyone felt responsible for feeling. 
Those fears subsided the second the door opened, the barrier between the two had collapsed. While all the love was genuine from the first moment, everyone was quickly trying to figure everyone else out. Erin described her new nephews, "The first time I met Seamus and Mac, [Mac] immediately hugged me, and then he said, 'can I get you a drink aunt Erin. I actually have no idea what I'm supposed to call you', and I said that works. I answer to a lot of things. So, you know, he was more outgoing. Seamus was more reserved. But by the end of that first night. He was sitting on a stool, and he looked at me and said, Aunt Erin, I have a question for you. I don't remember what the question was. It was something about hockey. He says I have a follow-up question, and his parents literally died laughing because they were like, you have a follow-up question. Seriously, like where does that come from?  Obviously, he has been preparing for this." 
After that first meeting, the Lee's (Chris, Bryan, Mac, and Seamus) were quickly integrated into the family. Mo looks forward to having them join the beach bunch. She thinks that having them there for an extended period of time in close quarters will allow everyone to really get to know one another well enough to not think twice about our separate past. But even as Covid-19 threatens their concrete summer plans, the bond the sisters have forged remains strong. The sisters will spend hours on the phone together shooting the breeze like they've grown up together. Lisa and Chris have taken advantage of their homes both being near Baltimore and have made a point to hang out together, whether getting meals or attending concerts, and they have become quite inseparable in a short time. 
Fifty-six years ago, what was viewed as a mistake, an accident, a problem that required a solution has manifested into a treasure for everyone involved. Mo thinks this was all a part of a greater plan, "I think the timing worked out the way it was supposed to.  You know, I'm not in conflict with Chris' mother because while she always encouraged Chris to find me, Chris doesn't need to feel guilty for spending time with because her mother has already passed on, and I'm not trying to fill her shoes.  I think all around it was absolutely perfect". Erin agrees with what her mother said, "things happen when they're supposed to happen. And, you know, the universe brings people into your life when you're ready for them". 
Leave it to my younger sister Lily, whose quirkiness led to Chris finding her mother a half-century later, to summarize this story in her way, quoting legendary painter Bob Ross, "There are no mistakes, just happy accidents."  For those readers paying close attention and counting at home, we now have two Mac/Macks, two Bryans, more than a handful of Lees, and believe it or not, Chris' husband Bryan and is black, so now Lily has the black family she has always wanted.