"Merry Coffee."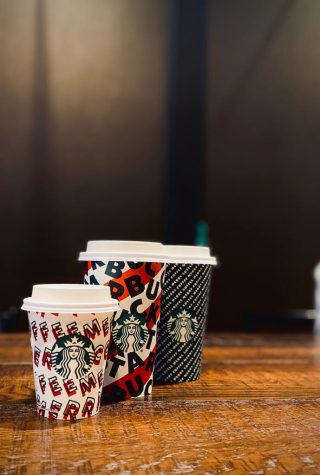 Year after year, we come across the amusing ways that stores advertise their products during the holidays'. Many could argue that during this time, Starbucks is particularly focused on the Christian aspect of winter, known to all as "Christmas."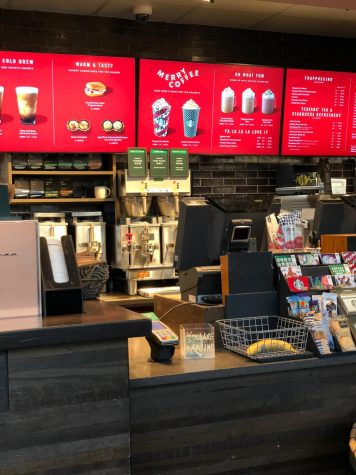 In the pictures displayed above, the store consists of colors including shades of red and green, the annual Christmas colors. Green, represents the eternal life of Jesus Christ, just as evergreen trees remain green the whole winter long. Whereas red represents the bloodshed by Jesus Christ during his crucifixion. Various use of these colors is displayed, including on the Starbucks winter cups, store gifts, and mini slogans.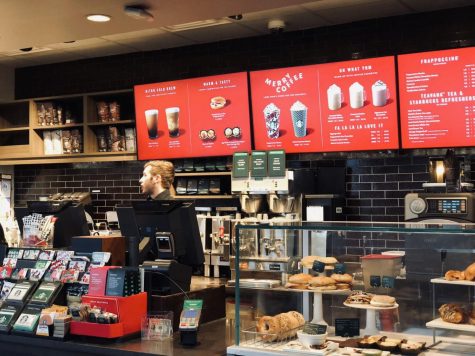 On one sign which displays Starbucks signature coffees, the words "Merry Coffee" is displayed at the front. This imitates the saying "Merry Christmas," in a more indirect way. There is also the slogan " Oh What Yum," which follows the famous Christmas song, "Jingle Bells," known in today's modern world to be about Santa Claus, and his reindeer.
Starbucks is known to adjust their advertising according to the time of year it is, to attract customers and make them feel more "at home." Many people around the world discuss the warm "Christmas vibes" that they receive during the holidays, and Starbucks looks to imitate this action so that customers are drawn to buy their products. The store has used religion and turned it into a commodity, which is manifested to their festive drinks.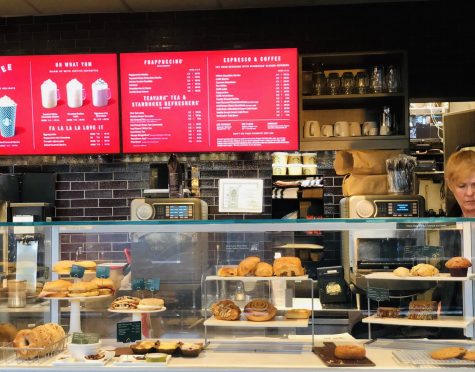 As presented above, the limited Peppermint mocha and Eggnog latte are a favorite to customers, and only come out during the Christmas Holidays. Peppermint, although used for products like gum and scents, is highly associated with Christmas and the famous peppermint candy canes, thus Starbucks releases these drinks throughout the winter. An interpretation of the Peppermint Candy cane is that the inverted candy cane was intended to form a "J" for "Jesus." Peppermint essential oils are used to unwrap feelings of joy and refreshment. These feelings are similar to those brought out at Christmas, and to many, people who feel this during the holidays' are known to have acquired the "Christmas spirit."
Eggnog is a traditional American drink, particularly popular around Christmas time because of its warm temperature and the variety of flavors added such as cinnamon and vanilla bean. The Eggnog latte in Starbucks imitates this festive drink served at the traditional Christmas dinner, and because of this, customers are attracted to the store towards this season.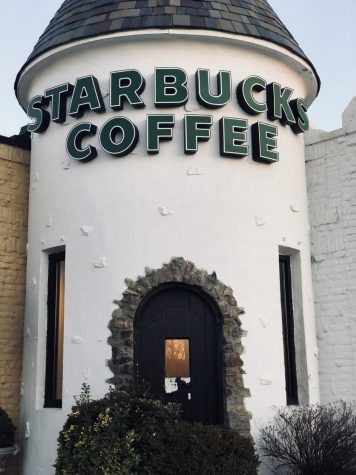 There is no variation in the way Starbucks advertises their products. Glen Rock currently has 4.3% of people that believe in Judaism, 0.9% that is an eastern faith, 0.5% that affiliate with Islam, and a growing Indian community. Hannukah, the Jewish festival commemorating the rededication of the Second Temple in Jerusalem, where Jews had risen up against their Greek-Syrian oppressors in the Maccabean Revolt, use the colors white and blue to symbolize the holiday, and although millions of people around the world celebrate this, it is not celebrated by Starbucks. Neither is the Sikh celebration of Guru Nanak shown to be celebrated during this time by Starbucks and many other days that religions deem to be important.