The making of a fairytale: "Once Upon a Time… In Hollywood"
Quentin Tarantino's ninth feature film, "Once Upon a Time… in Hollywood," offers a different perspective of the dawning of the Age of Aquarius, an era of American history commonly associated with the hippie-headed counterculture movement, and the Manson murders that abruptly ended this transformative period.
The film recounts what it was like to navigate the changing film and TV industry in the late 1960s, from the perspectives of washed-up TV star Rick Dalton (Leonardo DiCaprio), his stuntman Cliff Booth (Brad Pitt), and rising starlet Sharon Tate (Margot Robbie). Of these three, only Sharon Tate was a real person. Although many other characters based on real people appear in the film—like Roman Polanski, Bruce Lee, Steve McQueen, and Charles Manson—the film is mostly fictional.
For the film's cast and crew, being a part of Tarantino's epic required much effort and hard work; yet remained to be an experience they will never forget.
The locations
A location scout for the film, Lori Balton, spent hours every day looking for neighborhoods around Hollywood that would work for the film.
"I kind of develop a zen approach to keep going, remembering that every day I am learning more and getting better at my job," she said. "I'm lucky to work for people who usually like me to think outside the box and present options."
Location scouts read the script from a movie or TV show and find the locations where scenes will be filmed.
"Initially I do research, if it involves travel I present a plan and budget, and then I go take pictures, and put them up on a website for feedback and discussion," Balton said.
Typically, the director and production designer make the final choice, but Balton's job was to present the best options possible.
"We begin with what works best visually, something that will help convey the narrative," she said. "The location is an actual character, from my standpoint."
From there, the logistics and other variables of the location are assessed, like noise, traffic, safety, and more, where it must be determined if these aspects can be controlled and if the location can be afforded. The first question a location scout has to ask themselves, though, is this: Does the location help the director tell his or her story?
For "Once Upon a Time… in Hollywood," Balton was specifically brought in to find what would be Sharon Tate's home.
The exterior of the Tate-Polanski home (left) and Rick Dalton's home (right)
"Tarantino was brutally specific about the physical layout of the location," she said. 
The geography was precise, as the camera would initially be on Rick's pool (who lived next door to Tate and Polanski in the film), and it would then crane over to the Tate's driveway. Furthermore, the front door of the Tate-Polanski home would need to be seen from Rick's yard. Because of how specific this needed to be, Balton said that several locations were hobbled together.
The film also presented unique difficulties as a period piece. 
"It gets more and more difficult to make period films as we lose locations," she said. "But I've been doing this for a long time and have a good idea of where things still might be."
Despite that, though, this wasn't the toughest location Balton has had to scout for.
She said, "I've spent more time looking for a tough location… like the restaurant in 'Heat' or Travolta's neighborhood in 'Face/Off.'"
Scouting a house that Cass Elliot lived in and working with Tarantino were among a few of her favorite parts, but meeting Lee Van Cleef's widow was the best aspect overall.
Lee Van Cleef was a Spaghetti Western star, who starred in the films "For a Few Dollars More," and "The Good, the Bad, and the Ugly." A Spaghetti Western is a genre of film that emerged in the 60s and is defined by the fact that they were directed and produced by Italians. Tarantino's films are heavily influenced by Spaghetti Westerns, and Van Cleef was one of his idols, according to Balton, which made the moment even more special.
"It was complete happenstance," she said. "The house was straight out of the 60s and indeed, it ended up comprising part of the Tate-Polanski compound."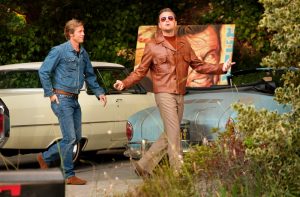 The actors
For Rachel Redleaf, being a part of the film was also an extraordinary experience.
"It just kept getting better and better," she said. "It was seriously the biggest dream come true."
Redleaf, who played Cass Elliot, also known as Mama Cass, moved to California from Arizona and studied screen acting at Chapman University. She got involved in the film after her manager texted her, telling her to audition for the role because she looked like Cass Elliot. She had to self tape her audition, singing two of Cass Elliot's songs.
After researching Elliot by watching YouTube videos, and getting down her mannerisms, Redleaf said, "I dressed up like her, did my hair like her, I sang California Dreamin' and Monday, Monday. Put it on tape and sent it in."
A month later, Redleaf heard from her manager that she had gotten the part. However, she only had an hour before she had to report to set. That same night she got to set, she found out she was going to film a scene at the Playboy Mansion. She was particularly excited to shoot the scene, considering she was obsessed with Hugh Hefner when she was younger.
That next Monday when she arrived on the set, she met Margot Robbie in her makeup trailer, and then Tarantino, who she describes as the kindest man in the world.
Redleaf said that Tarantino would take care of everyone on set, and checked in on everyone and made sure they were having a good time.
She said, "Before we shoot a scene, he's like, 'let me hear a whoo! Let me hear a whoo whoo!' He's always amping everybody up."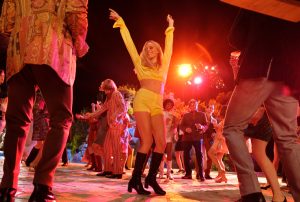 Even though the film was of high caliber, the laid-back attitude of everyone on set made her feel relaxed.
"You'd think it would be high pressure, but instead it felt the most relaxed, it felt the most fun."
Furthermore, she felt a sense of belonging with her co-stars and crew members.
"I was working with A-listers and I felt like one," she said. "I didn't feel like I had to be sitting in a corner, instead I felt like I was with them."
Tarantino would even play his films on the set, drive-in style.
"Everything was just always a big show… Every 100 reels of film, they'd throw a party."
The best moment to her, though, was getting to dance with Tarantino on set.
The scene, pictured below, consisted of Sharon Tate, Michelle Philipps, and Mama Cass dancing together at the Playboy Mansion. To direct Redleaf and the other actors, he took her and danced with her through the backyard of the Mansion.
"He's spinning me around, and Margot says, like, 'Oh my gosh, I wish I had a camera!' And I wish someone had a camera because I danced with freakin' Quentin Tarantino!"
After the film wrapped, she got to go to a small screening of it at Tarantino's house, with only around 16 or so others.
"He's telling me, 'Rachel, you know, if we didn't find you, I don't think we could have had a Mama Cass in this movie.' I'm like, 'What did I do to deserve this compliment from Quentin Tarantino?'"
For Breanna Wing, who played Sharon Tate's "hippy hitchhiker," working on the film was also a highly valuable experience for her.
"Every day was like a party," she said. "And yeah, we made a movie, like an incredible movie."
Wing initially went to school for production design, and worked on "Django Unchained," another Tarantino movie, in the art department. After this film, she decided to make a career shift toward acting. She took improv classes and soon started studying at an acting school.
Tarantino and Wing kept in touch, and he knew she made a career change, so he cast her as the hippy hitchhiker in the film.
On getting involved in the film, she said it was through knowing Tarantino and much of the crew, "But also him knowing that I've been hustling a few years since I made the career change."
Tarantino made her feel like she could do nothing wrong. She said that his attitude made her performance better.
"At that level, there's a director that knows how to talk to every department knows how to talk to actors and make us feel so safe," Wing said.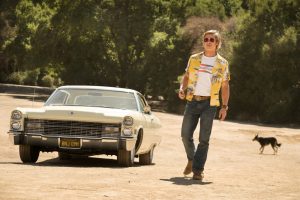 Wing agreed with Redleaf on the relaxed atmosphere of the set, saying that she felt extremely welcomed by everyone, like Robbie. 
"She really welcomed me with open arms, because I was a day player at that point, and she's top of the call sheet," she said. "Everybody in the top of their field on a movie like that, the head of the department, the key crew members, the stars of the movie, treat everybody from the interns to the PAs as equal, which says a lot."
One of the contributors to this atmosphere on set may be due to Tarantino's no-phone policy. Timothy Olyphant stated that someone could be fired if caught with a phone on set. After Tarantino would yell cut, no one could text or check their emails; instead, everyone had conversations with one another, and got to know their co-workers on a more personal level.
"You're having a twelve-hour day and even after just one day, suddenly you feel very close to all these people," Wing said.
Working on this movie was especially sentimental for her because her first big internship was on Tarantino's "Django Unchained" as a part of the art department, and her first big acting role was in "Once Upon a Time… in Hollywood."
"Having it come full circle like that, with all the same people, with my film family, was an emotional, sentimental thing," Wing said. 
Being directed by Tarantino was a new experience she was curious about, having known him from working in the art department in "Django," and also as a friend. 
"He has this encyclopedic knowledge of films, yes, but also just of the world and history," she said. "In between takes he'd just be like, 'Hey, here's a fun fact about X, Y and Z.'"
Similarly to Redleaf, she described Tarantino as kind, as well as patient and motivating as a director, making her feel like everything was a good idea.
"I just felt like I was being hugged the whole time, because I felt so safe to play," she said. "You are his actor and he is your director, and he is so present with you."
The music
The music editor for the film, Jim Schultz, enjoys working with Tarantino as well. He's worked with him for two other films. "Once Upon a Time…" is his third.
Schultz described the position as entailing a three-step process. First, a music editor must "spot" the film to create the temporary soundtrack, also known as a "temp score." Spotting is identifying where the music should go, what type it will be, what service it will be, etc. Tarantino was responsible for spotting the music in the film, yet he's open to all recommendations, according to Schultz.
"Quentin is very hands-on and he has a very thorough good idea what and where the music is going to be in his film," he said.
Second, the music editor works with a composer to facilitate their score-writing, usually also working closely with the director of the film to create a score that will make everyone happy. From a technical standpoint, the music editors are "the shepherds of the music" at this stage. They are aware of the changes being made to the picture and whether the changes can be addressed scoring-wise or editorial wise.
Finally, as the film is being finished, they work with the music that has been recorded, and also repurpose music that has already been recorded since the time they scored, taking into account changes in the film.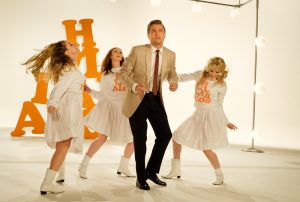 Music editors also handle all of the pre-existing music being used in a film, which is particularly important to "Once Upon a Time… in Hollywood." The film didn't have a composer. Tarantino's films are unique in that he rarely uses a composer, only pre-existing music.
Schultz describes his job for the film as "both editing it [the music] into the film," while "Also technically creating the necessary elements for it, to make it sound as good as it possibly can."
Tarantino found all of the music from original broadcasts from the radio station 93-KHJ from 1969 in Los Angeles.
Listen to the music from the movie here:
"He wanted the KHJ-93 material to essentially be the musical voice of the film."
Tarantino took 100 hours of 93-KHJ aircheck recordings and listened to them to find the music, ads, and jingles that would define the soundtrack.
Schultz noted that there wasn't much of a difference between the jingles and the actual music. He said that, at the time, there was an "emphasis put on making advertisements as entertaining as the songs."
From there, it was Schultz's job to figure out where there would be "great moments" in the film, where the music would fill the theater. And a mono signal from a 1969 aircheck would not fill a theater with sound.
To do this, the sources of the broadcast would have to be found. However, the record masters of the songs could not just be played without editing. There were many variables and discrepancies that would occur during airchecks that would make it sound much different than the record master version sent in from labels.
"It was then my job to use all the tools we have these days working in digital audio to adjust and go through the waveforms beat by beat, hit by hit, bar by bar, and time align all that material."
Schultz did this to create those "great moments" where an AM radio broadcast would be crossfaded into the record master version of a song, and vice versa.
Sometimes the record labels would send multiple versions of a track, from being pressed on a 45, to a 33 LP, and even digital masters. Schultz would then have to choose which version he thought sounded best not only technically, but tonally for the film.
"We made a lot of decisions about the overall flow and the overall groove and feel of the film based on having the time to experiment with all these different versions," he said.
To choose where these "great moments" would be, Schultz would look to the narrative and characters of the film. Schultz also wanted to honor the authenticity of the experience.
"When somebody plays a record and you see the needle drop on a record, you're hearing a record, you're not hearing a digital recording," he said. "You're hearing that actual record being played."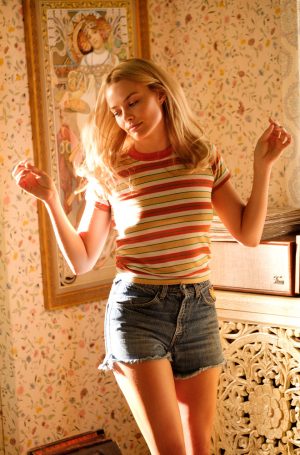 An example he noted, in particular, was a scene with Sharon Tate and Roman Polanski driving while the song "Hush" by Deep Purple played on the radio. Eventually, the song crossfaded into a mastered version. Schultz said, "The narrative kind of turns into this very experiential montage of them driving. I felt as a viewer that we're watching Sharon and Roman experience this song."
For Schultz, working on the film was a phenomenal experience. Being a Los Angeles native and getting to work with 60s and 70s music was among some of his favorite parts.
"From a technical standpoint, what I got to do on this film, and being so, so meticulous and precise with all the material going in, and being so detailed, was an absolute joy," he said. "To top it off, it was all some of my favorite music in rock and roll history."
"Once Upon a Time… in Hollywood" was released on July 26 of this year. An extended cut will be released this Friday, the 25. The digital release date is estimated for November.