Senior contemplates breaking family college tradition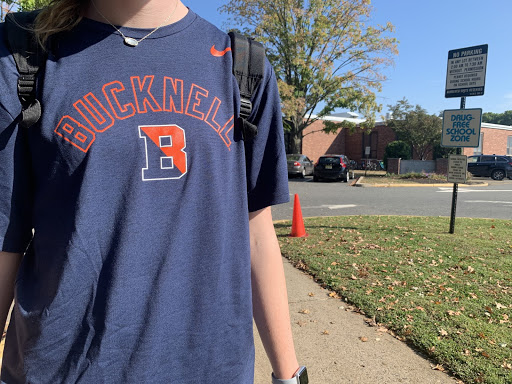 Kelsey Boyle is one decision away from breaking a family tradition. 
Her story is almost as typical as any other. Like others, senior year has brought its benefits; she loves leaving for lunch and feels independent as she drives her and her sister to school. An honors student and a life-long lacrosse player, Boyle is facing similar decisions that many other seniors are contemplating: big school or small? Private, state, or community? Biology or English? 
But Kelsey Boyle has to make an extra decision: to stick with what she knows, or stray from the norm.
"I am… interested," she paused, looking sheepishly down at her orange and blue college tee, "in Bucknell." 
In only her immediate family, her father, two cousins, and brother, Brennan, have attended the Pennsylvanian liberal arts school. Kelsey is next in line to make her big decision. Surprisingly, she is having a tough time. 
What could be considered logical for Boyle is to enroll early decision, like her brother had done. Thanks to the family legacy, Kelsey has a slightly higher chance at admission over other applicants. 
  "I like the school. I really do- it has all the things that I would like a school to have." Boyle said. She emphasized the size of the school and its close knit feeling. Still, she isn't positive that Bucknell is the school for her. "I want to see all my other options— I want to find the right college for me." 
She clearly is doing just that—sitting next to her desk is a book of the top three hundred colleges in America. More than 15 pages are dog-eared, others are bookmarked. All of them are faded from being flipped many times. Though application deadlines are quickly approaching, she wants to cover all her bases. "I'm still looking to make sure I've seen everything,"
Kelsey Boyle is lucky— her parents have never pressured her into a decision. What's best for her is their number one priority, even though it would be more convenient for them if she attended the same school as her brother. 
"They've kind of joked that I'd end up there like the rest of my family," she said. Boyle is convinced they say this for a laugh. "Yeah, they're not gonna pressure me either way."
 Another factor that Boyle must take in mind if she was to attend Bucknell is that she would have family close to her (close, as in, across the quad). Many other students would die for this; as other seniors mentally prepare themselves to move far from family, her brother would share two years at school with Kelsey. It is a fact that she finds rather comforting. 
"It's nice to know that he would be by my side," Boyle smiled, "plus, Brennan has the car there," She showed me a picture of them sitting in front of the Bucknell mascot, Bucky the Bison. She estimated that her brother was four, putting her at about two. 
"I was four or five years old, maybe, when we went to Bucknell for homecoming weekend. The dining hall was empty, and we got to ride scooters through the hall," She laughed as she remembered the days she spent with her family, going to games and wandering the grounds. Bucknell will always be home to countless happy memories. 
Still, Boyle stresses that the only thing that would push Bucknell to her number one is the familiarity of it. 
"I've been exposed to Bucknell more, so I know more about it. Since its part of my family's life, and some family members have gone, it just makes it more familiar," said Boyle. 
Enrolling at Bucknell would alleviate many pressures that other college freshmen would have to face. Kelsey Boyle would never get lost on her way to class, and she would already know the best places to avoid cafeteria food on a day to day basis. 
Nevertheless, through all of the tempting benefits a familiar college offers, Kelsey carries herself with strength and a sense of individualism greater than the other members of her family. She's nervous, yes, but unafraid. 
"Sure, my family has strong ties to Bucknell. But I wouldn't say that that has made me feel like it's home. My plan is to find a college that does."