Cultural Exchange Club hosts students from the Czech Republic
The Cultural Exchange Club welcomed 16 students from the Czech Republic this week for the annual exchange program.
The student exchange trips give Glen Rock students the opportunity to go to the Czech Republic in the Spring, and for Czech students to come here in the Fall. The trip is coordinated by the Cultural Exchange Club adviser, Justin Echochard. Echochard has been involved with the program for 15 years, and he has gone on eight trips with the club.
"Mr. Arlotta and the administration are extremely supportive of the program, as far as the time and money it takes to run this program," Ecochard said.
The students arrived on Thursday, Sept. 19. They are from Gymnázium Jiřího Ortena, a school located in the small town of Kutna Hora, Czech Republic.
Once in Glen Rock, they are staying with the families of high school students, where they are fed, and where they sleep until it is time to go on field trips.
The kids have a full itinerary, visiting popular points of interest like Times Square, Rockefeller Center, and the Statue of Liberty. The list of places to visit is created by the Czech students' teacher, Mr. Dausa.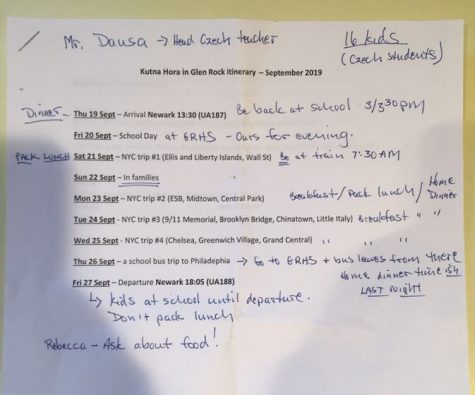 "The Czech teacher actually knows New York City better than I know New York City, it's absolutely amazing. He could take you anywhere in New York City," Ecochard said.
Senior Rebecca Podd is hosting two of the 18-year-old students, Irča Coufalová and Barbora Marešová.
This is Podd's second time hosting exchange students, the first was when her older sister was a member of the club. Now, after going to Prague last April, her family is hosting again.
Communicating with the students is easy because they speak English well, Podd said. She only has to stay away from using contractions and American expressions, because this is where they start to get confused.
The sites that Coufalová and Marešová have enjoyed the most so far are the Empire State Building, and Ellis Island.
"One of my girls was very interested in the history of Ellis Island. She was talking about how they were looking at all the Czech people that had come over," Podd said.
Over the remaining days of their trip, the students will spend another day in New York City and go to Philadelphia. In Philadelphia, they will visit the Liberty Bell, Constitution Hall, Reading Train Station, the LOVE Statue, Eastern State Penitentiary, and the "Rocky Steps." The Czech students specifically requested to see the iconic stairs from the movie, which are in front of the Philadelphia Museum of Art.
"I think it's important to know that for some of these kids, it's the first time they've ever been to America, and for some people it's the last time, so it's like their dream come true," Ecochard said.