The Glen Rock Softball team slides on home as 2019 NJIC League Champions
The Glen Rock High School Softball Team took home the NJIC Championship title for the second consecutive year in row. It took a determined and devoted head coach, Kelly Dowell, and a motivated and serious senior captain, Ellen Feuss, to drive the team to victory.
After co-winning the league championship title with Rutherford during the  2017-2018 school year, Coach Dowell and her assistant coaches, Kristen Danubio and Art Erikson brainstormed how to win the league outright during the 2018-2019 season. The coaches didn't want to share again.
She evaluated the mistakes that led to the shared title, and pinpointed a few focal areas. In this case, her main priority was proper form when hitting and improving footwork.
Her planning paid off. The softball team was the sole winner of the 2018-2019 league championship.
With the smallest softball team in Glen Rock softball history, at first it didn't seem likely that the team would prevail.
Dowell's overall motivation and diligent goal setting, which were picked up by her athletes, are what she considers the main factor in winning the championship.
Since there only is one softball team, no JV just Varsity, Dowell did struggle with getting enough practice time in for her girls because they were playing many games a week, against both JV and Varsity teams, and having a slim number of practices per week. This made her decide to cancel many JV games in that her girls didn't practice consistently to perform well in them. Cancelling games in pursuit of more practice time has always been a hard decision for Dowell throughout her time coaching softball.
But Dowell's main lesson is that hard work and teamwork, even when they don't lead to success, should always be pursued.
"My focus this year was the overall theme 'The Pursuit,' which meant that I wanted them to understand that the process and the efforts and the actions that they performed throughout practice and pre-season and working together were more important than the end result," Dowell said.
The team started out with three new starting freshmen, Vivienne Dietrich, Sophia Brencovich, and Angela Gilmartin and an influx of returning and new sophomores including Colette Quigley, Taylor Rogers, Nori Tsiang, Lindsey Santaella and many more. A new set of recruits gave Dowell the opportunity to change her starting lineup, moving her players to let their hidden talents shine.
One athlete who moved into a new position was captain Ellen Feuss.
Feuss, who used to play almost everywhere in the infield except as pitcher was was moved to the mound and proved her hidden talent as a pitcher.
Feuss trained over the off-season as a pitcher and attended many camps and clinics, many of which Coach Dowell was the instructor. But she credits Olivia Brencovich, the former pitcher and captain, for her support and guidance that impacted great strides in Feuss's character and athletic ability. Feuss said that Brencovich was a mentor for her in her last three years of high school and they maintained a friendship that remains to this day.
Other notable mentors to Feuss include Zoey Bender (15-16) and Katie Byrd (15-16), two senior captains that made Feuss always feel included during her freshman year.
Feuss started playing softball when she was in kindergarten. After years of sitting on the bleachers and watching her talented older sister, Taylor Feuss, roll right through high school with four varsity letters for softball, she decided she wanted to be just like her and possibly even better. She trained over her middle school career in camps and clinics all over Glen Rock and also made the Glen Rock Middle School softball team.
As Feuss matured into high school she recognized as a type of "swing" for the team. Dowell would put Feuss on many different positions throughout the seasons. But this season, Feuss was told by Dowell to be the pitcher.
"At the beginning of the season, Ellen hadn't pitched for the past three years consistently so that was a big change going into this season. Having someone go on the mound that wasn't consistently there isn't expected to succeed and do well but she was amazing." Dowell said. "She took the role great."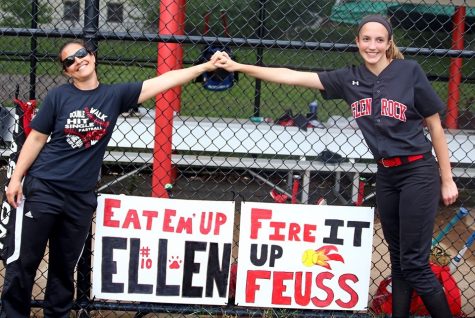 As a senior, Feuss was voted the role of captain and took that role with great authority.
"It was my responsibility, aside from Dowell's, to show the team how to take this seriously and to show them it's possible to win the league cause in the beginning no one thought this was possible." Feuss stated.
Feuss hopes that she left her mark in Glen Rock softball as a person who leads by example. She believes in good sportsmanship (for example, not cheering to loud after a win or complimenting a good hit by an opposing player). But most importantly, Feuss wants to be remembered as a person who always goes all-out.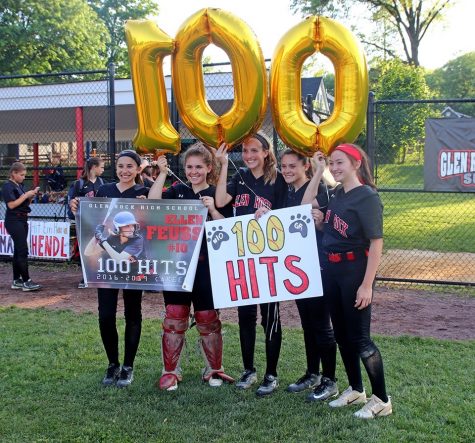 Last year, Feuss almost sidelined her softball career indefinitely. During a game against Ridgewood, after catching a pop-up and not realizing how far she went, she fell and hit the bottom of her head and upper neck on a set of bleachers. She was then was diagnosed with a major concussion and sat out for three weeks.
"I remember hitting the bleachers and my mom thought I was going to die and everybody wanted to take me to the hospital." she said. "I just wanted to play the game because I thought I was fine."
She argued with the doctors to let her play, but they explained that safety was more important. Because of this, Feuss put her health first and concentrated on getting better. She showed her support for the team by showing up with encouraging posters she would make.
"I didn't even think of being scared to go back, all I was thinking was I need to go back cause it's just been my life. I'd do it all year round and I can't just give it up because of this injury," Ellen said.
After recovery, she came back even more determined and devoted then before her injury.
Feuss highlighted the acts of integrity, good sportsmanship, and going all-out when she was a captain in the 2018-2019 season and hopes that future captains learned from her and embody those acts as well, especially when leading and role modeling.
Feuss always made sure to enjoy her high school life and high school softball career and choose not to stress about softball to much to the point where it stops being enjoyable. Feuss sees plenty of softball in her future as she heads over to California to attend the University of California Davis. She intends to travel in her college years and make the club softball team at UC Davis while majoring in chemistry, hoping that will help in her plan to go to veterinary school.
Besides Feuss there were many star players on the team that really shined this year both on and off the field.
ON DEFENSE: Catcher Colette Quigley (sophomore) showed an warm and exciting attitude and aptitude toward the team and made everyone feel included. First year player, Taylor Rogers (sophomore) took the role of the slapper, a player that makes contact with the ball as they're moving forward, enabling them to more quickly reach 1st base, and she played the role with certainty and excellence.
ON OFFENSE: Lindsey Santaella (sophomore) shinned bright in the infield with her fast catches and throws while Sophia Brencovich (freshman), the sister of the past pitcher Olivia Brencovich, took her fast throwing talents and great catching ability to the outfield and proved herself a player of dignity. And Vivienne Dietrich (freshman) and Angela Gilmartin (freshman) shared the honorable title of most RBI's throughout the season thanks to their assiduous effort they put into the sport.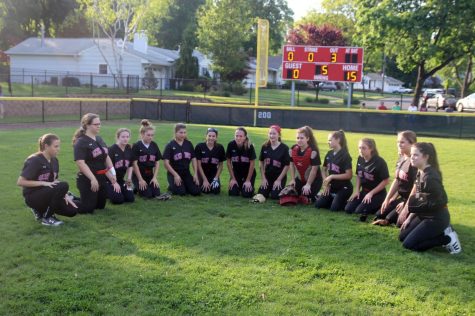 A game that really brought out the best in the team was the game that took place on May 22, 2019 against Hawthorne. This game was essentially the championship in which if they lost, they would of tied with Rutherford as league championships, but if they won, which they did, they would go on and play Mary Help of Christians to win the championship all by themselves. They did not want history to repeat itself so they were determined to win. Hawthorne was looking to win at the top of the sixth inning and Dowell approached her team, after coming back from a loss the day before, and was stern and firm about playing and then followed up with an encouraging "try your best" speech during a team huddle.
The following inning, they answered with a new attitude and came back looking strong. After a game of ups and downs including Fuess being walked which sent Lindsey Santaella to home plate for the winning run, the panthers were able to win 5-4.
"Ultimately, I knew they had it in them it was just believing that they could get it done." Dowell said.
Dowell made it clear that the game against Hawthorne was a memorable game she will never forget along with the game against Pompton Lakes which took place on April 25, 2019, where they played 10 innings and persevered all the way to victory. She credits Colette Quigley who made a pickoff to end the sixth inning and Sophia Brencovich, who made both Dowell and Feuss very proud when she managed to put her whole life into one throw from the outfield to home to end the game 2-1.
After all the stress that this season brought the panthers, the softball team enjoys their title of league champions and vows to work even harder to achieve better to defend their championship title for  years to come. They also hope to make past generations of players like Feuss and Brencovich proud to have once served on the team and hope to interest and encourage future generations of softball players to join as well.