Art teacher helps Best Buddies spread the word
In 2017 the beloved Glen Rock High School club Best Buddies was established for students to socialize with children who suffer from disabilities. English teacher Ashley Yancy, adviser of Best Buddies, has made a big impact on a lot of people, including graphic design teacher Scott Kupka who is a big fan of the club.
Yancy thought of a project for Mr. Kupka's advanced graphic design class to help spread the word to end the word, this meaning to end the word "retarded" used to describe kids who suffer from disabilities. Kupka calls this word the "r" word. He says, 
"I've corrected strangers in a shopping mall for saying stuff like that, it's ridiculous". His students' task was to design a poster that had a unique message to spread awareness, and his and Ms. Yancy's goal was to spread the word with this project to keep people from describing kids with certain disabilities by using the "r" word. One of his students Ryan Hornish says,
"As much as he doesn't like to bring his personal beliefs into class, this was one of those acceptable moments". The posters that are the most well made will get hung up in the halls throughout the school.
"People with mental disabilities are kind of left out, and he's (Kupka) a really good guy so he thinks everyone should be included". Kupka has been personally affected by the "r" word because he knows a lot of people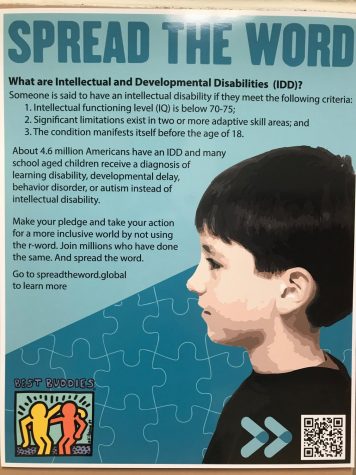 with mental disabilities and Ms. Yancy thought it would help to spread the word so people realize that it's very insulting.
"We're in the process of printing them." Kupka says. Since it is an advanced course he wants to keep everything professional, meaning he will be putting up about 15 posters out of the 25 posters that will be made.
"Hopefully by the end of the week we're done printing and we will have them all up". Kupka says.
His projects are never just for a grade, they are based on relevant topics and have a purpose.
"90 percent of that class is for a team or a school group, it's for a purpose", Kupka says. Currently Kupka and his classes are working with John's Boy, one of Glen Rock's downtown hotspot Pizzerias. They are designing a new menu for additional items.
Mr. Kupka also teaches a drawing and painting class, digital imaging, and art and design.